Sweet strawberry jam stirred with chia seeds is tucked inside a snappy dark chocolate shell that is sprinkled with sea salt to make it all pop.
By Ashley Melillo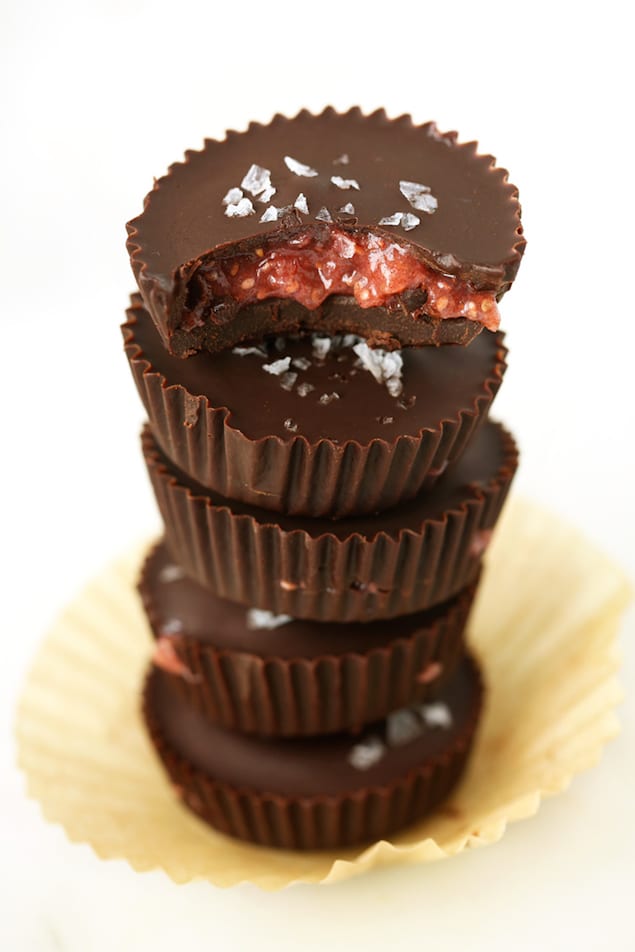 With just six ingredients, these little cups of chocolaty, jammy heaven can be chilling in your refrigerator. I felt a little fancy, so I ended up making homemade dark chocolate from cacao butter, cacao powder, and pure maple syrup, but you can simplify the recipe by melting down store-bought dark chocolate if you prefer. The center is a simple strawberry chia jam that's made by blending fresh strawberries with pure maple syrup. Then, a hefty dash of chia seeds is stirred in. The jam takes about 4 hours to set in the refrigerator. It's a little painful to wait that long for these bite-worthy sweets, but I promise they're worth it.
The final but optional touch is a sprinkling of sea salt. It *pops* the richness of the chocolate and the sweetness of the jam. I hope you love these long-forgotten treats as much as I do.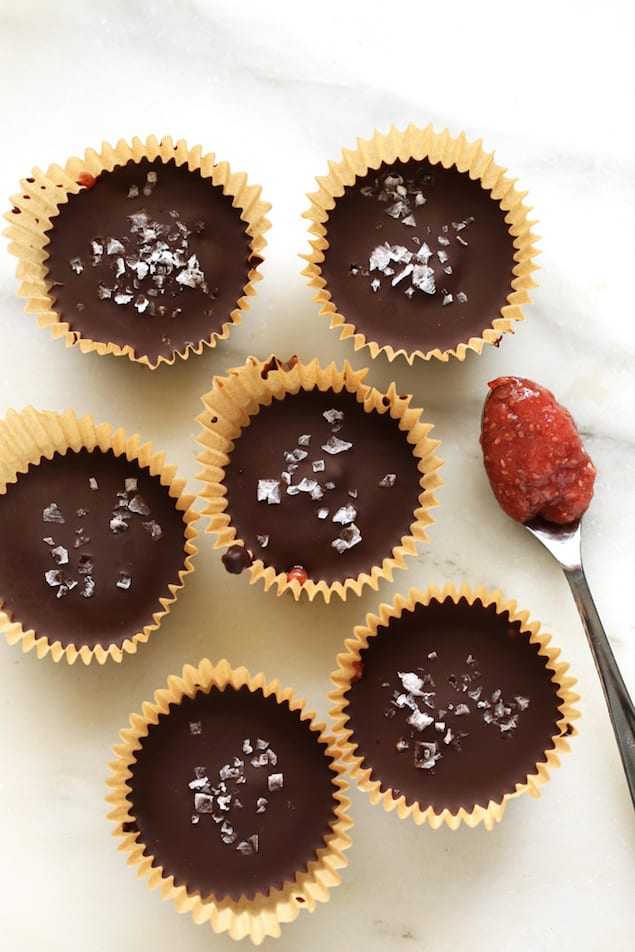 If you are a white chocolate lover, try these White Chocolate Cups with Almond butter.
Strawberry Jam-Filled Dark Chocolate Cups
Sweet strawberry jam stirred with chia seeds is tucked inside a snappy dark chocolate shell that is sprinkled with sea salt to make it all pop.
Recipe Type:
Dessert, Chocolate
Ingredients
Raw Strawberry Chia Jam
1 cup quartered fresh strawberries
¼ cup water
4 medjool dates, pitted
2 tablespoons chia seeds
Homemade Dark Chocolate*
½ cup cacao butter pieces or chips
½ cup raw cacao powder
¼ cup pure maple syrup
large flake sea salt, optional garnish
Instructions
Raw Strawberry Chia Jam
Add the strawberries, dates, and water to a high-powered blender. Blend until smooth (approximately 2 minutes).
In a small airtight container, combine the chia seeds and the strawberry-date liquid. Whisk together, and refrigerate for at least 4 hours to thicken.
Homemade Dark Chocolate
Once the strawberry chia jam has thickened, make the dark chocolate by melting the cacao butter in a double-boiler over medium heat. Once it's melted, remove from the heat and whisk in the cacao powder and maple syrup until smooth.
To Assemble
Line half of a muffin tin with 6 cupcake liners. Pour 1 tablespoon of the dark chocolate into the bottom of each muffin liner. Place pan in freezer for 10 minutes to set.
Drop 2½ teaspoons of the strawberry chia jam into the center of the chocolate and carefully spread out within ¼ inch of the edge of the chocolate layer. Pour heaping tablespoons of the chocolate mixture over the chia jam, using up all of the chocolate. If needed, drop the pan on a hard surface a few times to smooth out the chocolate. If desired, sprinkle with sea salt. Return to freezer for 10 minutes to set. Store in refrigerator.
Notes
*If you don't want to make your own chocolate, simply melt about 1 cup of store-bought dark chocolate, adding in a teaspoon of coconut oil if needed to thin.

You will have about ¼ cup of leftover strawberry chia jam. I enjoy the leftovers spooned over coconut yogurt, but you can also spread it on toast with a little almond butter or add it to a smoothie.
Ashley Melillo
Ashley Melillo is the creator of Blissful Basil, a blog dedicated to unearthing the happiest side of life through wholesome, plant-based foods. Being a school psychologist and food blogger, Ashley incorporates a wide array of health-enhancing ingredients into her recipes with the hope of guiding others on their path towards improved well-being.