Sprouted Green Gram and Pear Salad with Spiced Pecans and Cranberries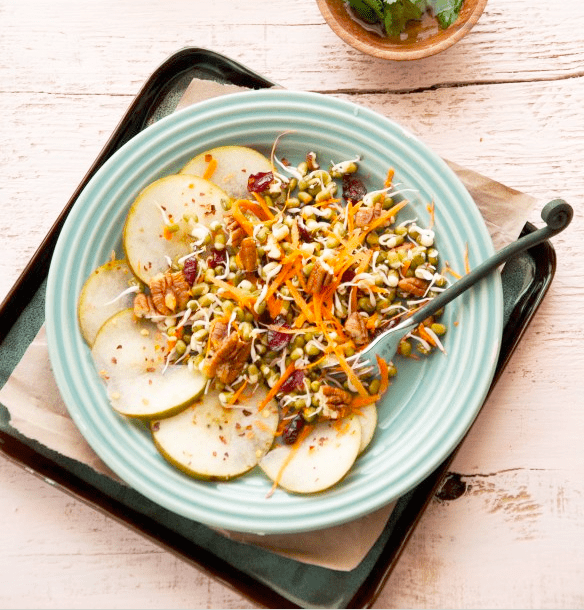 This is less of a recipe and more of a combination of healthful ingredients.
By Radhika Penagonda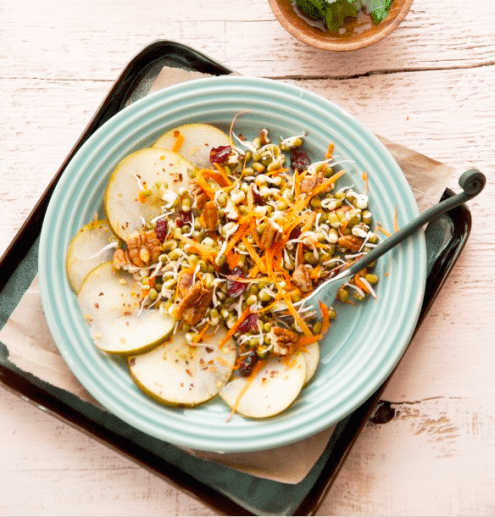 This is inspired by a feta cheese and field greens salad that I ate at a friend's wedding. Being the cheese hater that I am (pardon me cheese lovers!), I adapted it to suit my taste by swapping cheese with my favorite sprouted green grams and including pear.
Sprouted Green Gram and Pear Salad with Spiced Pecans and Cranberries
This is less of a recipe and more of a combination of healthful ingredients.
Author:
Radhika Penagonda
Ingredients
½ cup green gram
1 bartlette pear, sliced thin
1 carrot, julienne grated
2 tbsp pecans
2 tbsp cranberries
extra virgin olive oil
juice of 1 lemon
ground black pepper
paprika
red chilli flakes
sea salt
cilantro
Instructions
Wash the green gram well and soak overnight in plenty of water. Next morning, drain the water and wrap the soaked green gram in wet paper towels or soft cotton/cheese cloth. Keep it in a big bowl, cover and let sit in a draft free area (neither chill nor hot) for a day or two until well sprouted.
To roast the pecans, microwave in 30 sec intervals for about 2 mins and let cool. Once crisp, add a drop of oil, paprika and salt to taste and toss to coat well. I prefer to crush the sea salt in a mortar and pestle as it is slightly coarse.
For the dressing, whisk in equal quantities (or to your taste) of lemon juice and EVOO along with ground black pepper and red chilli flakes.
Toss everything together with the dressing, salt, roasted spiced pecans, cranberries and serve immediately.
Notes
Sprouted green gram stays well for up to 4-5 days when refrigerated
Radhika Penagonda
Radhika Penagonda is a vegetarian food blogger, ardent photographer and enthusiastic cook who loves to explore new ingredients and believes strongly in eating with our eyes first. Passionate about home-made food prepared from natural ingredients, minimally processed and close to nature, she shares through her blog how home style or not 100% vegetarian food can be lip smacking tasty and simply delicious.