Lamb meatballs are thrown into a healthy, filling, and lip-tingling wrap. Top with a chili and vinegar dressing to bring the heat up a flavorful notch.
By Christina Soong Kroeger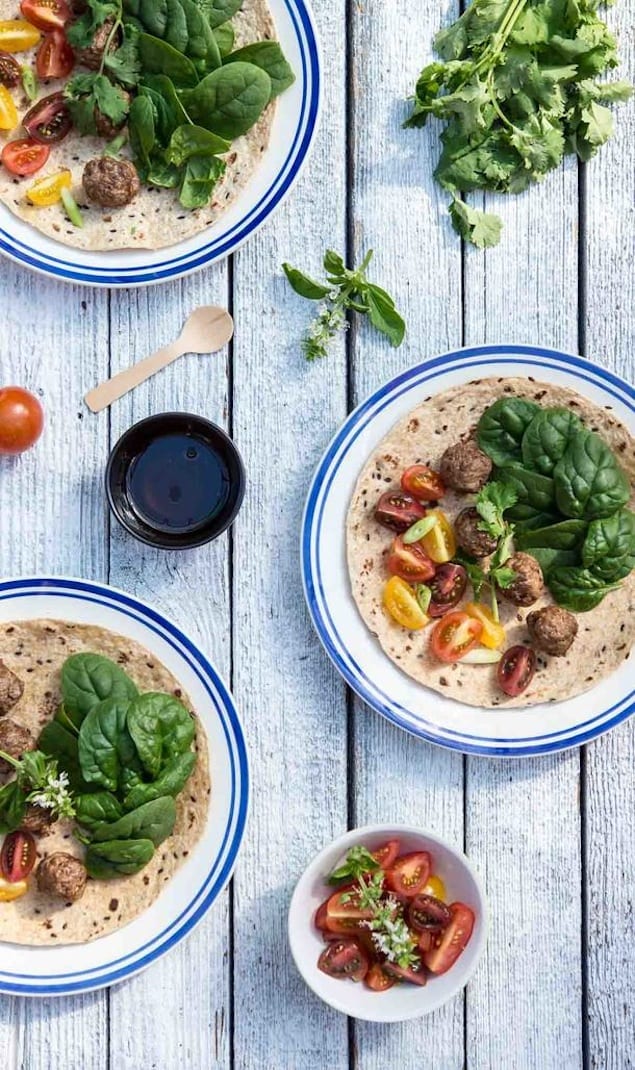 Spicy Lamb Wraps
Lamb meatballs are thrown into a healthy, filling, and lip-tingling wrap. Top with a chili and vinegar dressing to bring the heat up a flavorful notch.
Author:
Christina Soong Kroeger
Ingredients
500 grams minced lamb
2 cloves garlic, finely minced or grated
2 teaspoons cumin
½ teaspoon ginger
2-3 teaspoons chilli flakes
1-1.5 teaspoon Szechuan peppercorns, pounded fine in a mortar and pestle
1 generous teaspoon salt
4 wraps
500 grams assorted tomatoes
120 grams baby spinach leaves
3 tablespoons rice wine vinegar
1 teaspoon sesame oil
1 teaspoon chilli oil
3 spring onions, sliced, white part only
Fresh coriander and/or basil to garnish
Instructions
Mix lamb, garlic, cumin, ginger, chilli flakes, Szechuan peppercorns and salt in a large bowl until thoroughly combined.
Using clean hands, roll into small balls (about 30) and place on plate. Refrigerate while you get on with making the salad bits.
Wash tomatoes and quarter and rinse and spin dry spinach (if necessary).
Make up dressing by mixing vinegar, sesame oil and chilli oil in a small bowl.
Heat up a large fry pan and add a dash of oil. Fry meat balls in two batches until cooked through (6-8 minutes) stirring frequently to brown evenly.
Remove to plate covered with kitchen paper to absorb excess fat.
To assemble, place a wrap on a plate and top with spinach leaves, tomatoes, spring onions and meat balls and serve with chilli dressing for people to add themselves.
Notes
Using the lower amount of chilli/peppercorns will give you medium-hot meat balls while the higher amount will give you hot meat balls.
If you are serving these to little ones or people who don't like chilli you can make up a version with only garlic, cumin and salt to season.
You could also make the meatballs by themselves to serve with drinks.
Christina Soong-Kroeger
Christina publishes The Hungry Australian - a collection of recipes, reviews and stories about food - and is a regular contributor to Sumptuous. Her writing has appeared in the China Daily and That's Shanghai while her photography regularly appears on Foodgawker, Tasteologie and Photograzing. After eating her way around Shanghai, London, Hong Kong, Leeds and Melbourne, she now calls Adelaide, South Australia, home again.