Gilda Claudine Karasik cooks her way down memory lane with these spicy hipster black beans.
By Gilda Claudine Karasik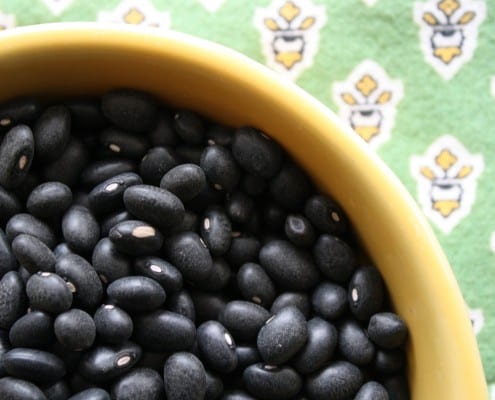 I have a friend, Liz, who is a half-Egyptian, half-Cuban beauty.  Tall and fit, she more like glides when she walks, ever mellow but always in step with the world around her.  The color of her eyes exactly matches her burnt-caramel skin.  The corona of springy, black curls that frames her face is her signature feature. She is blithe, guarded and possesses a disarming, sardonic wit.
And she reminds me of beans, so hard and stoic until you cook them down, slowly.  Patiently.  What is impenetrable at first eventually becomes velvety smooth, full of texture, hearty and dependable.  Also, we ate a lot of black beans and rice together when we were low-budget law students living in Baltimore.
It was 1995.  Our first year of law school. We spent time on campus feigning self-confidence, eating free pizza and drinking cheap beer in the student lounge, and surreptitiously stalking the cutest boys. Sure, we studied.  But we had a hell of a lot of fun—probably more than law students are supposed to have—running around Charm City.
And in between the parties and the lawyer preparation, we cooked.

Liz, a vegetarian, introduced me to lentils and Cuban-style black beans, soaked and simmered in hand-me-down pots on her microscopic gas stove. We might spend an entire Sunday in her small Mt. Vernon apartment, complete with a rectangle kitchen reminiscent of the vintage, die-cast-toy variety.  We were two young women, gossiping and listening to Wu-Tang Clan, Albita and the Fugees playing in the other room, the boombox too big for the kitchen counter.  Without an island on which to alternately strand ourselves, we took turns chopping, stirring and leaning against the door jamb.  We drank red wine, feeling too hip to play the role of a stereotypical 1L.  In the next room, Liz would insert an incense stick into the soil of a lonely houseplant.  Its coco-mango smoke swirling into the air, mixing with the aroma of stewing legumes and carrying away our twenty-something laughter.
Those were the days.
Print
Hipster Black Beans
---
Author:

Gilda Claudine Karasik

Total Time:

2 hours 45 minutes

Yield:

2

to 4

1

x
1

lb black beans

3

tbs olive oil

3

to

4

slices bacon (optional)

2

cloves garlic

1

small onion

2

or 3 serrano peppers (optional)

1

or

2

tomatoes

4 cups

of chicken (Vegetarian option: use vegetable stock or water)
Salt and freshly-ground pepper to taste

1 1/2 tsp

cumin

1 tsp

ancho chili powder
---
Instructions
Use fresh beans.
Sift through the beans and remove any broken pieces or sediment.
Soak them in water either overnight in a pot or cover beans in 2 to 4 cups of water (allow enough liquid for the beans to be completely cover and then some), bring to a boil and then allow to soak for 2 hours.
Once the beans have absorbed most of the water, drain and rinse in a colander. Set aside.
In a medium or large-sized pot, heat the oil, add the bacon and cook over medium-high heat until softened.
Add the onions, garlic, serrano peppers.
When the onions are translucent, add the tomatoes and cook for another few minutes.
Add the beans to the mixture, coating with the oil and bacon fat.
Add 2 cups of chicken stock, cumin, ancho chili powder, salt and pepper. Cover and cook over medium-low heat.
Check on the beans and stir from time to time. If the beans absorb most of the stock, add the remaining amount. Taste for flavor.
Cook for several hours until the beans have become velvety smooth.
Serve over brown rice and top with some chopped red pepper, onions or nothing at all.
Prep Time:

2 hours

Cook Time:

45 mins
Gilda Claudine Karasik
Gilda Claudine is a lawyer and freelance writer. She blogs about Mexican food and culture at www.dosgildas.com and about writing at www.dkwritings.wordpress.com. She is currently working on a her first novel.