After a cherry-shopping spree, Priya Mahandevan makes a delicious chutney from lovely semi-ripe cherries.
By Priya Mahandevan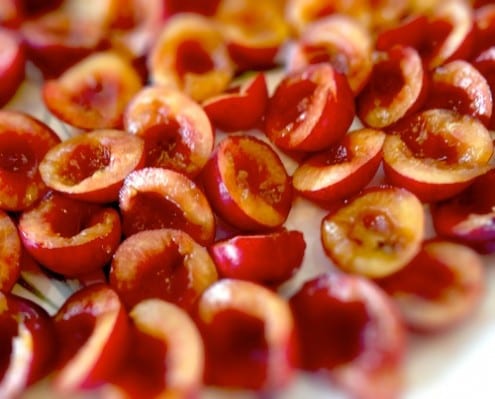 We went to a beautiful orchard set in a very scenic place about 45 minutes from where we live – the weather was perfect and there we were, six of us, my little one leading the pack, all armed with plastic bags.
Long story short, we got SO carried away, we ended up with 20 lbs of cherries- Since they expect you to buy all of the cherries you pick, we ended up buying $80 worth of cherries. Not an issue since my head was immediately buzzing with the different things I can make with them – The pie was the first of course.
See Also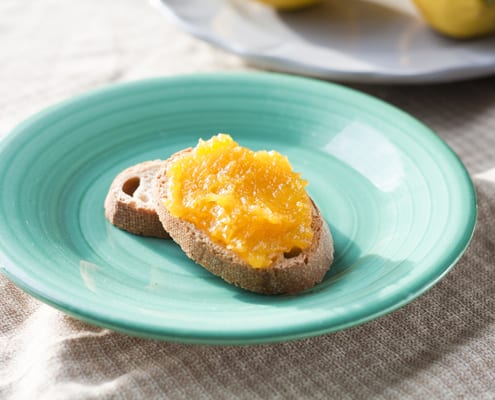 When we came home, we got busy washing and sorting them into grades of ripeness. Before we made our way to the actual trees with the dark fully ripened cherries, our enthusiasm had led us to pick not so ripe ones – My three year old went about it with clear intent and picked a bunch of red, pink and semi-rotten ones – We washed, dried, sorted and pitted and froze for several hours.
Spicy Cherry Preserve/Chutney
A delicious chutney made from lovely semi-ripe cherries.
Ingredients
2lbs pitted semi-ripe cherries
5 green chilies
5 red dry chilies
1tbsp whole black peppers
2 tsp urad dal
2 tsp crushed rosemary
½ cup of gingely oil (sesame oil) (approx 6 tbsp)
salt
Instructions
Dry fry the green chilies, red chilies, peppers, urad dal and rosemary and dry grind into a powder.
Take ⅓ of the cherries (aprrox) and grind them coarse -
Add 2 tbsp of oil and and add the powder and roast for a minute.
Add the ground up cherries and the remaining pitted cherries into the pan
Add salt (about 3 tsp) and all it all to simmer and simmer and simmer in a low flame
in intervals of 5-7 minutes, keep adding a tbsp of oil until you've exhausted the oil
You will have a finely simmered chutney/preserve in about 45 minutes.
Allow it to cool down. Transfer into a mason jar. Refrigerate and use as needed.
Priya Mahadevan
Priya Mahadevan is a writer and food blogger with a background in journalism & communication. Priya's mission with her food blog is to blow the myth that healthy cannot be tasty. She was a political and feature correspondent for a prominent Indian newspaper in the 90s before moving to the US. She lives in Virginia with her husband and 3 beautiful children. You can find her world of vegetarian recipes at http://priyasnowserving.blogspot.com.