Headed to Denver for a quick weekend trip? Check out our favorite places to stay, eat and explore, no car needed.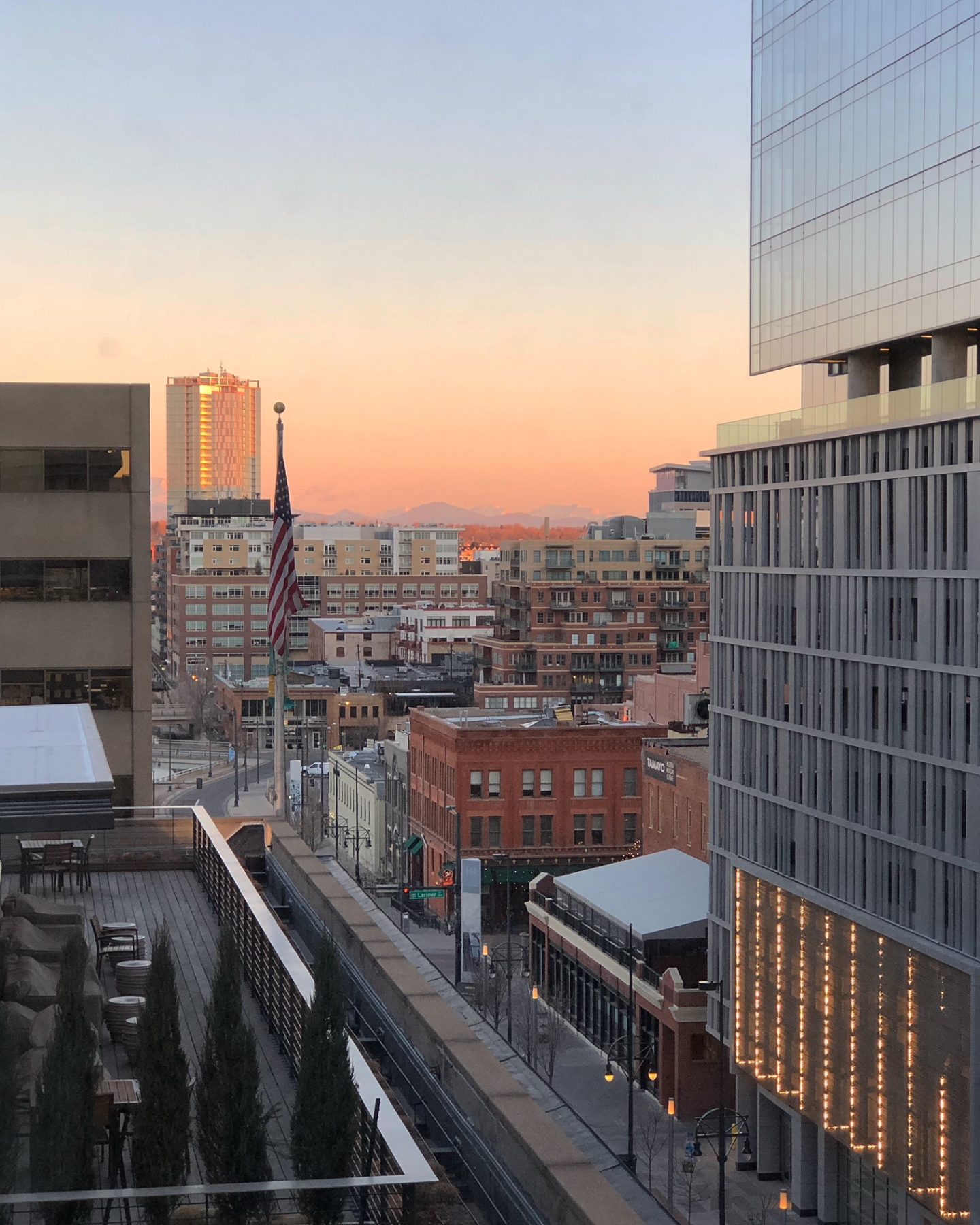 To Stay
After you land the Denver airport, hop on the A train which will take you right to Union Station in downtown Denver. It's quite the scenic ride, in our opinion. From there, it's a short walk or one bus ride to Hotel Teatro. We recently stayed here for a bit of a staycation and it was wonderful. Hotel Teatro is right in the thick of things, just steps from some of our favorite Denver spots. Plus, it's a boutique hotel that is truly independently owned and has a cool history. It was built in 1911 as the Denver Tramway building and still holds onto some fun hints to its past, but it's much more luxurious today, having just completed a $2.5 guest room renovation. It truly is the perfect mix of modern and historic.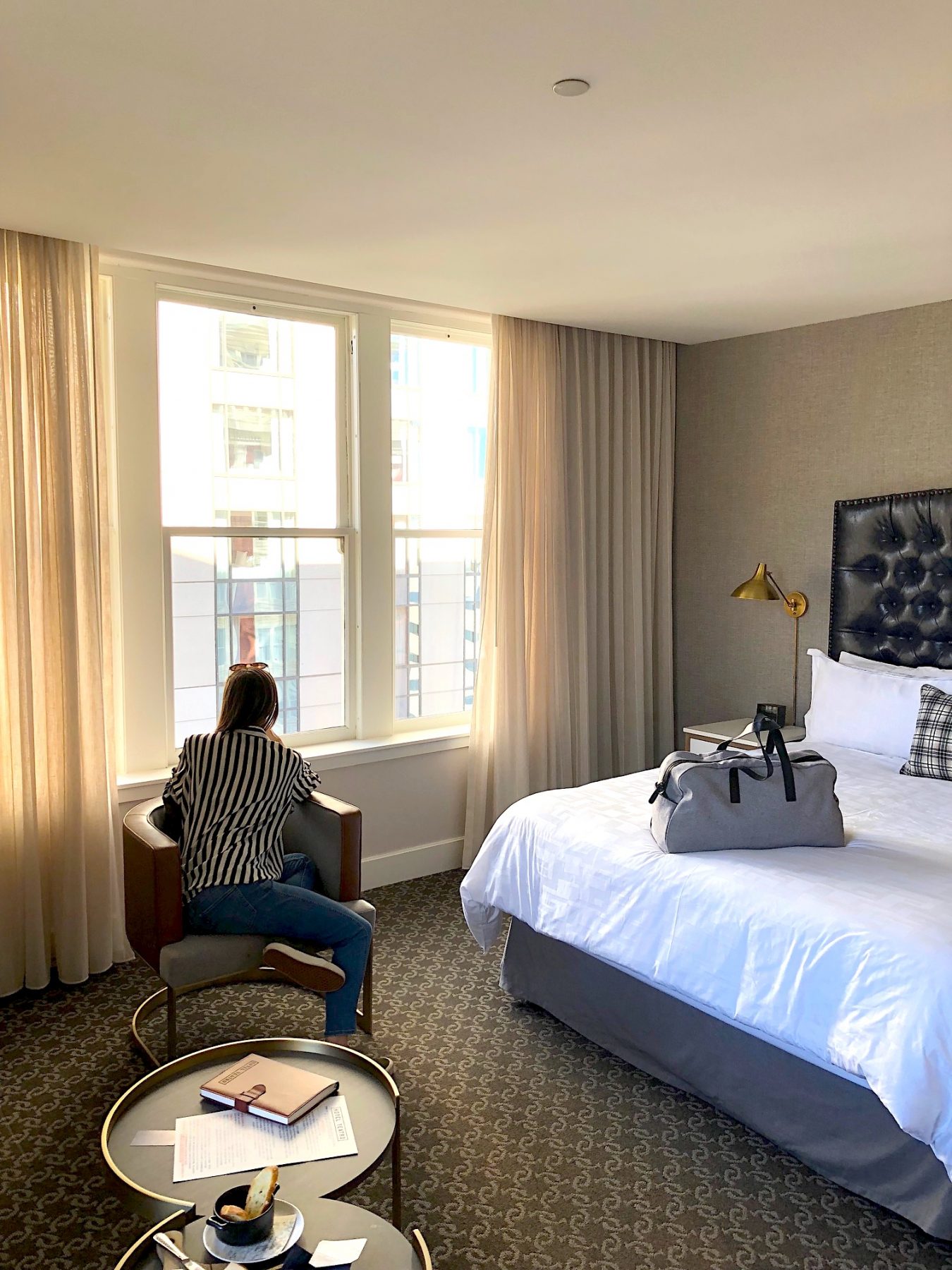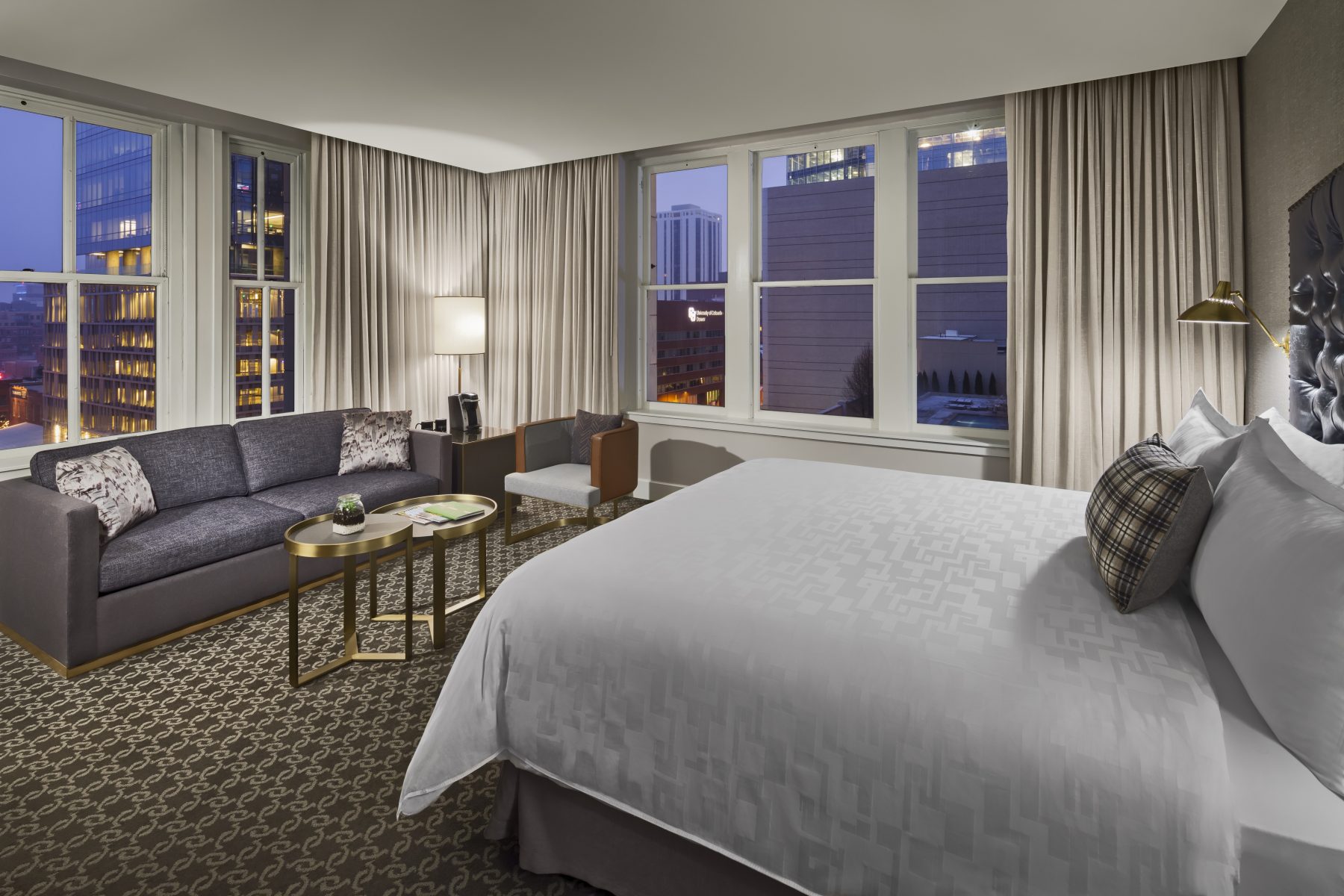 One of our favorite perks of the hotel? It offers vintage cruisers to guests and has courtesy transportation within 2.5 miles of the property. No need to rent a car! Be sure to reserve a bike for yourself, we had a blast pedaling around the city… don't worry, there are plenty of bike lanes in Denver. Hotel Teatro is also offering a Bike and Brew package that comes with a charcuterie board (with meats from the charcuterie program from the in-house restaurant, The Nickel) to start you off and a personalized bike map to one of the many nearby Denver bars and breweries.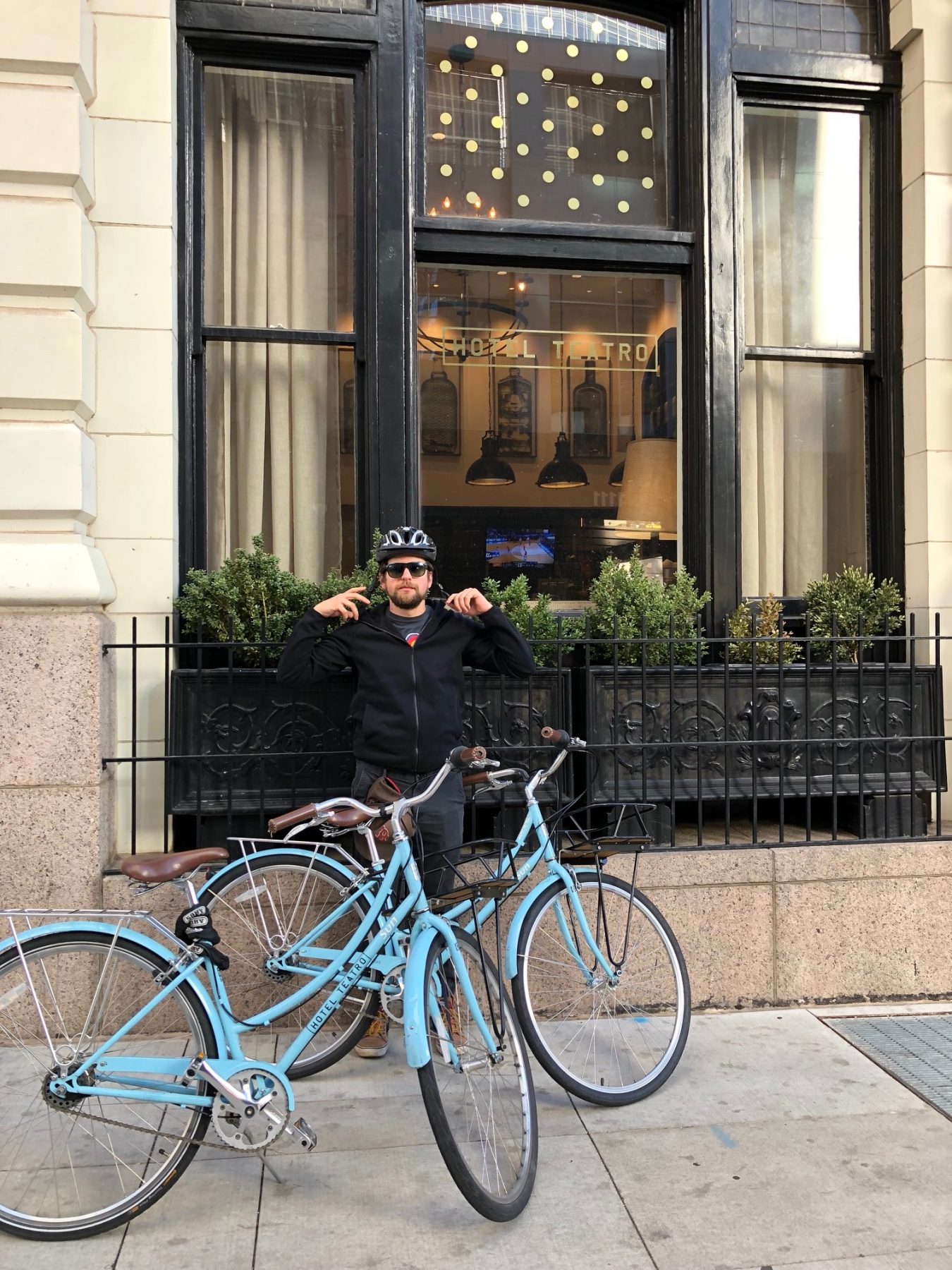 To Eat and Drink
By bike, on foot or by train, here are some of our favorite places in Denver that are just moments from the hotel.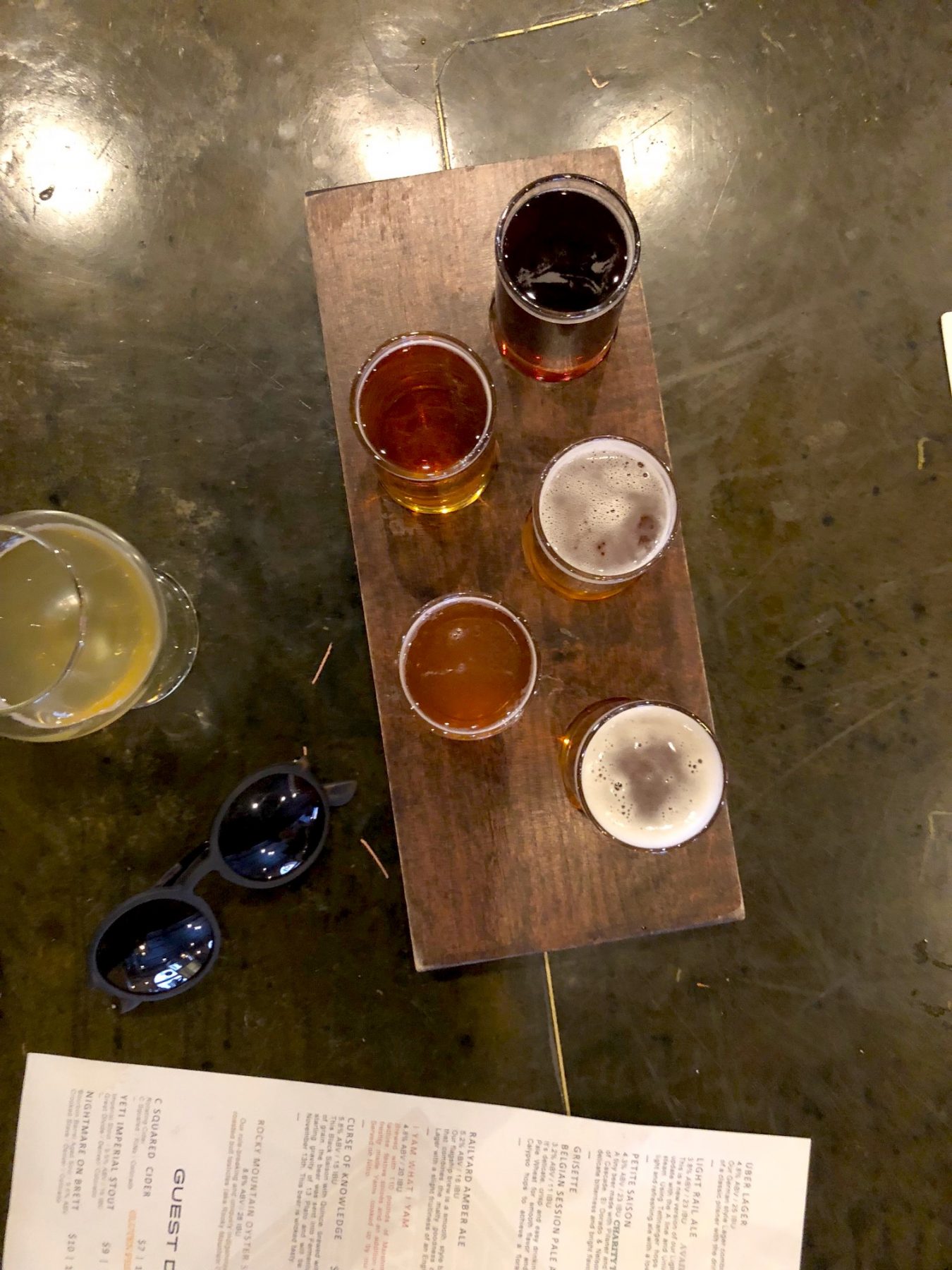 Sip at Wynkoop Brewery
Less than a mile or about 7 minutes from Hotel Teatro, we biked to this spot, aka Colorado's first brewpup. Heads up, it has branched out since its early days. Grab a seat at the bar and talk to your bartenders about the unique aged or soured beers they're serving. We tried an interesting beer while we were there that was made wth climbing chalk, it was goooood.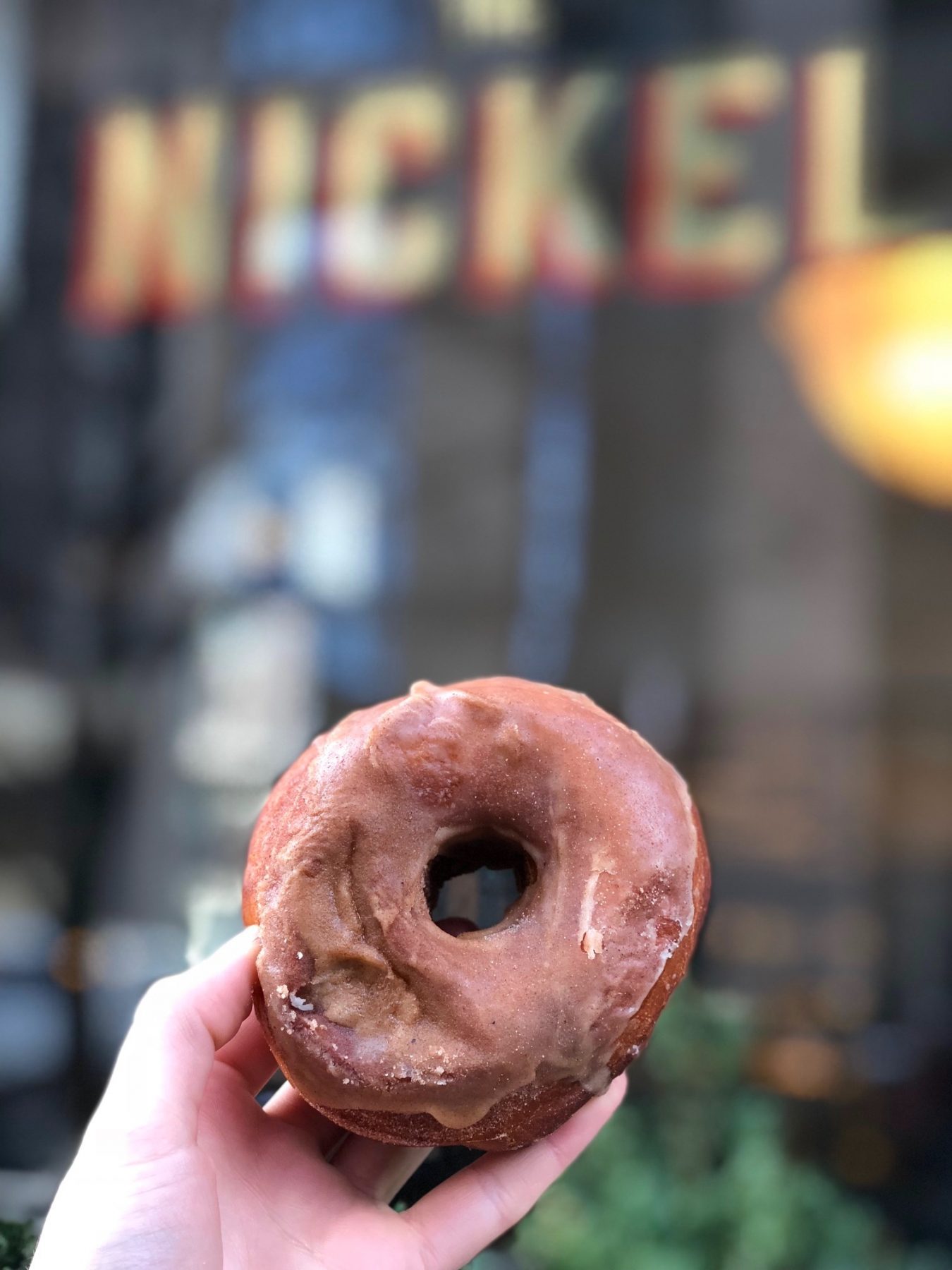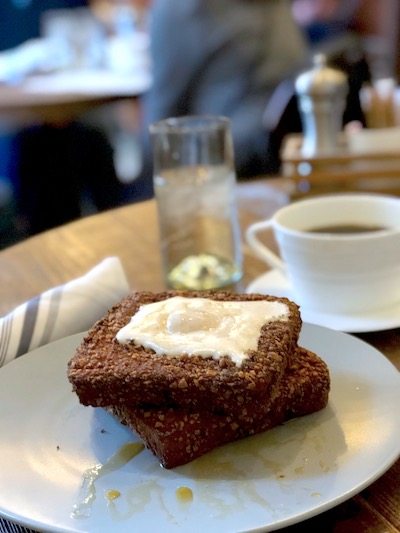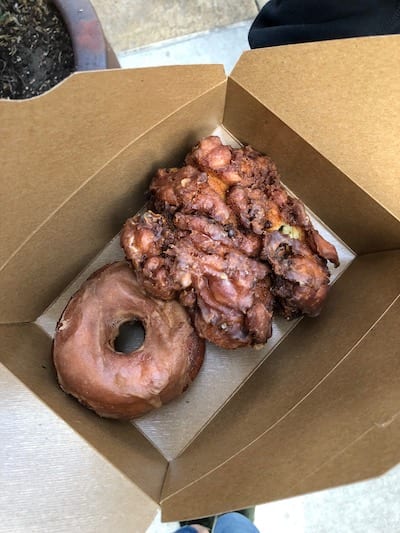 Start the Day with Doughnuts in The Study
At the front of the Hotel Teatro lobby is a cozy space known as The Study. It serves Pablo's Coffee (one of our favorite cafes in Denver), a simple breakfast menu and doughnuts. We can't say enough good things about their cider doughnuts or seasonal fritters. YUM. And if you want to sit and enjoy a meal, please do yourself a favor and dig into a stack of their crispy, crusted French toast.
Do a RiNo Brewery Crawl
About a 14 minute bike ride from the hotel, head to the hip neighborhood of RiNo. It's loaded with breweries and coffee shops that you can walk between.
Happy Hour at Work & Class
Home to our favorite happy hour in Denver, Work and Class serves up fun small plats and delicious drinks at a great price. It's about a 12 minute bike ride or 23 minute walk from Hotel Teatro.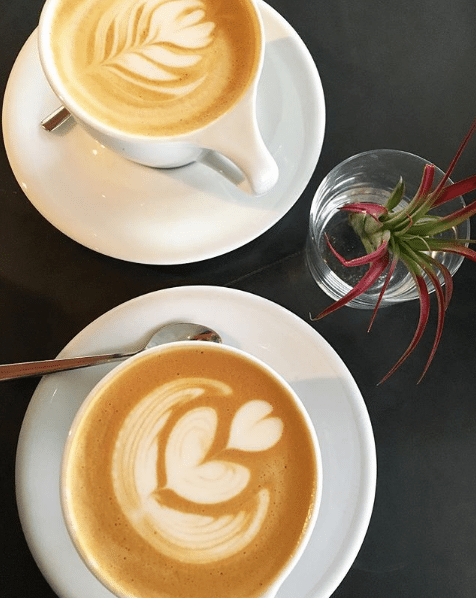 Enjoy a Pick-Me-Up at Little Owl
If you find yourself out and about and in need of some caffeine, we highly recommend Little Owl. It's a small, bright spot serving quality coffees.
See Also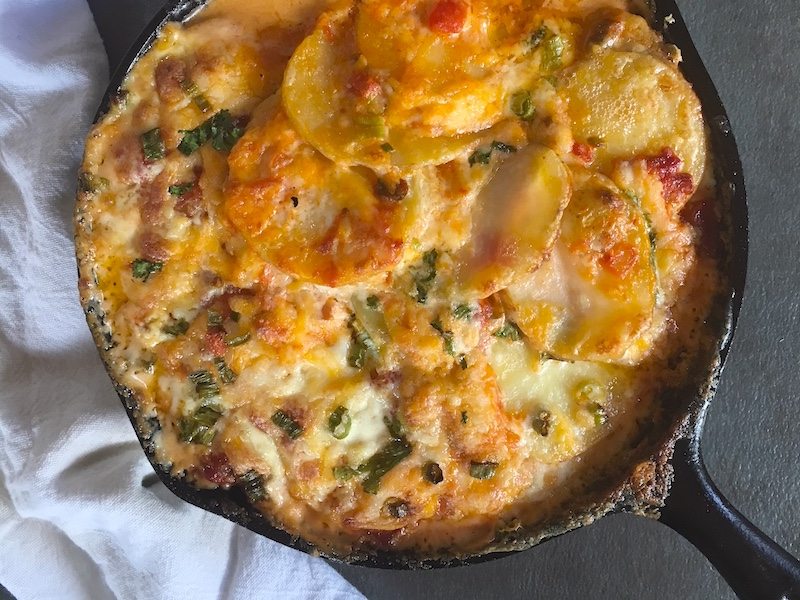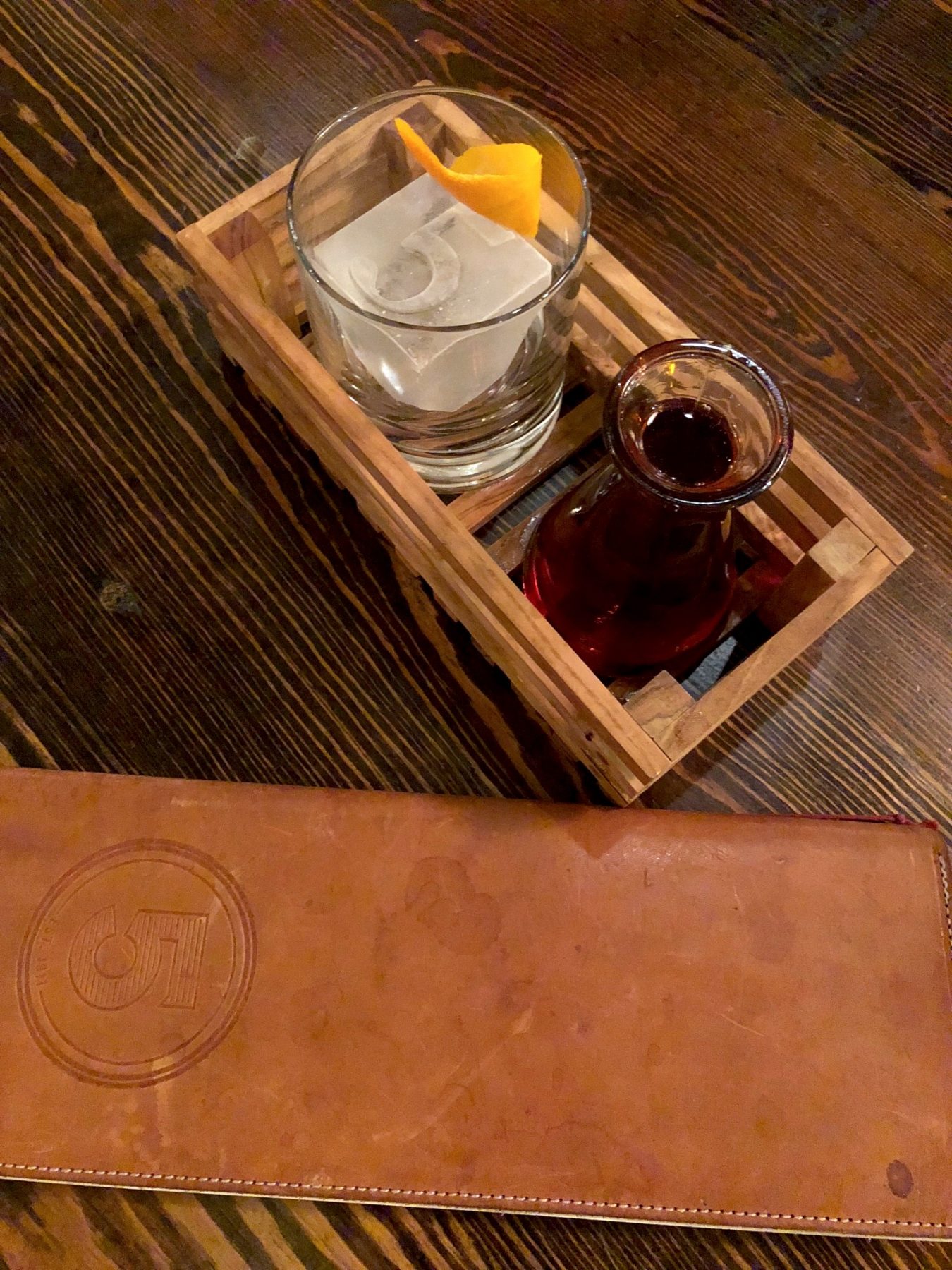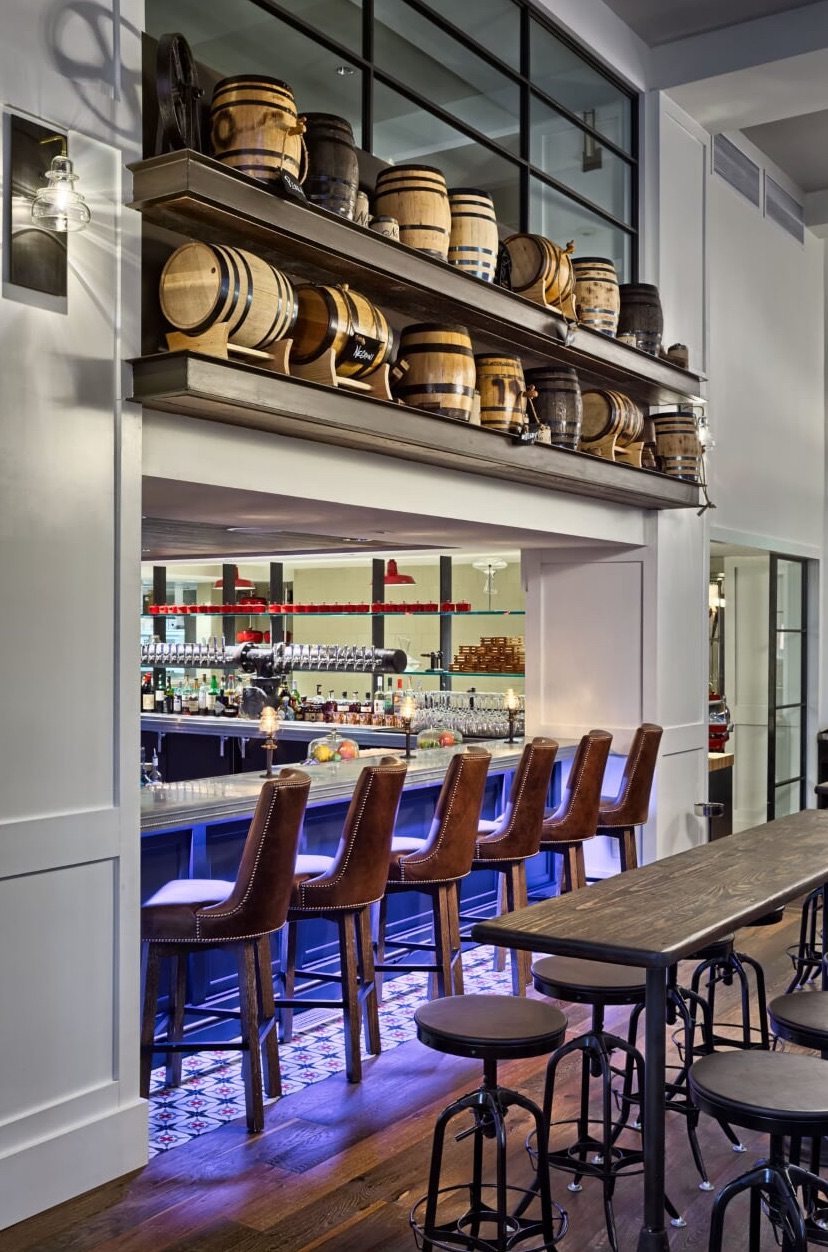 Have Dinner at The Nickel
Right inside Denver's historic Tramway Building and on the main floor of Hotel Teatro, The Nickel pays homage to the space that was once used to collect fare from customers riding its resident streetcars: a nickel. The menu is delightfully seasonal, not too stuffy and features quality ingredeints from favorite local farmers and distillers. It's a space that will put you at ease and we love that the menu isn't too large to handle. If they have a gnocchi on the menu when you visit, be sure to order it. It was hands down a favorite bite for us! Come thirsty, The Nickel has a beautiful barrel aged cocktail program that will knock your socks off. We loved their aged negroni.
To Do
Everyone has their own idea of fun, but these are some of our favorite nearby spots that can be biked or walked to.
A great way to spend a morning or an entire day is at the Denver Art Museum which houses over 70,000 works of art. For an ever-changing experience that can often be quirky, bike for a little under 10 minutes to the Museum of Contemporary Art, also known as MCA Denver.
If performance art is more your style, the Denver Center for Performing Arts is right down the street from Hotel Teatro and has a stellar lineup of plays for the year.
For a bit of history, enjoy a 10 minute bike ride from Hotel Teatro to the Colorado State Capitol. Feel free to explore the grounds on your own or sign up for a tour ahead of time so you can enjoy the breathtaking view from the top of the dome. Just a few blocks from the capitol, is the house that belonged to the unsinkable Molly Brown. It's a beautiful piece of architecture to walk through while you learn the truths and myths behind the famed Molly Brown.
Looking to hike but don't want to rent a car? No worries. Head back to Union Station jump on one of Flatiron Flyer buses that can take you from Denver to downtown Boulder. From there you can walk one mile or take the HOP bus right to the park. The entire trek takes just over an hour, which will leave you plenty of time to explore the many trails of the park. Be sure to stop in at their visitor center if you'd like to pick a trail with a great view.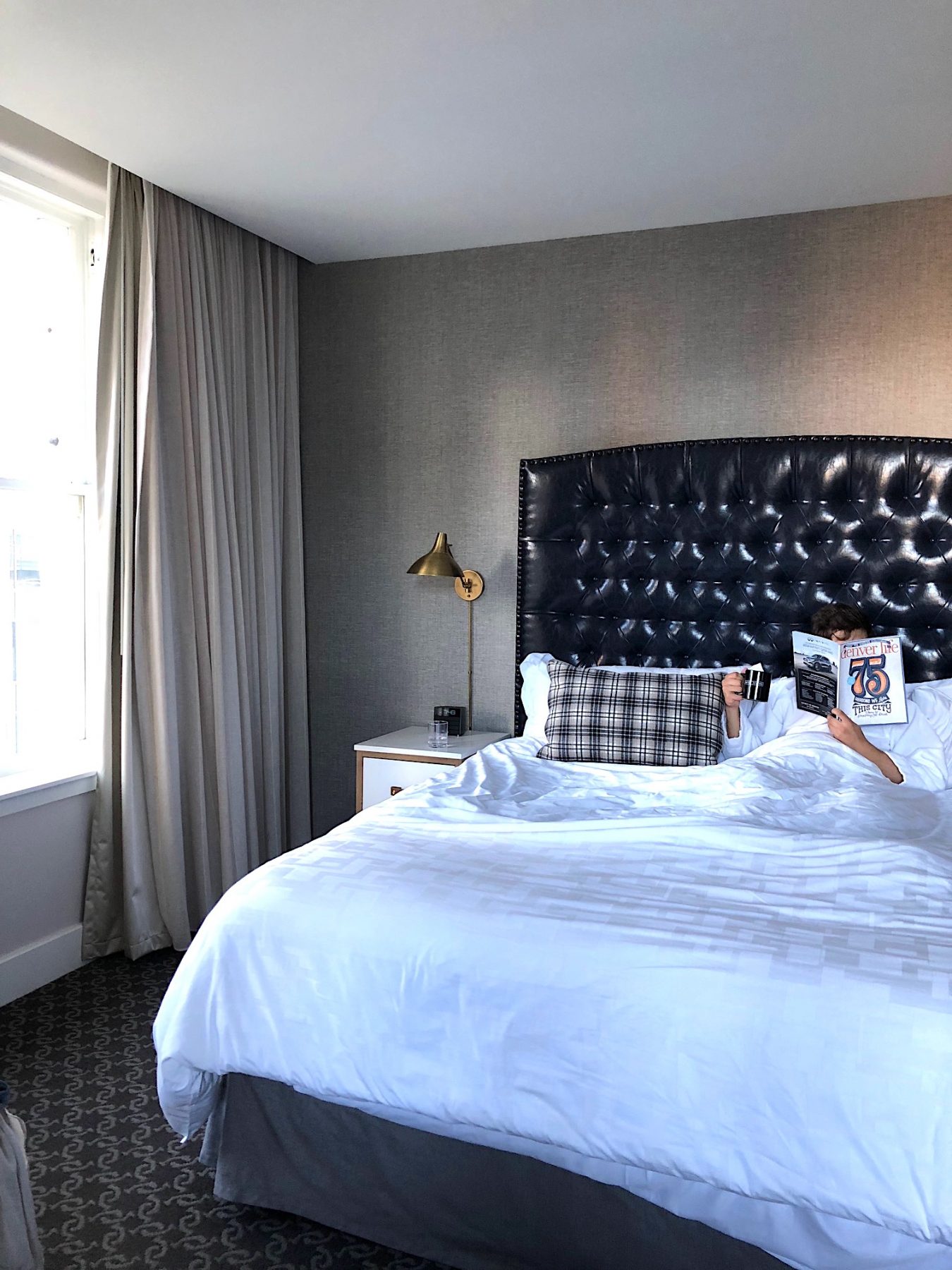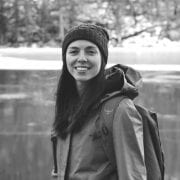 Annelise McAuliffe
Mandatory family outings to the Detroit farmers' market and nightly home-cooked meals cultivated Annelise's respect and curiosity for food. A graduate of The Culinary Institute of America, she spends her free time in New York City recipe testing, eating breakfast all day, and dreaming up international culinary adventures.