The slightly sweet crunch of the spaghetti squash pairs perfectly with savory Italian sausage and earthy kale.
By Heather Schmitt-González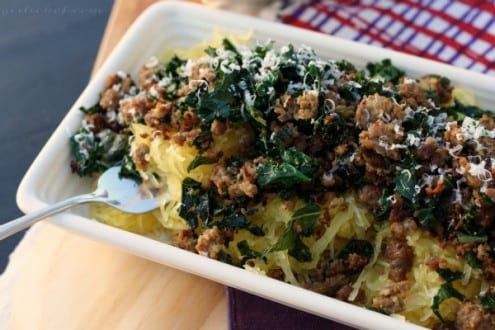 To me, this dish is the essence of comfort food. It's also healthy. And beyond delicious.
Don't you love it when you find something that is so irresistible that you want to eat it three times a day? Every day. As in, every single day for the foreseeable future.
That is exactly what happened with this combination. One bite and I was a goner. The slightly sweet crunch of the spaghetti squash was meant to be eaten in the same bite with savory Italian sausage and earthy kale. Garlic, shallots, and just a pinch of crushed red chiles are all the seasoning that is required, aside from a little salt and pepper to taste. I don't know if it's just me or not, but I cannot get enough!
Spaghetti Squash Gratin with Kale and Sweet Italian Sausage
This delicious spaghetti squash gratin is the perfect comfort food.
Author:
Heather Schmitt-González
Ingredients
1 med-large Spaghetti Squash
12 oz. sweet Italian sausage
1 shallot, minced
1 fat clove garlic, minced
1 large bunch kale
big pinch crushed red chiles
sea salt
freshly ground black pepper
freshly grated Parmesan cheese
Instructions
Preheat oven to 350° F. Line a baking sheet with a silicone mat or parchment paper.
Cut the tip and the tail off of the squash and then cut in half lengthwise. Scoop out the seeds. Set both halves, cut side down, on the prepared baking sheet. Roast for 45 minutes - 1 hour, or until tender (the tip of a small, thin-bladed knife should slide in easily). Set aside for a few minutes, until cool enough to handle.
When the squash is getting near the end of its cooking time, set a large skillet over medium to medium-high heat and add the sausage. Cook, stirring as needed to break up, until cooked through and a bit brown. Add shallots and garlic and saute for another minute or two, until soft.
Pull the large, woody stems from the kale, and slice the leaves into thin ribbons. Add to the skillet along with the crushed red chile flakes and cook, stirring until tender and just cooked through. Season to taste with salt and pepper.
Use a fork to scrape the still warm squash into strands. Arrange on a serving platter.
Scoop the sausage and kale mixture over the top. Grate some Parmesan over the top of everything and serve. And enjoy immensely.