This barbecue sauce is delicious as a dip or marinade for an array of protein, try it with chicken, beef, veal, lamb or tofu.
By Ariel Rebel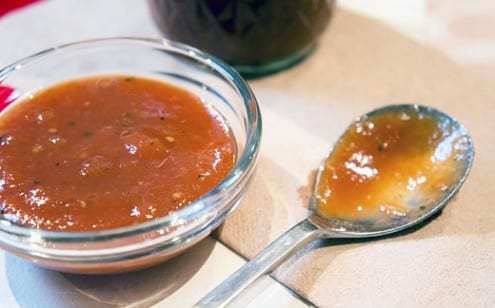 Smoky Apple Barbecue Sauce
This barbecue sauce is delicious as a dip or marinade for an array of protein, try it with chicken, beef, veal, lamb or tofu.
Ingredients
½ cup of unsweetened basic apple sauce (apples + lemon juice – no spices)
3 tablespoons of apple cider vinegar
1 teaspoon of garlic powder
½ teaspoon of onion powder
⅓ cup of Heinz ketchup
¼ teaspoon of liquid smoke
1 teaspoon of soy sauce
ground black pepper to taste
Instructions
In a small sauce pan, on the stove at medium heat, mix together all the ingredients and bring everything to warm temperature.
Let simmer for about an hour, remove from heat.
Store in a fridge for a few weeks!