A beautiful, dairy-free and deliciously simple breakfast from Amie Valpone.
By Amie Valpone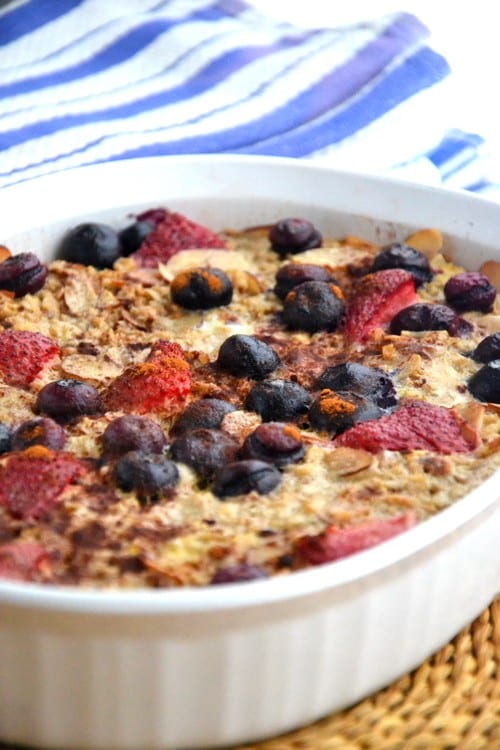 A dairy-free and deliciously simple breakfast.
Ingredients
2 cups uncooked oats
¾ cup slivered almonds
2 Tbsp. stevia
1 tsp. baking powder
2 tsp. cinnamon
½ tsp. sea salt
1¾ cups rice milk
1 large egg
3 Tbsp. butter, melted
2 tsp. almond extract
1 cup fresh blueberries
2 cups fresh strawberries, sliced
2 Tbsp. honey, for serving
Instructions
Preheat oven to 375 degrees F. Prepare an 8-inch square baking dish with nonstick baking spray.
Combine oats, almonds, sugar, baking powder, cinnamon, and sea salt in a bowl. In a separate bowl, whisk rice milk, egg, butter, and almond extract.
Transfer oat mixture to prepared baking dish; layer the almond milk mixture on top of oats. Scatter blueberries and strawberries on top.
Bake for 45 minutes or until golden brown and the oat mixture has set. Remove from oven; set aside to cool for 5 minutes before serving with a drizzle of honey.
Amie Valpone
Amie Valpone is a Manhattan based Personal Chef, Culinary Marketing Consultant, Whole Living Expert, Professional Recipe Developer and Food Writer specializing in simple Gluten-Free 'Clean' recipes for the home cook.