Shrimp and Avocado Tacos with Pineapple Salsa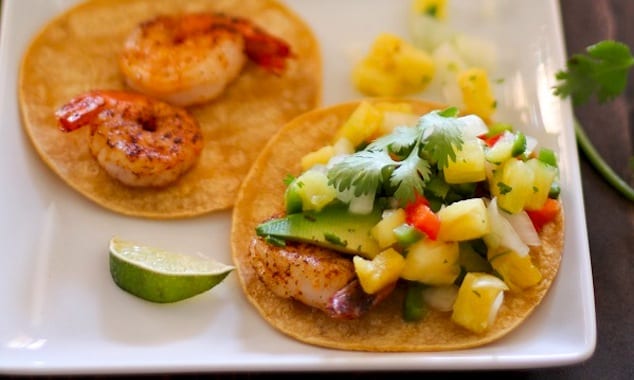 Shrimp tacos are so quick and easy to create. Relax, sip some wine, and enjoy the delicious tacos and pineapple salsa. They're a breeze.
By Julia Mueller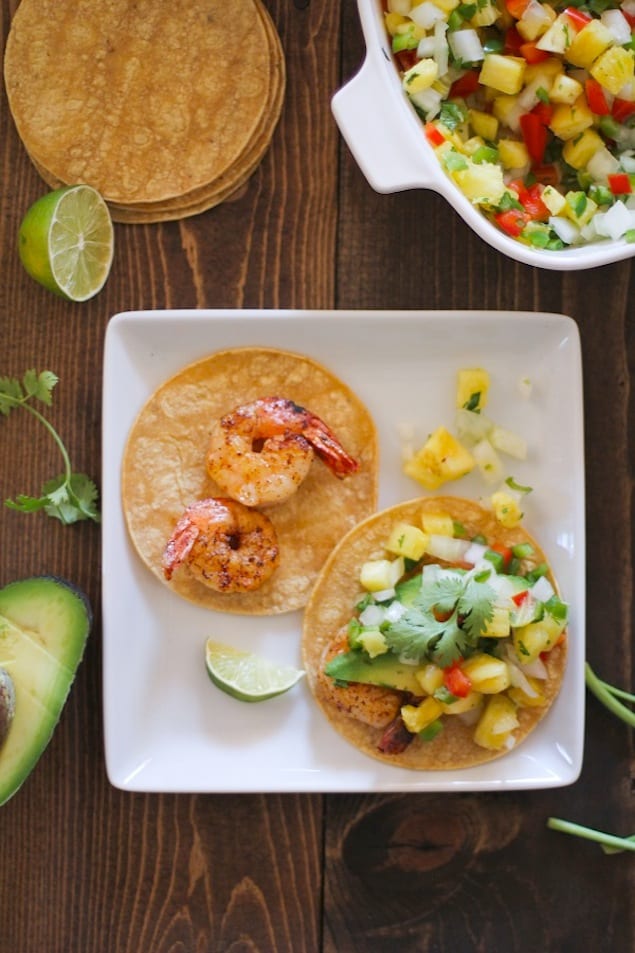 Something about these tacos makes me want to go to the Dominican Republic and lay on the sand with a cocktail in hand for a good 7 days. Feel the breeze in my hair, the sun on my skin, and enjoy the sound of the waves crashing against the shore.
Shrimp tacos are probably one of my favorite taco varietals to make because they require so little preparation and cook time. You can enjoy some sips of wine while taking your sweet time putting these together, because even at a snail's pace, you won't spend but a half an hour making them.

Shrimp and Avocado Tacos with Pineapple Salsa
Shrimp tacos are so quick and easy to create. Relax, sip some wine, and enjoy the delicious tacos and pineapple salsa. They're a breeze.
Ingredients
Salsa
1 cup fresh pineapple, diced small
1 small jalapeño pepper, seeded and finely chopped
¼ cup finely chopped white or red onion
¼ cup chopped red bell pepper
1 small clove garlic, minced
Juice of 1 small lime
Salt to taste
Tacos
2 to 3 tablespoons grapeseed oil
1 pound raw shrimp, peeled and deveined
Salt, pepper, chili powder
2 avocados, sliced
Pineapple Salsa
Corn tortillas
Serve with rice and beans
Instructions
Salsa
Toss together the ingredients in a small bowl. Cover and refrigerate until ready to use.
Tacos
Prepare the pineapple salsa according to directions and set aside or refrigerate until ready to use.
In a cat iron skillet, pour enough oil to generously coat the surface (about 2 to 3 tablespoons), and heat to medium-high.
Add the shrimp and sprinkle salt, pepper and chili powder over them. Allow them to cook until they begin to plump up and get crispy. Using tongs, flip the shrimp to the other side, sprinkle more salt, pepper, and chili powder, and cook until cooked through, about 1 to 2 minutes.
Remove shrimp from heat and set aside.
Wrap corn tortillas in foil and heat in the oven or wrap in a paper towel and microwave until hot.
Add desired amount of shrimp, avocado, and pineapple salsa to each tortilla and serve with rice and beans.
See Also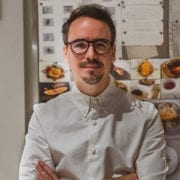 Julia Mueller
As a fitness and nutrition enthusiast, Julia writes a food blog called The Roasted Root, where she share recipes that are mostly vegetable and meat based along with stories of her travels and day-to-day activities. Julia loves enjoying fresh home cooked meals with her friends and family, and the process of developing recipes, photographing, and sharing them.