Sesame Soba Noodles with Chicken and Vegetables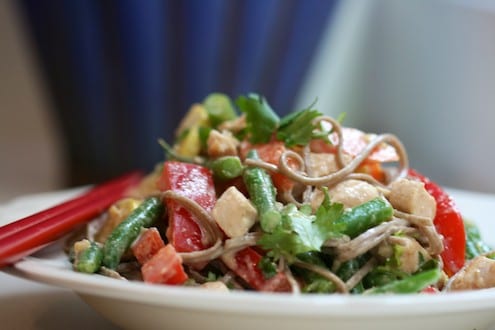 Here's an easily packable picnic meal which can also be eaten from the bug-free comfort of your own home.
By Nicole Criss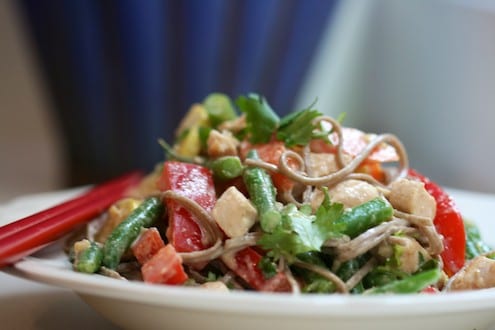 The oven is going to take a break for the next two months.  With the air conditioning already cranking, there's no need to bring any heat into my apartment unless it's in the form of hot pepper flakes.  Here's an easily packable meal (beach lunch, park/outdoor concert dinner) which can also be eaten from the bug-free comfort of your own home.  The flavors will perk up even the most wilted soul after a hot day.
Something about the heat can cut a person's appetite.  When this happens, I reach for bold flavors to awaken my palate, like cilantro and tahini.  Here I've added some of my favorite vegetables, organic red peppers, green beans, summer squash, but you can use any that you like.  Snow peas, edamame,  even fresh cucumber would all be delicious and refreshing in this cold salad.  Now sip a cold drink, try to stay in the shade and enjoy a sunset.  But don't forget to eat well.

Sesame Soba Noodles with Chicken and Vegetables
Pack this for lunch, or a picnic with your family, or enjoy it at home on a hot summer evening. No matter the venue, these cold sesame soba noodles are good grub.
Ingredients
One packet wheat soba noodles
1 summer squash
1 organic red pepper cut into 2 inch pieces
2 cups green beans, stemmed and cut in half
2 carrots cut on the diagonal
2 chicken breasts cut into bite sized pieces
¼ cup freshly chopped cilantro
Dressing:
3 tablespoons soy sauce
1 tablespoon red wine vinegar
1 tablespoon mirin rice wine
6 tablespoons tahini sesame paste
5 tablespoons water
1 tablespoon sesame seeds
¼ to ½ teaspoon hot red pepper flakes (optional)
2 inch piece of ginger
1 large or 2 small garlic cloves
Instructions
Cook the soba noodles according to the package instructions, and rinse under cold water.
Slice and sauté the summer squash in a bit of olive oil.
Bring a medium pot of water to boil and blanch the red pepper, green beans and carrots for about 3 minutes.
Saute the chunks of chicken in some olive oil until cooked through.
Combine the noodles, vegetables and chicken in a large bowl.
Mix all the dressing ingredients in a mason jar with a lid. Shake well.
Dress the salad and incorporate the cilantro. Best served cool.
Nicole Criss
Nicole Criss is passionate about international foods and the cultures from which they stem. Nicole writes the blog 'And Baby Cakes Three,' chronicling stories of her global food adventures from New York City where she resides with her husband and toddler.