Enjoying an afternoon wine tasting with a plate of bruschette is the perfect way to relax after a day of cycling in Tuscany. But what exactly is bruschetta – it seems to take on many forms here in Tuscany – and how do I impress my friends back home with an authentic and delicious version?
Let's begin with saying it correctly – it is pronounced BRU-sketta, note the "ch" is pronounced as "k" in Italian. The name bruschetta comes from the Roman dialect verb bruscare, meaning 'to roast over coals'. This is an ancient dish, dating back to the Etruscan age. Then, this referred to a simple dish of grilled bread – best day old, a bit stale – either grilled or baked in an oven, rubbed with garlic and drizzled with olive oil. According to Marcella Hazan, the dish most likely originated in ancient Rome, when olive growers bringing their olives to the local press would toast slices of bread to sample their fresh-pressed oil. In Tuscany, renowned for its olive oil, the olive farmers believe that the oil should be very young and recently pressed and that bruschetta is best accompanied by a glass of wine. As an old Italian proverb goes, "Day-old bread, month-old oil, and year-old wine".
Today, the term bruschetta often refers to an antipasti that consists of this basic grilled bread served with just about any topping you can imagine. All over Italy you will see an enormous variety of options – with meats like prosciutto crudo, chicken livers, fresh sausage or lard; versions served with zucchini, eggplant, mushrooms, bell peppers and many different kids of cheeses. Probably the most common version is the bruschetta al pomodoro, topped with tomatoes, basil, and more olive oil.
See Also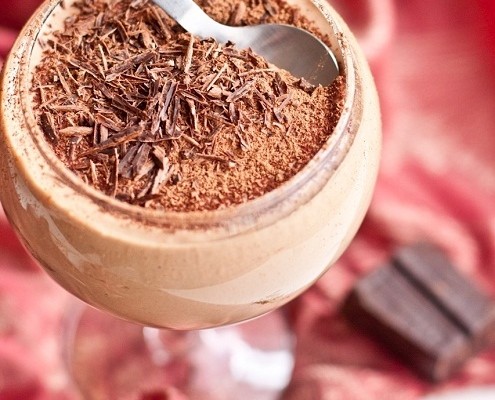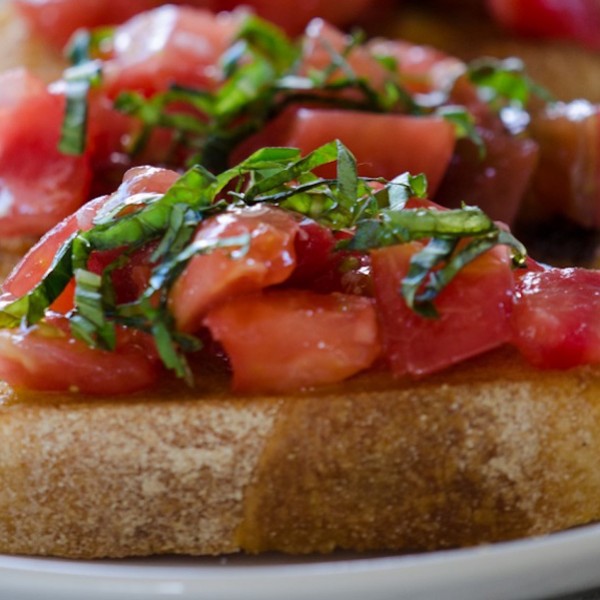 Secrets Behind a Great Bruschetta
Kathy Bechtel
There aren't many secrets behind a great Bruschetta. All you need are fresh, seasonal ingredients and the right wine to go alongside. Try it!
Ingredients
2

large or 3-4 medium

fresh, local, amazing tomatoes, diced small

Kosher salt and freshly ground black pepper

1/4

cup

fresh basil leaves

sliced into ribbons

8

slices

of a great bread

sliced about 1/2" thick

1

– 2 cloves fresh garlic

High quality fresh extra-virgin olive oil
Instructions
Place the tomatoes in a colander over a plate to catch the juices. Season with salt and pepper, and half of the basil. Let sit at room temperature while you toast the bread.

Toast the bread in a 350° oven directly on the rack until golden brown, about 5 minutes. Or grill. You want nicely browned grill lines, but still a softer interior – best to soak up juicy tomatoes.

Remove from oven, and rub each slice all over with a garlic clove. Brush each slice with olive oil. Place the bread slices on a serving plate, top the bread with tomatoes, garnish with remaining basil and drizzle with extra-virgin olive oil right before serving.
Kathy Bechtel
Kathy Bechtel's obsession with food and cooking began as a teenager. After years following a traditional career path as a telecommunications engineer, she left to attend culinary school and wine training, and is now combining her passions for food and wine, the outdoors, and travel as owner and Culinary Tour Director of Italiaoutdoors. In this role, Kathy leads small bicycle, skiing and walking tours that explore the authentic regional cuisines, local products and undiscovered wines of Northeastern Italy.