These are a simple yet flavorful way to enjoy steak for dinner.
By Amy Casey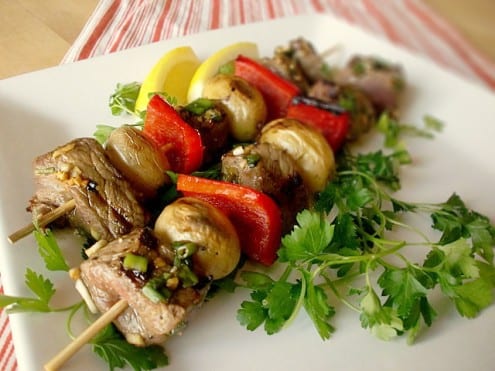 A quick marinade is all that is needed to add a flavor punch to the kebabs. Cubes of strip or sirloin steak are marinated in a bold sauce which includes lemon juice, soy sauce, fresh ginger root, garlic and scallions. Small potatoes are partially cooked in the microwave so they grill in the same amount of time as the faster cooking steak and red peppers. After about a total grilling time of about 8 – 10 minutes, the dinner is ready.
Scallion Garlic Steak and Potato Kebabs
These are a simple yet flavorful way to enjoy steak for dinner.
Ingredients
¼ cup soy sauce
Juice of 1 lemon
1 tablespoon Worcestershire sauce
1 tablespoon olive oil
1 inch piece of ginger root, peeled and finely chopped
2 garlic cloves, finely chopped
2 scallions, white and green parts thinly sliced
¼ teaspoon pepper
1 ½ pounds sirloin or strip steak, cut in 1 ½ inch cubes
16 small white potatoes, about 1 ½ – 2 inches in size
1 large red pepper, cut in 1 ½ inch pieces
8 wooden skewers, soaked for 10 minutes before using
Instructions
Heat a grill to medium high heat.
In a small bowl, combine the soy sauce, lemon juice, Worcestershire sauce, olive oil, ginger root, garlic, scallions, and pepper. Place the steak in a large resealable bag and add all but 2 – 3 tablespoons of the marinade. Set reserved marinade aside. Seal bag and marinate the steak for at least 15 minutes at room temperature or up to 4 hours in the refrigerator.
Pierce the potatoes a few times and microwave at 30 minute intervals until they are tender when pierced with a sharp knife.
Remove the steak from the marinade. Discard the marinade. Thread 4 cubes of steak, 2 potatoes and 2 pieces of the red pepper on each skewer. Grill skewers for about 2 minutes per side basting with the reserved marinade. Grill for a total of about 8 minutes for medium rare.
Alternately, the skewers can be cooked in a preheated 450 degree oven for 2 minutes per side. Turn the oven to broil for the last 2 minutes to char the skewers.