Sponsored Post: We've partnered with North Coast Organics, makers of delicious apple products, to bring you fun recipes ideas for the coming season. Their apple sauces, vinegars, juices and ciders are made with only U.S. grown apples. You're sure to taste the difference!
Apples with Bratwurst and Sauerkraut is the ultimate autumn comfort food recipe. The brats are browned in a pan then stewed with sauerkraut, and apple juice. Apple slices are popped in at the end for a touch of sweetness. This traditional German recipe is a about to become a favorite with your family.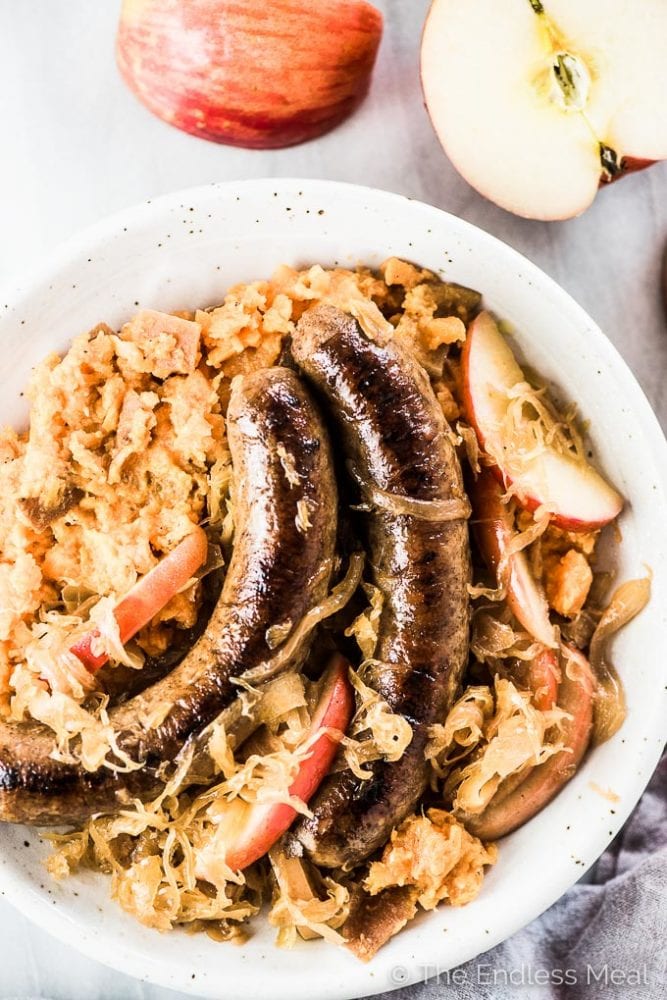 Warning: serious comfort food ahead! This bratwurst and sauerkraut recipe is my mom's recipe and the one I grew up eating. It's the same one that she remembers my grandma making her as a child. Until today, it wasn't a written recipe.
When I asked my mom (because why Google when you have a mom?) how to cook sauerkraut and brats I got an answer that went something like: "brown the bratwurst then put a bunch of sauerkraut in the pan with some apple juice and cook it until it's done." I was told that you can add bacon or apple slices to switch things up but I never got any clarification on quantity.
I think that's the beauty of this bratwurst and sauerkraut recipe; it's impossible to mess up.
WHAT BRATWURST AND SAUERKRAUT IS ALL ABOUT:
Your favorite fresh sausages, browned and juicy.
Lightly tangy sauerkraut with a touch of crunch.
Perogies – let's be clear, this is NOT a perogi recipe. But if you serve the bratwurst and sauerkraut over potatoes with a generous dollop of sour cream all you're going to think about is perogies. ?truth!
An easy, low-key, meat and potatoes dinner that just so happens to be chock full of cabbage but doesn't taste at all like you're eating veggies. #bestofbothworlds
Gluten-free + paleo + Whole30 long before any of us had heard about those in words.
According to mom, bratwurst and sauerkraut can be made with beer or chicken stock but it is best made with apple juice. And if you're going to use apple juice (which you should) then you want to use the best apple juice around. AKA: North Coast Organic Apple Juice.
One sip sent my mind racing back to childhood memories of grandma's homemade apple juice. I never thought anything could come close to hers but North Coast's no added sugar and no preservatives apple juice nails it.
Until recently, you had to live on the west coast or in the midwest if you wanted to get your hands on a jar or North Coast Organic Apple Juice. Luckily for the rest of my American friends, they've just launched online across the country on Boxed.com and Jet.com. #happydance
And if you'd like to win a year's supply of North Coast products (you know you want to!) make sure to enter on Facebook HERE!
North Coast products can be found here:
Boxed.com
VitaCost.com
Kroger.com
Walmart.com
Jet.com
Amazon.com
And you can check here to see if it is carried in a store near you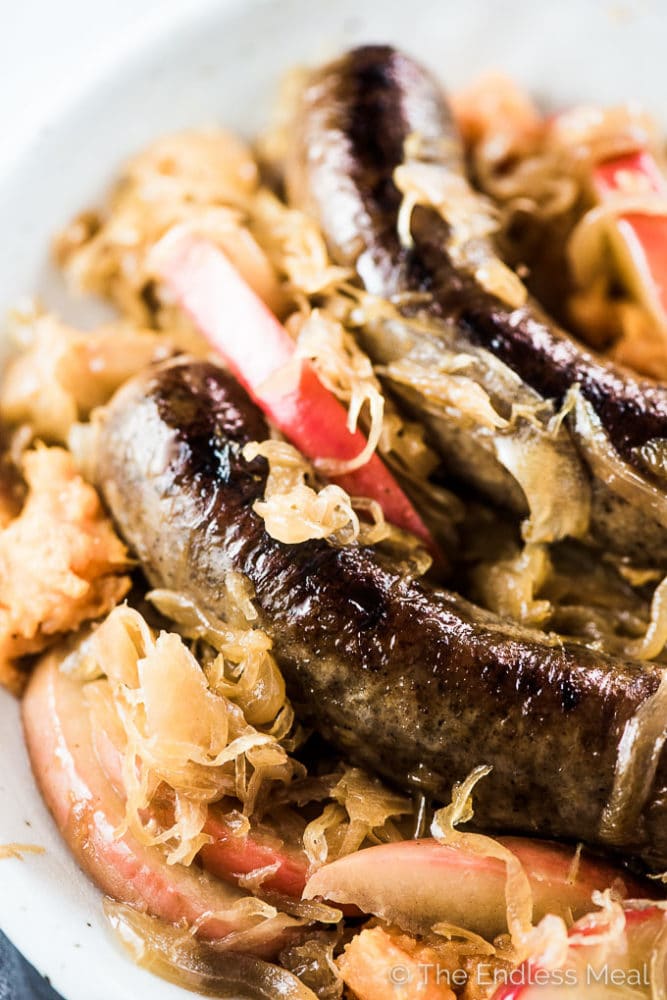 Have you noticed how short the days are getting? It happens so fast! With daylight savings coming to an end soon, we'll be eating an early dinner in the dark before we know it.
Maybe it's the change in light or cool air but my craving for comfort food is big this time of year. It's all about fall flavors and warm, one-pot recipes that makes my heart happy. Like this bratwurst and sauerkraut. There's big-time happiness when we sit down to this easy dinner recipe.
We like to serve the brats and sauerkraut over some gently mashed potatoes. You can also mix them into the pot, just like my mom does. There's no reason not to keep this recipe as simple as possible. I've also switched things up served this over mashed sweet potatoes for paleo bratwurst and sauerkraut. It's just as delicious.
And I've heard that you can make a bratwurst and sauerkraut sandwich by filling a bun with a brat and topping it with the sauerkraut. I've never done that but I honestly kicking myself for not trying that. Doesn't that sound delicious?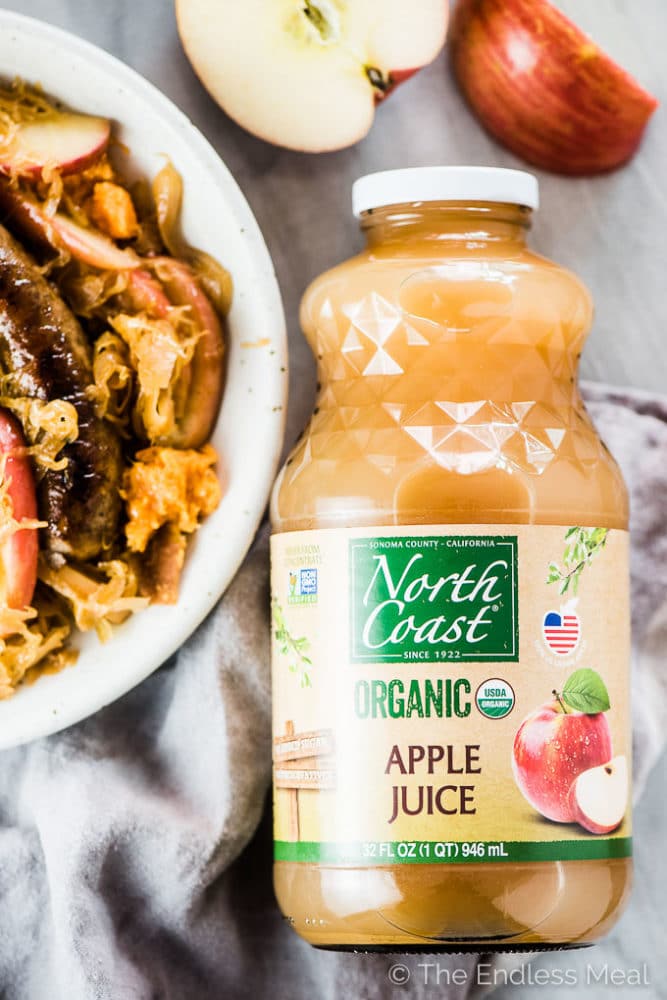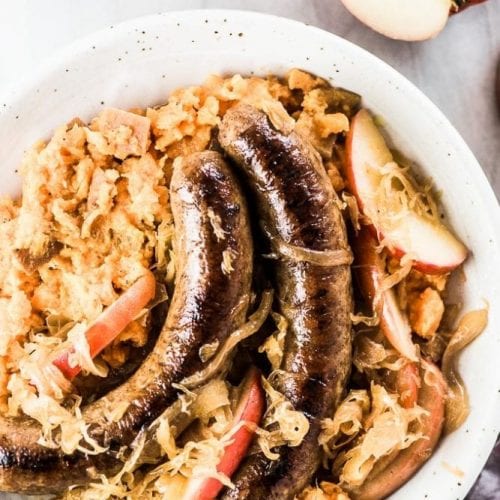 Sauerkraut and Apples with Bratwurst
Kristen Stevens
Ingredients
1

tablespoon

butter

use ghee for Whole30

8

bratwurst sausages

1

lb.

potatoes

diced (can sub sweet potatoes)

3/4

teaspoon

each: salt and pepper

2

cups

+ 2 tablespoons North Coast Organic Apple Juice

divided

1

large onion

sliced

3

cups

sauerkraut

drained

1

red baking apple

sliced
Instructions
Melt the butter in a large, non-stick frying pan over medium-high heat. Add the bratwurst and cook until brown on both sides, about 10 minutes.

While the bratwurst are browning, place the diced potatoes or sweet potatoes in a medium-sized pot and cover with water. Bring to a boil over high heat then reduce the heat and simmer until the potatoes are tender, about 10 minutes. Drain then add the salt, pepper, and 2 tablespoons of the North Coast Organic Apple Juice and gently mash. You want to keep some chunks.

When the bratwurst is brown on both sides, remove it from the pan then add the onion. Cook until the onion begins to brown then add the sauerkraut and mix well. Add the bratwurst to the pan then pour the remaining 2 cups of North Coast Organic Apple Juice over the top. Cover the pan and cook for 20 minutes. Remove the cover and cook for another 10 minutes, or until the pan is mostly dry.

Nestle the apple slices around the bratwurst and cook for 5 minutes more.

Serve the bratwurst and sauerkraut over the potatoes.
Notes
The best apples for this recipe are gala, ambrosia, or fuji.
A scoop of sour cream on the side makes this extra awesome.
Kristen Stevens
Kristen is a Vancouver based chef, recipe developer and founder of The Endless Meal. She's passionate about creating and sharing healthy, whole-food recipes made from local and in-season ingredients. She's also the owner of a small underground restaurant where she gets to cook and share her food with local foodies every weekend. Her favourite things are her camera, bourbon sours, sailing the waters of BC's beautiful coast and anything super spicy.