This cake made with buttermilk will cure an ache and make any blues vanish. Baked on top of sweet caramel and sliced pears, there is nothing this dessert can't accomplish.
By Tania Cusack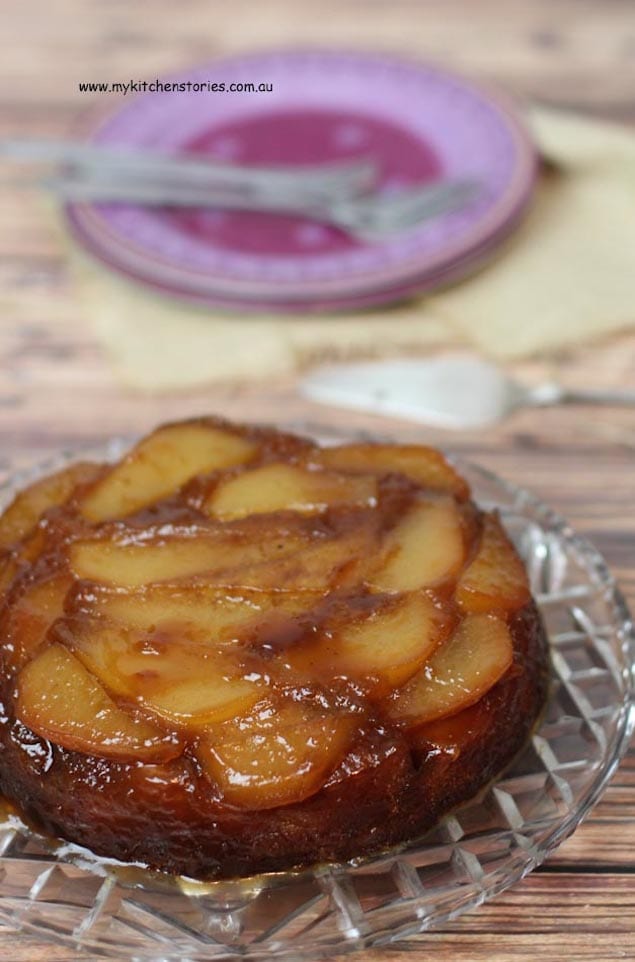 Salted Caramel Beer Cake with Pears
A cake made with buttermilk can cure an ache and make the blues vanish. Baked atop caramel and sliced pears, there is nothing this dessert can't accomplish.
Recipe Type:
Baking, dessert
Ingredients
Line a 23cm cake tin with a removeable bottom and spray or grease well. pre-heat the oven to 170C/325F
50gm butter ( 2 tablesppons)
1 cup sugar
¼ cup (60ml ) beer
1 T lemon/lime juice
½ cup water
a pinch of salt
cake
1⅓ cups flour (190gm)
1 cup sugar ( 200gm)
½ cup brown sugar (80gm)
150ml beer (5oz)
1 egg
60ml or ¼ cup of buttermilk
100gm, melted butter (3.5oz)
1 tsp baking powder
2 large pears
Instructions
Peel the pears and cut into 8ths or similar. Not thin slices, nice chunks. Arrange on the bottom of the tin
Put the butter, sugar, lemon juice and beer in to a wide bottomed pot and bring to a simmer. Boil over medium to high heat till it starts to turn golden brown. Make sure it is a nice brown colour before adding the ½ cup of water. stir and bring back to the boil before taking off the heat and adding the salt, stir well.
Pour enough of the caramel over the pears to cover, you probably wont need all of it . Set aside.
Mix the dry ingredients, then add the beer, melted butter, egg and buttermilk and mix well.
Pour the batter over the caramel and smooth down. Bake for around 50 minutes or untill a skewer inserted into the middle comes out clean.
Let the cake sit for 5-10 minutes after you take it out of the oven. Run a sharp knife around the edge carefully and remove removable side of the cake tin. . Turn the cake over onto a plate and remove the cake base, then peel off the baking paper. My second and third attempt were amazing.
Tania Cusack
After completing Culinary School in Sydney, Tania travelled the world working as a Chef in restaurants, doing catering and cooking on road for a travel company in Europe and the US. Once back at home, the birth of her son meant a change, and during his small years, she enjoyed jobs in wholesale food, buying Artisan food products, testing and recipe writing as sales and educational tools. Tania is now back to what she loves, working as an in house Chef for a large retailer, conducting Cooking Classes and writing recipes for her blog.