In the debate over salting or not salting burgers before frying them, Jules Clancy is definitely rooting for the pro-salters.
Text And Photo By Jules Clancy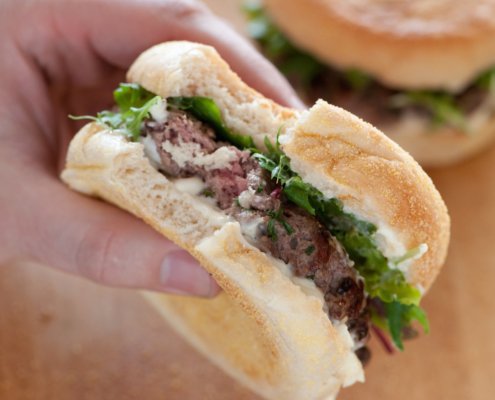 I have a theory that junk food isn't bad for you as long as you make it yourself. Needless to say I'm always on the lookout for ideas to help perfect my favorite treats at home.
Recently I read about a technique for cooking burgers in a skillet that gives a lovely meaty crust and juicy interiors.
According to Robert Wolke in 'What Einstein Told His Cook', the theory goes that if you cook your burgers on a thin layer of salt, the salt initially draws out juices from the meat.
It then quickly congeals the juices to form a crust that prevents further moisture loss.
It also prevents the burgers from sticking to the pan and encourages all the delicious brown crunchy bits to stay attached to the burger rather than the pan.
I like to think of it as a junk food win-win!
Inspired by Robert L Wolke from What Einstein Told His Cook. I know what constitutes the perfect burger is really a personal thing. So please feel free to take this recipe and customize it.
Author:
Jules Clancy, inspired by Robert L Wolke
Ingredients
250g (1/2lb) minced (ground) beef
½ bunch chives, finely chopped
mayonnaise, preferably homemade
mixed salad leaves
2 good quality hamburger buns, English muffins or pannini,
Instructions
Place 1 scant teaspoon fine sea salt in a skillet or heavy based frying pan and shake to cover the base. Heat over a medium high heat for 3 minutes or until very hot.
Meanwhile, combine beef and chives and season well with black pepper only. Form into 2 burger patties.
Cook burgers for approx 3 minutes. Lift the burgers out of the pan, shake the pan to redistribute the salt to where the burgers were. Return burgers uncooked side down and sear for another 3 minutes or until cooked to your liking.
Spread mayo on the insides of your bread. Place beef on the bottom half. Top with leaves and finally the top of the bun/muffin.
Jules Clancy
Jules Clancy is a former Food Scientist turned Author and Simplicity Lover. She only writes recipes with 6-ingredients or less. She lives in Australia blogs about 6-Ingredient Dinners over at Stonesoup.