Healthy Secrets from Rouge Tomate – Jeremy Bearman and James Distefano
Lalage Wordsworth caught up with Michelin-starred chefs Jeremy Bearman and James Distefano from Rouge Tomate to find out how deploy their secret weapons for eating healthily between holiday parties.
By Lalage Wordsworth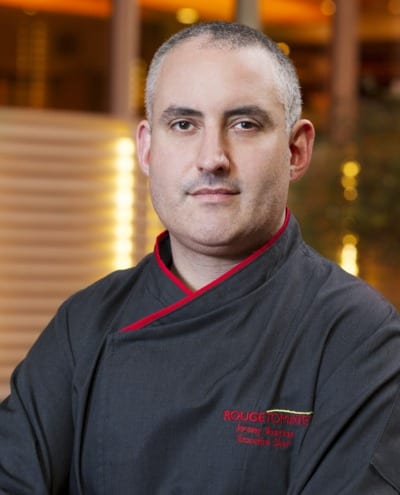 December has arrived with bells on and with it, mince pies, pigs-in-blankets, mulled wine, brandy butter, roast potatoes, foie gras, turkey stuffing, mini profiteroles… Need I say more? For many food lovers, this time of year is fraught with battles between gorging on seasonal classics and the inevitable holiday hangover in January. I caught up with Michelin-starred chefs Jeremy Bearman and James Distefano from Rouge Tomate to find out how to deploy their secret weapons for eating healthily between parties.
For those unfamiliar with Rouge Tomate, it is a New York Michelin Star restaurant with a twist: thanks to the focus on healthy food, diners can enjoy a tasting menu without busting their diet. It weighs in at a tiny 1000 calories for six courses.
The restaurant menu is built around seasonal and local ingredients – the guiding principles of the S.P.E. nutritional charter. It stands for Sanitas Per Escam, Latin for Health Through Food. While it may seem a tad unnecessary to bring in the big Latin guns to describe a diet concept, there's plenty of health appeal to the charter. It seeks to "preserve the integrity and nutritional qualities of the ingredients" and "optimize nutritional density by combining ingredients that are more powerful when eaten together." To you and me, that means don't cook things too long and eat a fresh, varied diet.
For home cooks, Jeremy Bearman recommends building a meal around winter vegetables, such as chicories, greens, beetroots, squashes and root vegetables. To add interest, he suggests combining the vegetables with other plants: "We make vinaigrettes and sauces from reduced fruit/vegetable juices such as beets, carrots, red peppers or even some less common ingredients like ginger juice to add different elements of flavor."
James Distefano, a pastry chef, clearly has a different set of challenges to other chefs of the type. He has developed some mouth-watering ideas to jazz up home desserts."Home cooks can replace some of the butter in their recipes with healthier oils, such as an olive oil," he suggests. "Using nut-flavored oils can also help boost flavor as well.  Another great thing is to replace the whipped cream or ice cream with a dollop of lightly sweetened Greek Yogurt."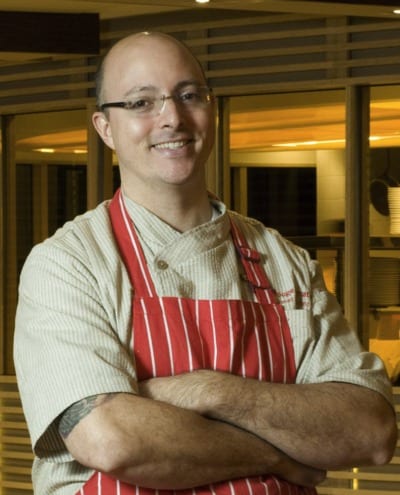 But what about families on a budget? Chefs in the media seem to be constantly banging on about ingredients like hand-dived scallops and heritage tomatoes – often, such luxuries just aren't an option for the budget cook.
For James, the answer is to focus on legumes, whole grains and leafy greens bought at a local farmer's market. "The products that are available are going to have better flavor," he says. "They contain more of their nutrients and be fresher because of the proximity of the farm to the market."
Jeremy suggests a few techniques to stretch your ingredients: "In a restaurant, we always want to maximize yield and minimize waste to manage food cost and the same can be applied at home. If you dice vegetables and have some leftover trim save it and use it in a soup or add it to an omelette the next day; save tomato cores and tops to make a homemade tomato sauce." Lastly, he adds: "If possible, invest time instead of money – something as simple as taking the time to prepare dried beans instead of canned will cost less money and be healthier for you and your family."
If the thought of just eating bowls of legumes makes you go nuts, don't worry. Aiming to eat sensibly over the festive season doesn't mean you have to deny yourself treats – even these pinnacles of healthy eating allow themselves the odd indulgence. Jeremy's guilty pleasure is typical New York fare: pizza. James' is not quite what you'd expect from a pastry chef at the top of his game. All he wants at the end of a long day is the humble potato chip. Quite frankly, who wouldn't want the same?
As a parting note, Jeremy left me with a tweetable nugget of his philosophy: "Eat more vegetables than fish and more fish than meat." With all this talk of reducing juices and drizzling nut oils, I'm raring to go and put the chefs' ideas to the test.
And I have a little secret for you: there is foie gras on the Rouge Tomate menu.
Holiday eating is looking good.
Lalage Wordsworth
Lalage (which rhymes with allergy) is a writer and yarn designer from the UK. Growing up in tiny hamlet in France on a sheep farm gave her a taste for the good French life. She is trying to recreate that in a one-bedroom flat in Brighton with varying degrees of success. Making cheese was not one of them.