Red peppers in hummus give it a fantastic flavor, and the wonderful rustic browns of the chips nestled alongside the deep mellow creaminess of the hummus is a beautiful combination.
By Sarah Kenney

Mmmmmm. There is an aroma in our house that is becoming a weekly delight.  Roasted red peppers and toasted pita chips.  I roast all sorts of vegetables regularly but red peppers caramelizing and sizzling in the oven are my favorite.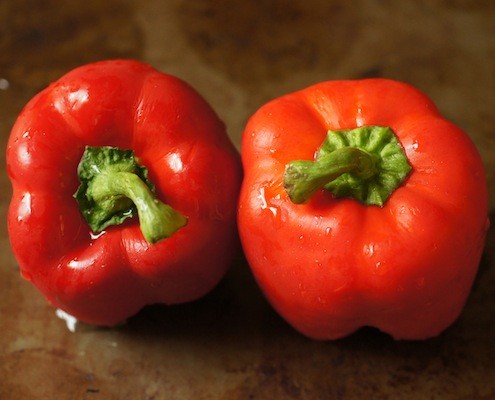 Usually, I take whatever vegetables I have in the refrigerator that don't look like they're going to make it to the dinner table and roast them in the oven for soups.  Lately, however, we've been keeping roasted red pepper hummus on hand.  Fixing small very casual meals during the week can often involve only hummus, homemade pita chips, and some fruit.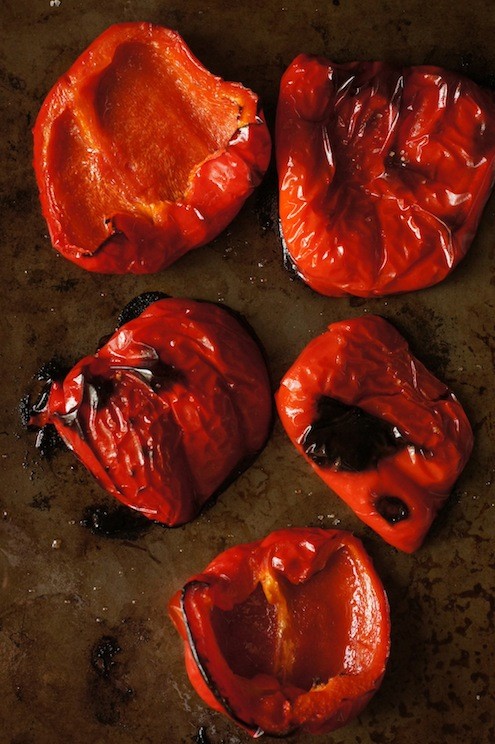 "Mom, remember when you used to make us chips from pita bread and toast them in the oven?" my kids asked me when they saw I was going to make hummus.  Perhaps their delighted faces prompt me to delve deeper into cooking and establish these memories for them.  Memories, like this simple request for my homemade chips give me such satisfaction.
Red peppers in hummus give it a fantastic flavor. The color is beautiful as well.  I  am definitely a visual person and the wonderful rustic browns of the chips nestled alongside the deep mellow creaminess of the hummus is a beautiful combination.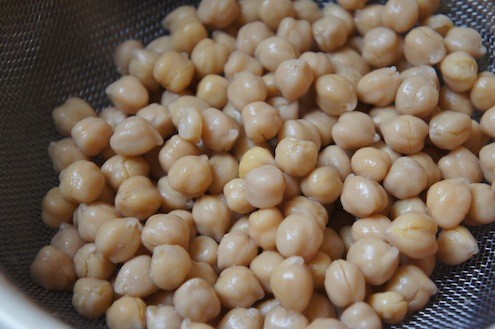 It is certainly hot here in Houston. Have I complained about that yet?  "Yes" you say.  I apologize.  Heat and I don't get along very well.  I am dreaming right now.  At this time of the year, my thoughts are filling with all of the places that I want to see.  So many places to see… where could we go?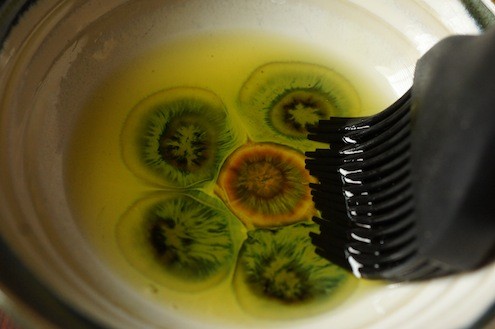 We've been taking our evening walks later and later in order to miss the Texas heat.  Evenings here are quite nice, actually, and when we get around our lake area, the wind usually kicks up and blows aggressively.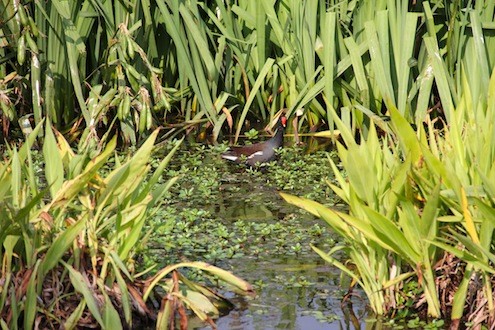 This little guy was enjoying his own personal  pond. He was a bit wary of my looming camera but after a few minutes resumed circling again.  I've never seen this type of bird around here before.  Where did he come from?  What sites has he seen?  My mind is churning lately with far away sites that I would love to see.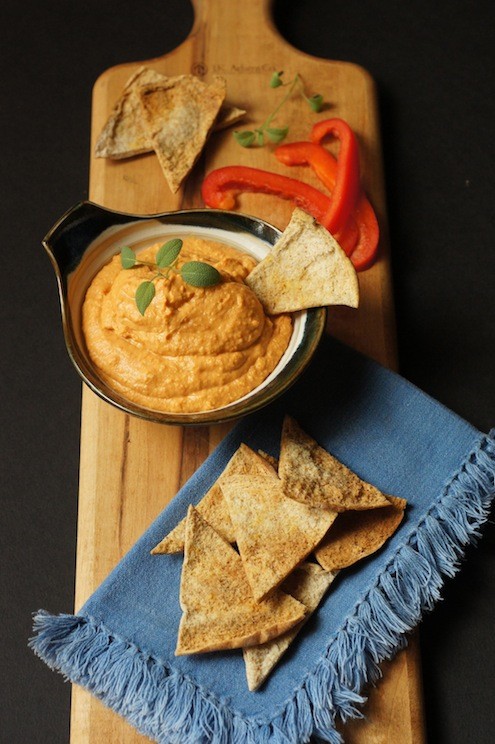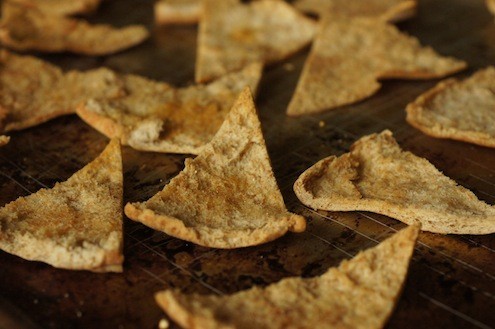 I can't seem to keep these pita chips around for too long in the pantry. I brush them with olive oil and sprinkle with salt, garlic powder, and parmesan cheese for a little more zing.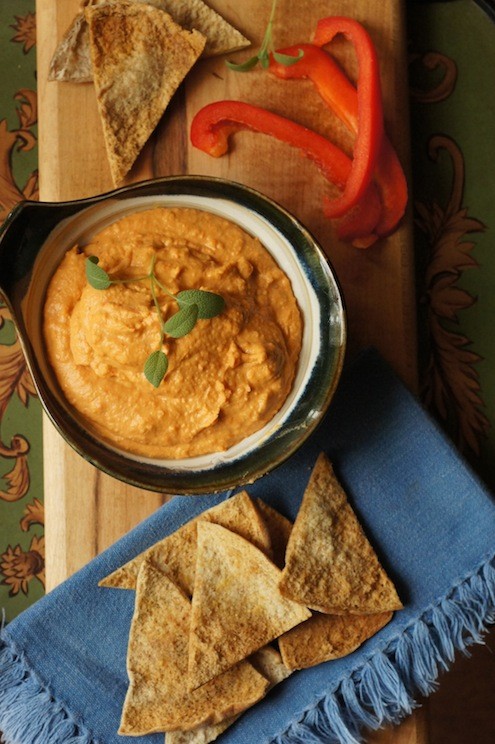 More thoughts…of birds, of travel, of sites.  We're almost decided.  I think we are going to go out in the world and discover new places.  I am restless, like these birds here.  I need to fly.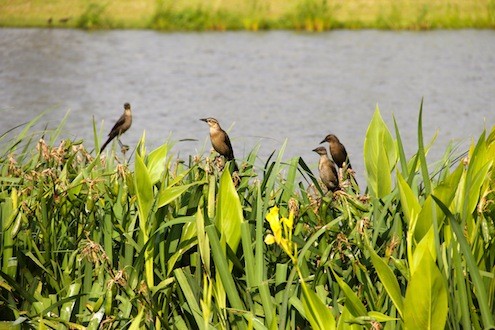 So graceful and free. Can you imagine it?  Soaring openly above the water with the air rushing over your feathers?  Where is he going?  Where could we journey to?  Somewhere out of the heat of this southern terrain I hope.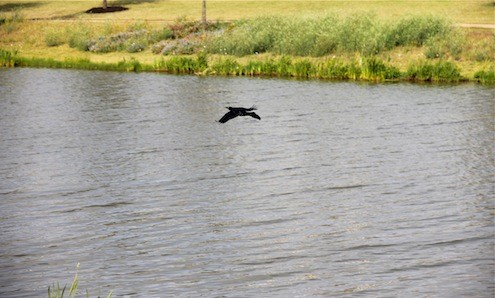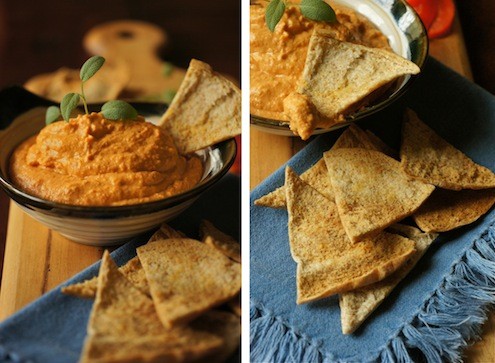 Print
Roasted Red Pepper Hummus with Toasted Pita Chips
---
Author:

Sarah Kenney

Total Time:

1 hour

Yield:

4

-6

1

x
Description
Beautiful red peppers roasted to intense flavor and creamed into a wonderful chickpea hummus. Pair this spread with whole grain toasted pita chips baked in the oven for a wonderful appetizer or a meal in itself.
---
(adapted from Cooking Light magazine)
1/3 cup

tahini (sesame seed paste)

1/4 cup

water

2

fresh red bell peppers (or chopped bottled red peppers if short on time)

2 tablespoons

fresh lemon juice

1/4 teaspoons

salt

1

garlic clove, minced

1

(15 1/2-ounce) can chickpeas, rinsed and drained
For Toasted Pita Chips
Package of storebought whole wheat pita bread
olive oil
parmesan cheese to sprinkle
salt
garlic salt
---
Instructions
Roasting the red peppers:
Cut the peppers and remove pith and seeds. Rinse and pat dry. Brush olive oil all over each pepper. Sprinkle with salt. Set the oven to 400?F and roast for about 25 minutes or until nice and caramelized. (Snippet's Notes: I don't remove the skin and think it tastes wonderful in the hummus)
To make the hummus:
Place all ingredients in a food processor; process until smooth. Makes about 2 cups of hummus.
To make Pita Chips:
Take out a pita bread round from store bought package.
Cut it into triangles and separate sections. Brush each wedge with olive oil. Generously Sprinkle each one with garlic powder and parmesan cheese. Bake in the oven on 350?F for about 15 minutes or until toasted.
Prep Time:

30 mins

Cook Time:

30 mins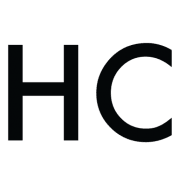 Sarah Kenney
Sarah is an adventurous food photographer and writer who has moved six times with her family from the U.S. to Wales, Japan and back. They are affectionately known as "The Rolling Stones". She is a passionate chef who thinks that their experiences living in Louisiana, Michigan, New York, Missouri, Kansas, and now Texas culminate in shared meals and tales around the table as her family experiences each regions offerings of cuisine and culture. Texas is her current stop and good food and good times are a passion of this southern state. She writes about her foodie adventures in her blog "Snippets of Thyme".