SPONSORED: We get excited about good food and great ingredients, so we've teamed up with Divine Flavor to bring you delicious recipes for each season made with their fresh produce.
This roasted lemon and cherry tomato salad is the perfect side dish. Sweet tomatoes combine with a tangy vinaigrette and delicious roasted lemons.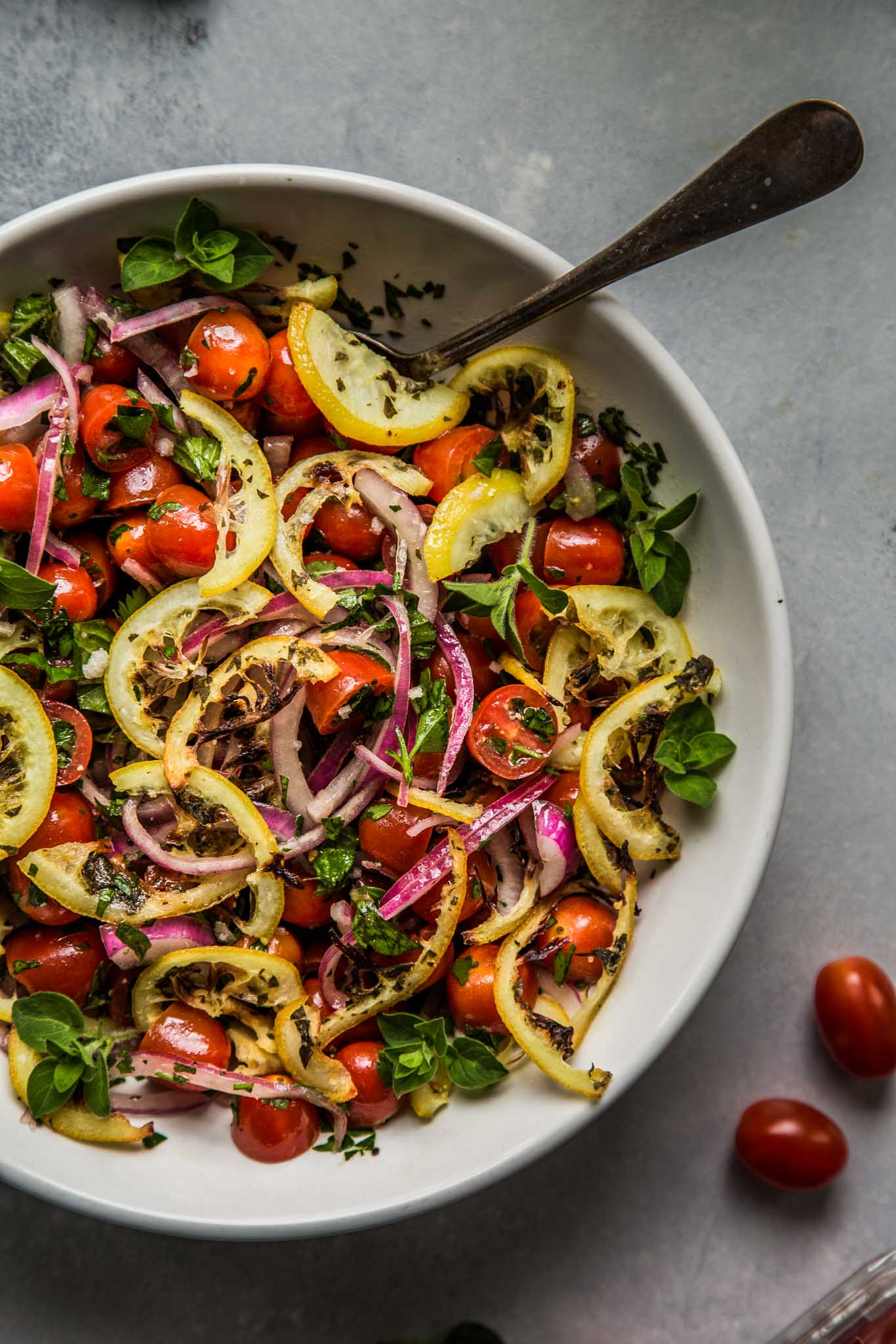 This cherry tomato salad evokes memories of a salad that my mom used to make in the summertime using fresh homegrown tomatoes and a simple light dressing of olive oil, red wine vinegar, oregano and a sprinkling of sugar, which would always be adjusted depending on the sweetness of the tomatoes that year. It was such a simple salad, but so delicious at the same time. And, my favorite part was using a loaf of Italian bread to mop up the leftover juices from the tomatoes after the salad was gone.
Recently, as I was browsing through Yottam Ottolenghi's latest cookbook, Plenty More (which I've mentioned previously in this post on Roasted Squash with Chili Yogurt and this post on Brussels Sprouts with Pomelo), I came across his recipe for a Tomato & Roasted Lemon Salad and was immediately brought back to those summers in New York, although his version of this cherry tomato salad is very different from my mom's. His recipe incorporates sage, allspice, pomegranate seeds and pomegranate molasses. It's a much more exotic spin…
I made his recipe, and I do have to say that it was delicious. Sweet and savory, with unexpected spices… I would have never thought to combine sage with allspice. But, my favorite part of his take on the cherry tomato salad was the roasted lemons that he incorporated into it.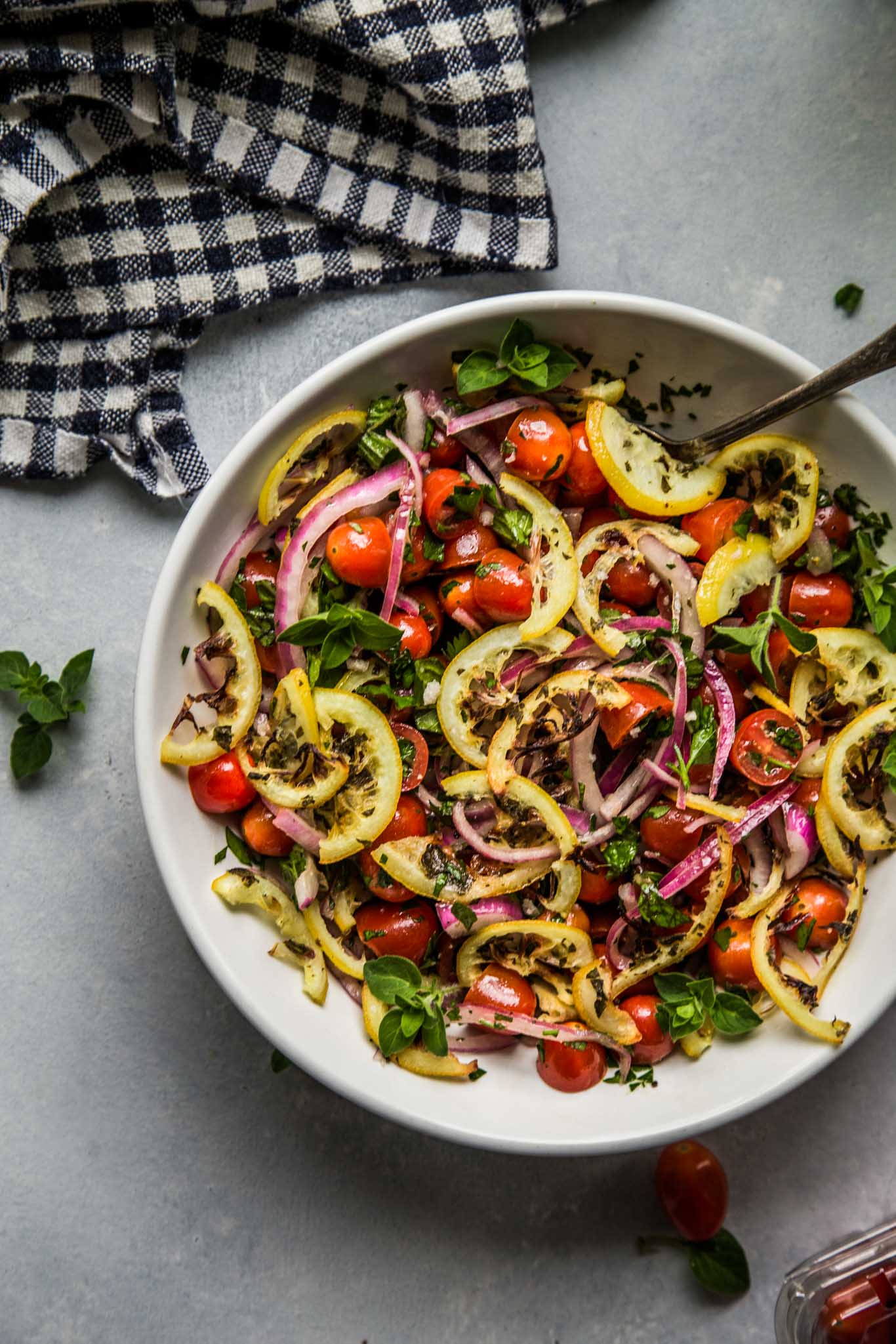 Although I did love his twist on the traditional cherry tomato salad, I was longing for the flavors from my past. I wanted a bit more tang and the flavor of oregano that I love so much.
This Cherry Tomato Salad with Roasted Lemons is a mashup. It's basically my mom's Italian recipe with the addition of those lovely roasted lemons that Yottam shared in his book. Those lemons. They are just so good. Thinly sliced and roasted with the skin on, they become slightly caramelized and mellow out in flavor as they roast in the oven. They perfectly compliment the sweetness of the tomatoes and lend one more layer to my mom's already amazing cherry tomato salad.
This salad is my new twist on an old favorite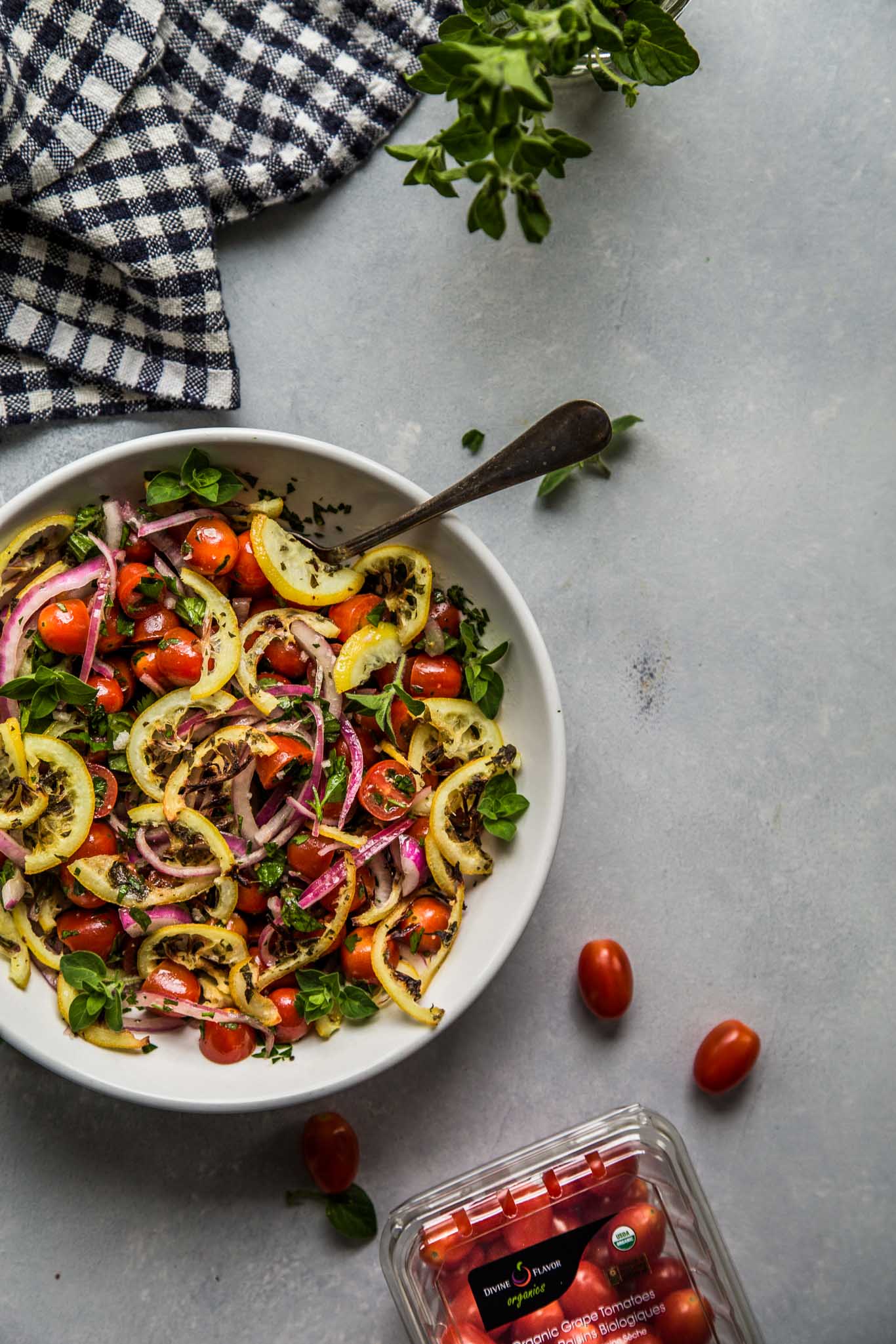 It's also a great way to use up any extra cherry tomatoes that you may have on hand if you're a gardener. I know that they can get kind of out of hand during the end of the growing season… I do not grow my own tomatoes… But I know this because come late summer, it seems that everyone is bringing mounds of cherry tomatoes into the office to share. For this salad, I just scooped up some tomatoes from the store.
These beauties came from Divine Flavor, a Mexican family-run and grower-owned fruit and vegetable distribution company based out of Arizona. They were plum, and juicy, and I love the fact that they come from a company that produces fresh, non-GMO foods grown in nutrient-rich, never over-farmed soil. I mean, in order to compete with my mom's original recipe, which used home grown tomatoes, I had to pick up some of the most beautiful tomatoes that I could find, even if my non-green thumb meant that they weren't actually grown in my garden.
Do you garden? If so, I'm envious, and I'll bet you have mounds of tomatoes at the end of the growing season too. Share with me your favorite ways to use them up or preserve them in the comments below!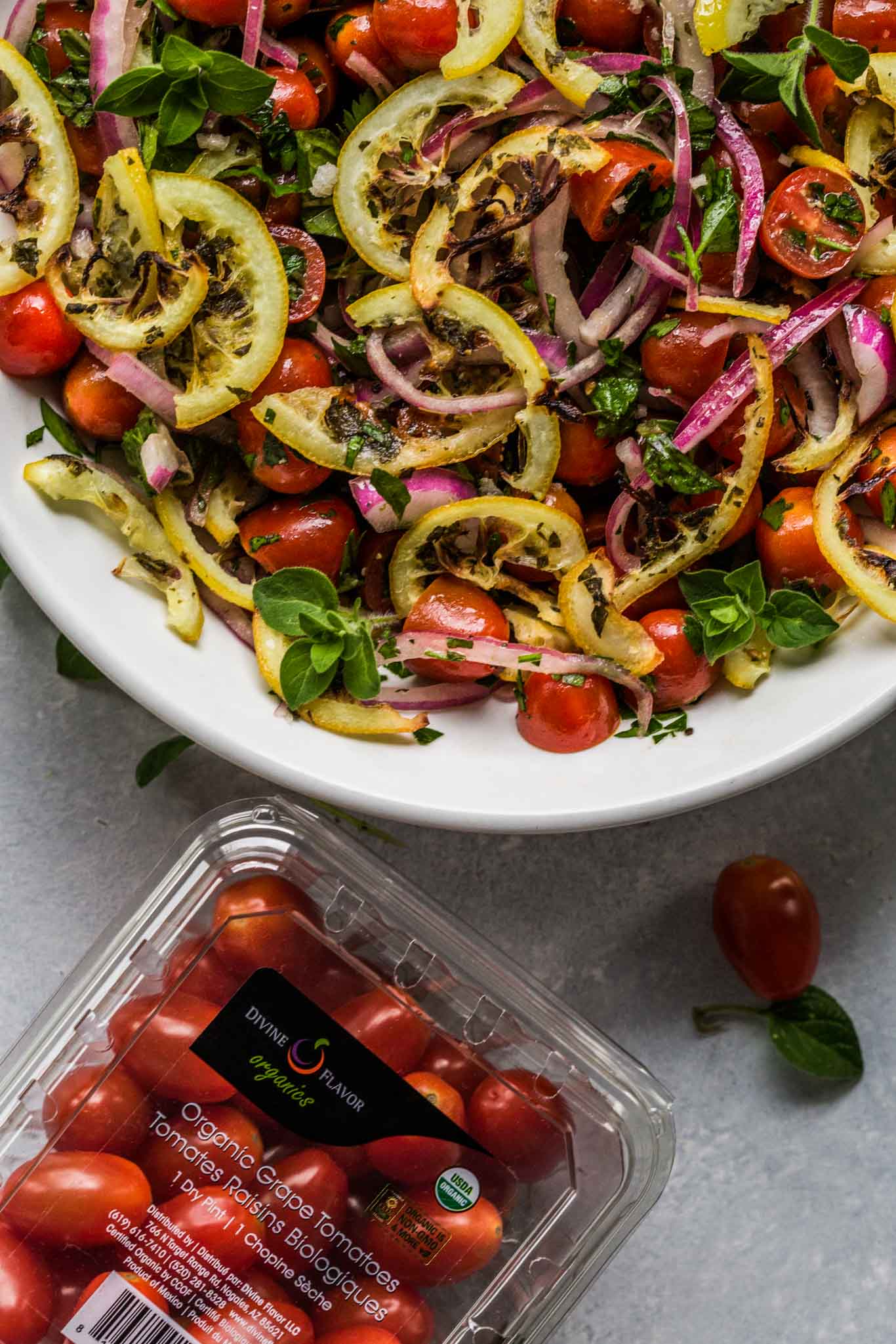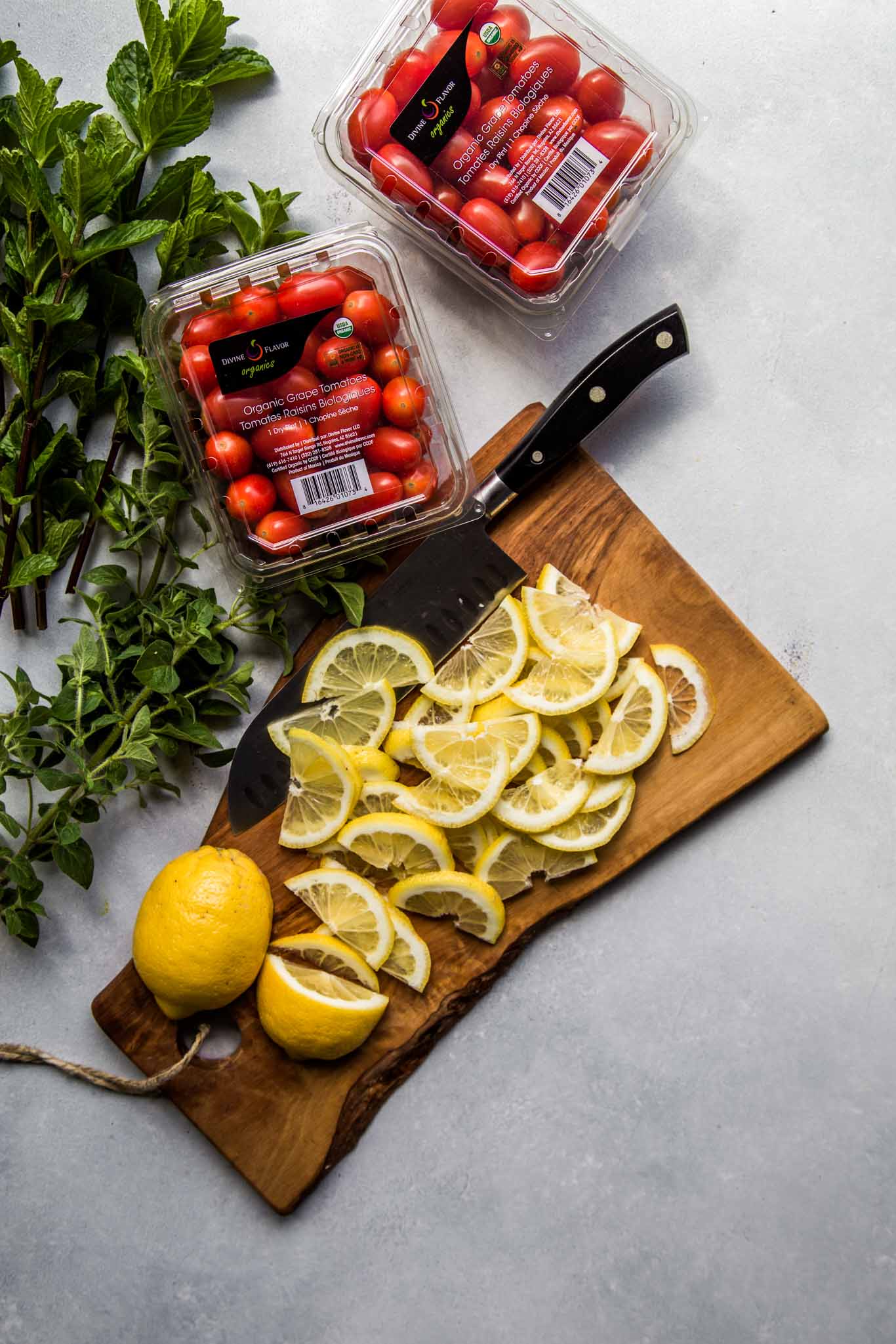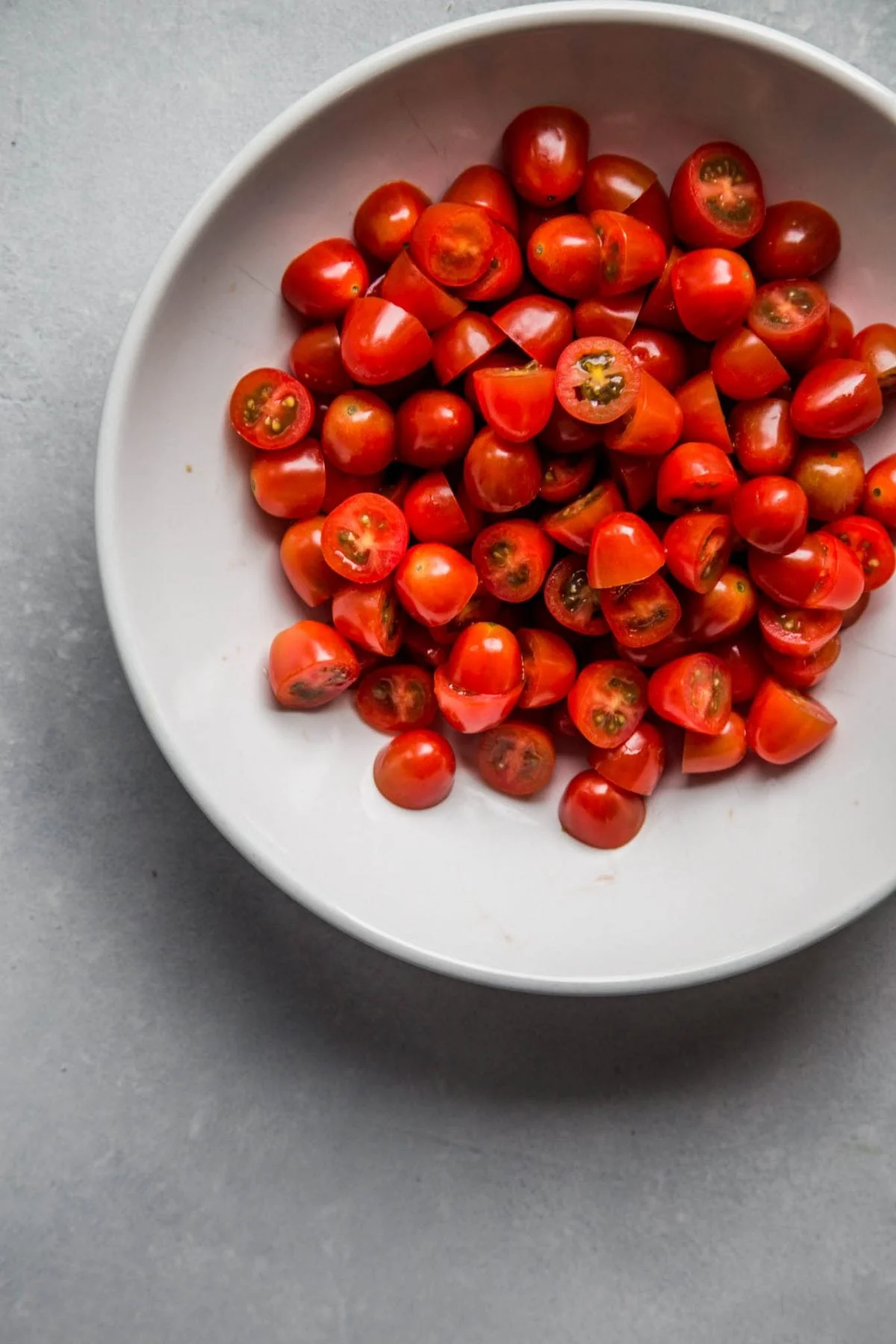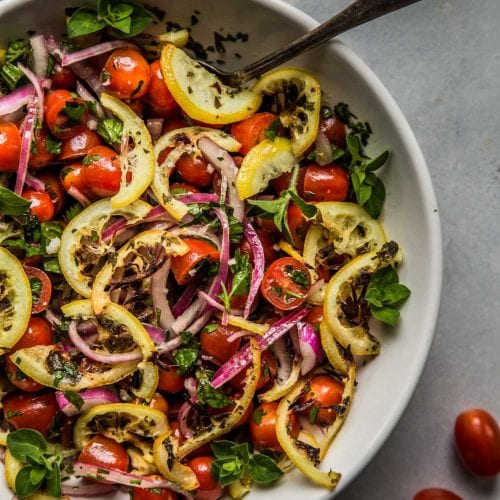 Roasted Lemon and Cherry Tomato Salad
Erin
Ingredients
2

lemons halved crosswise seeds removed

and cut into paper-thin slices

3

Tablespoons

olive oil

½

teaspoon

sugar

1

tsp

dried oregano

2 2/3

cups

Divine Flavor cherry tomatoes halved

1

Tablespoon

red wine vinegar

1/3

cup

flat-leaf parsley leaves

½

cup

mint leaves

½

cup

small red onion halved crosswise and thinly sliced into half rings about ½

Salt and pepper to taste.
Instructions
Preheat the oven to 325ºF.

Fill a small saucepan with water and bring to a boil. Add lemon slices and blanch for 2 minutes. Drain well. Combine 1 tablespoon oil, sugar, oregano and 1/2 teaspoon salt in a small bowl. Add lemon slices and mix well to combine. Spread the lemon slices out in a single layer on a baking sheet lined with a silpat or parchment paper. Bake for 30 minutes. Remove from oven and allow to cool.

Combine the tomatoes, remaining 2 tablespoons oil, 1/4 teaspoon salt, pepper, vinegar parsley, mint and onions in a bowl. Add the lemon slices and stir gently to combine. Taste for seasoning and adjust as desired with additional salt and pepper. Serve immediately.
Erin Rebecca
I'm Erin - a self-taught weeknight cook. I occasionally like to delve into the more complicated recipes, like homemade pasta, Cioppino, and boeuf bourguignon. But for the most part, I work full-time, come home, pour a glass of vino and start cooking away.