Tips on how to prepare Cornish game hens that are super moist and flavorful with perfectly browned and crispy skins.
By Kimberly Killebrew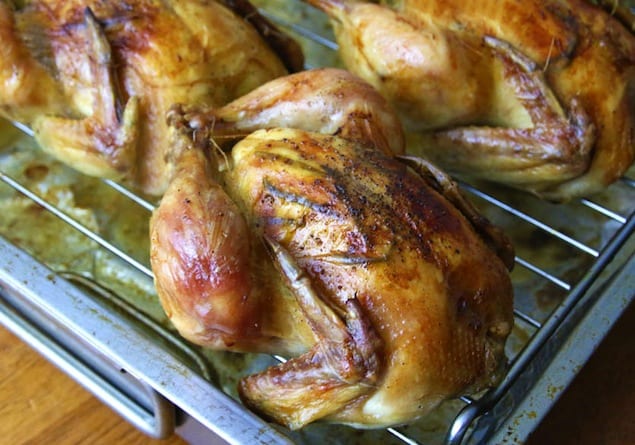 I've always loved Cornish game hens. Growing up they were our traditional New Year's Eve dinner for many years. Not only were they delicious, they also catered perfectly to those egocentric developmental stages of childhood and teens where the importance of possession dominates: Being in miniature form, I could have an entire chicken all to myself! And it's still neat to be served a mini chicken you can call your own.
One of the reasons I like Cornish game hens is that they make for such an elegant presentation. It's one thing when you bring in the large roasted chicken for your dinner guests to admire and it's then carved and divided among the plates, each guest with their own little pile of chicken meat – and of course the dark meat lovers have to fight over who gets the two drumsticks and wings. But it looks much more impressive when you can serve your dinner guests their very own beautifully golden-browned hens. And those dark meat lovers get both sets of drumsticks and wings to themselves! Thinking of inviting your boss over to dinner to prep him for that raise request? These Cornish game hens are the perfect thing to feed his ego. There are a few tips and tricks to achieving roasted Cornish game hens that are perfectly browned and crispy on the outside while super moist and flavorful on the inside. Whether you're preparing a special meal for your family, enjoying a romantic dinner for two, celebrating a special occasion or holiday, or simply feeding your egocentric needs, this recipe will show you what you need to do to get the perfect results.

Roasted Cornish Game Hens with Garlic, Herbs and Lemon
Tips on how to prepare Cornish game hens that are super moist and flavorful with perfectly browned and crispy skins.
Author:
Kimberly Killebrew
Ingredients
4 Cornish game hens, patted dry with paper towels
8 thin slices of butter
4 sprigs each of fresh rosemary and thyme (or herbs of choice) plus some extra leaves of each
4 large cloves garlic, peeled
1 lemon, scrubbed well and cut into quarters
Extra virgin olive oil
Salt and freshly ground black pepper
½ cup dry white wine
½ cup chicken broth
Instructions
Preheat oven to 450 degrees F.
Pat the hens dry with a paper towel. Use your index finger to loosen the skin on the top of the hen and slip a thin slice of butter under the skin on top of each breast. Add a few rosemary and thyme leaves (or herb of choice). Repeat for each hen. Put a quarter of a lemon in the cavity of each hen along with a clove of garlic and a sprig of fresh rosemary and thyme (or herb of choice). Truss the hens by tying the wings and legs.
Rub each hen all over with some extra virgin olive oil, then sprinkle with salt and freshly ground black pepper. Place then hens on the rack of a roasting pan lined with aluminum foil, spacing them out so they are as far apart from each other as possible. This will enable their skins to get browned and crispy.
Place the hens in the preheated oven and roast for 25 minutes.
While the hens are roasting, combine the chicken broth and wine in a bowl.
After the hens have been roasting for 35 minutes, reduce the oven temperature to 350 degrees F. Pour the broth/wine mixture over the hens and continue to roast for 30 minutes, basting the hens with the juices at the bottom of the pan every 10 minutes or less. The hens are done when an instant-read thermometer inserted into the thickest part of the thigh registers 165 degrees F and the juices run clear. If you prefer darker skins, turn up the temperature to broil for a couple more minutes, watching closely to prevent burning.
Carefully remove the hens and pour the juices from their cavities into the roasting pan. Transfer the hens to a warmed platter, remove the trussing string, and tent with aluminum foil to week warm. Pour the juices from the roasting pan into a saucepan and boil for about 5 minutes until the liquid is a thin sauce-like consistency. Serve the hens whole per guest or cut in half lengthwise and place cavity-down on each serving plate. Drizzle the sauce over the hens and garnish with fresh herb sprigs and a slice of lemon. Serve immediately.
Kimberly Killebrew
Raised in Western Europe, widely traveled, and currently residing near Seattle with her husband and children, Kimberly loves preparing and experimenting with a large range of flavors and cuisines. This is reflected in her food blog, The Daring Gourmet, where she invites all to "tour the world through your taste buds." Passionate cook, recipe developer and photo enthusiast, her culinary repertoire includes everything from gourmet to simple comfort food, and, as she puts it, "simply downright good eats."