A delicious and easy risotto you'll want to share with everyone and anyone.
By Maria Romano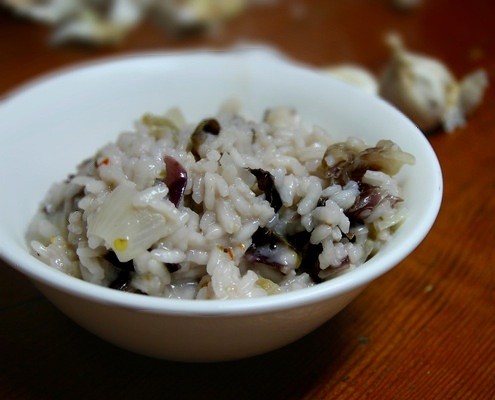 As a third year in college, I applied for and was accepted to a semester program in Italy (study abroad was pretty much the only reason I wanted to go to college). I was only supposed to go for 4 months, but that turned into 12 once I realized I am only happy in a place where complaining about the government and cooking/eating are EVERYONE'S favorite activities.  So after the semester program was over, I sought out my own apartment in Rome for the summer, planned to pay the rent by teaching English, and tried not freak out.  I did all of that and more (jk I freaked out sometimes), and of the many characters I met along the way, my insane Sicilian landlord was among the most memorable.
Her name was Anna and she was from Marsala, a fact only relevant if you know how much people from Porticello (i.e. my people) hate people from Marsala (only in America, it seems; immigrant drama?).  In stereotypical fashion, she was- a) all in my business all the time- texting and calling constantly, b) making sure I ate, and c) prone to extreme dramatics (a lot of crying and yelling).  If I were not used to this already from my family, I would not DEFINITELY not have stuck around, and would not have this lovely recipe to share.  Between bouts of crazy and P!nk singalongs (seriously) she would give me strange tidbits of advice that were a mix of useful, redundant and completely insane (e.g., respectively, "try to get all your nutrition from real food," "frittata is portable," and "if you sleep with your hair wet it will all fall out"). She taught me this risotto because it's easy, has good nutrition, and is pretty economical.
It came in handy many a freezing cold night in Padua, where I moved after Rome, and where I made dinner for friends many a night.  Again, it's really cheap, and has a loaves and fishes feel since it feeds so many with so little.  I can say with conviction that these impoverished meals were among the happiest and most satisfying of my life.  Whenever I think about it, my dramatic Sicilian comes out…
A delicious and easy risotto you'll share with everyone
Ingredients
3 tbsp (45 mL) extra virgin olive oil
1 yellow onion, diced
5 cloves of garlic, diced
red pepper flakes, to taste
2 cups (0.5 k) arborio rice
½ cup (60mL) dry white wine
1 head of radicchio, chopped into 1" pieces
4-5 cups (1.2 mL) chicken or vegetable broth (more if needed), warmed in a separate pot
1 cup (250g) grated hard cheese (such as grana padano, parmigiano reggiano or pecorino romano)
dash of whole milk
salt and pepper
fresh basil, torn
1 cup (250 g) prosciutto cubes*
Instructions
In a large pot, saute onions, garlic, and red pepper in oil until onions are getting fragrant and transparent, 8-10 mins.
Pour in rice. Coat rice in oil, mixing often, until toasting, about 5 minutes.
Add radicchio and wine; mix well. Cook for around 3 more minutes or until wine is visibly reduced.
Begin adding heated broth in small batches until rice is submerged. As it becomes dry, add more broth until submerged again; stir frequently, scraping up the bottom. Cook until the rice is at desired doneness**; Stop adding broth when it's almost done. You may not use all the broth or may use more. Don't be alarmed if it looks a little watery; it'll get creamier as it cools. The entire process should take around 20-25 minutes.
Once cooked to desired doneness, mix in milk and cheese and season to taste. Garnish with prosciutto cubes and basil. Serve immediately.
Notes
* If making a non-vegetarian dish, add prosciutto at step 1. ** This is really a matter of preference, but traditionally it should be al dente (firm). A good idea for leftover risotto is to mix in a few eggs and form the cold risotto into small patties (around 3"); dredge in flour or bread crumbs; fry in about an inch of oil, flipping once, till brown and crispy; drain; eat with a nice salad.