A totally flourless, dense cake with peanut butter icing and a decadent chocolate ganache – made even better with raspberries and bananas.
By Shashi Charles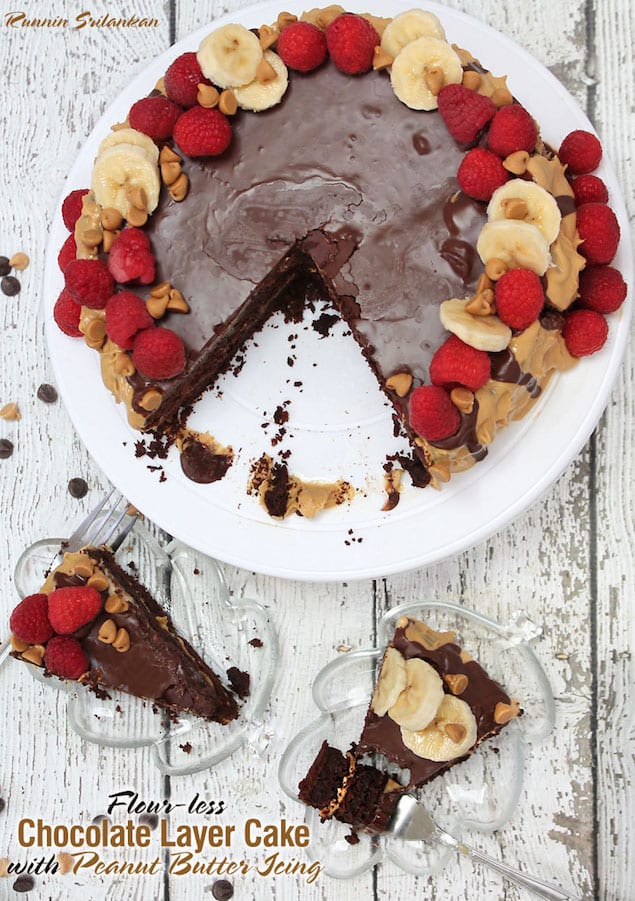 Though chocolate and peanut butter have been enjoyed here in the States for more years than the Rockeys have been married, my love affair with it started about 5 years ago.
Growing up, I never had a peanut butter and jelly sandwich; in fact, I don't recall ever having a peanut butter and chocolate cup back then, either. When I came to Atlanta to attend college, I was always puzzled by the jars of peanut butter my roommates worked their spoons through. But, a few years ago, I finally gave into curiosity and grabbed a jar of peanut butter to add to my oatmeal. As fate would have it, a few chocolate chips fell off of a chocolate oatmeal muffin I had made for my daughter, and, landed in my oatmeal…and…while I don't believe in love at first sight…this was love at first bite!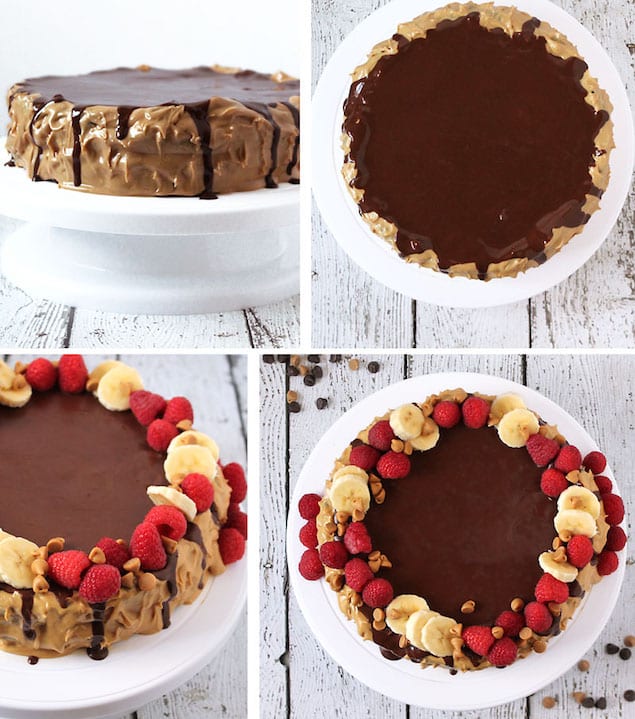 This cake may not be the prettiest (I think I am gonna need to sign up for some cake decorating classes soon). What this cake is is a simple flour-less chocolate cake – no oat flour, no rice flour, no flour – period. Just eggs, cocoa, brown sugar, melted dark chocolate and butter (and some vanilla and salt – which are optional). I have substituted coconut oil for butter in some versions – with the result being a less dense, though – still tasty, cake.
The icing on this is simply a peanut butter, confectioners sugar, and coconut oil concoction – topped with some decadent chocolate and coconut oil "ganache". My daughter suggested topping this with some fruit, to make it seem that this would be truly "better-for-us", but, those bananas and raspberries certainly upped the taste actor of this cake!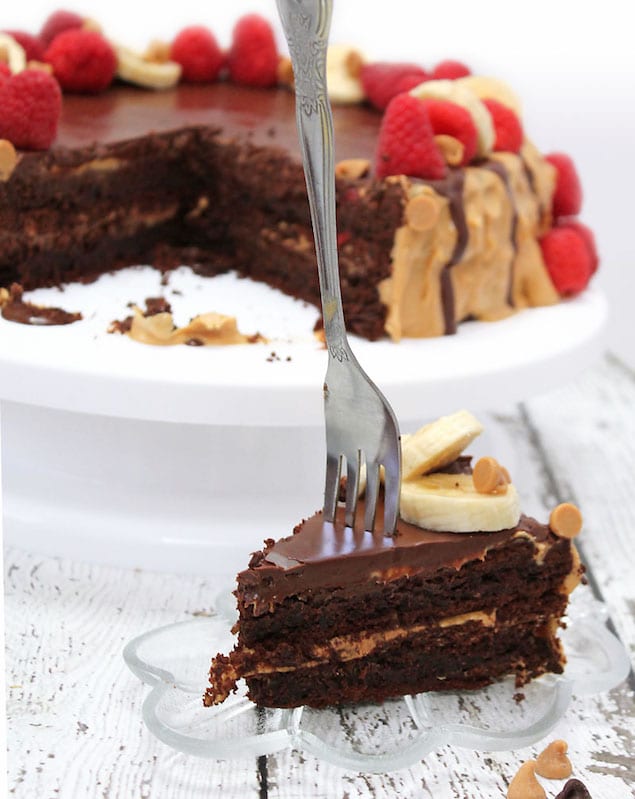 Rich Flourless Chocolate Cake with Ganache and Peanut Butter Frosting
A totally flourless, dense cake with peanut butter icing and a decadent chocolate ganache - made even better with raspberries and bananas.
Recipe Type:
Dessert, Chocolate, Baking
Ingredients
FOR THE CAKE:
1 stick butter softened
⅔ cup brown sugar
6 eggs
⅔ cup unsweetened cocoa powder
12 oz semi sweet or dark chocolate melted (30 second intervals in the microwave)
1 teaspoon vanilla
dash of salt
FOR THE ICING:
1 cup peanut butter
2 cups confectioners sugar
3 tablespoons coconut oil (melted by microwaving for 20 seconds)
FOR THE GANACHE:
¼ cup coconut oil
1 cup dark or semi sweet chocolate
TOPPING
raspberries, bananas, peanut butter chips
Instructions
FOR THE CAKE:
Preheat oven to 350
Line 2 8 or 9 inch round trays with parchment paper
Using a electric mixer, beat the butter and sugar
Add the eggs - one at a time, mixing after each one
Fold in the cocoa powder and melted chocolate and vanilla and salt
Bake for 35 minutes
And let cool
FOR THE ICING:
Using an electric mixer, beat the peanut butter, confectioners sugar and coconut oil till well blended
FOR THE GANACHE:
In a saucepan, melt the coconut oil and chocolate chips, stirring frequently
TO ASSEMBLE
Place a thin layer of icing on one chocolate cake
Top with the other one
Then spread the remaining icing all over the cake
Pour the ganache on top of the cake
And decorate with raspberries, bananas, chocolate orpeanut butter chips
Shashi Charles
I am a healthy food lover - and tricking my loved ones into eating their veggies disguised as treats is my specialty! I am also a graphic designer by day and blogger by night and a mom 24/7!