Celery-scallion sole en papillote served with a side of Egyptian dukkah.
By Sarah Khanna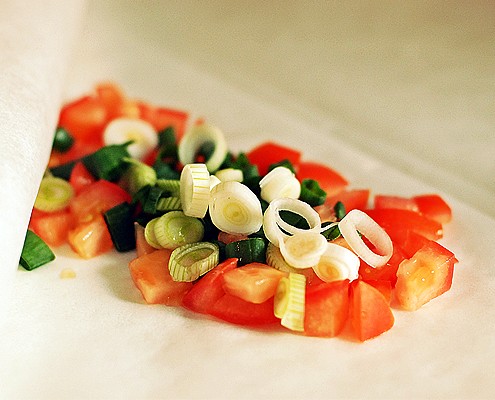 Eating fish in Egypt is a celebrated event. Being a costlier dish than most and considered to be a treat by many who cannot afford it on a regular basis, seafood, when offered, will never be turned down. Being revered as an aphrodisiac, seafood sells.
For a long time, Cairenes waited for the summer to finally get a taste of fresh-caught fish when they'd bid farewell to the dusty capital for a couple of months to head to the pearl of the Mediterranean, Alexandria, once the capital of Greco-Roman Egypt, to lounge all day long on its beloved sunny beaches.
Once there, these bronzed tourists with sand in their hair would hop into moored boats that by night would serve as makeshift restaurants. These little seafood spots would prepare different kinds of white fish, all equally spiced – with ground cumin and coriander, packed with garlic, drizzled with lemon and sprinkled with salt; never changing and passed on from one generation to the next.
After the initial preparation, the fish would either be dipped in flour and deep fried to a crispy golden brown or coated in bran and grilled to result in a moist and delicate smoky fish. Sometimes, it would also be butterflied and stuffed with onions, carrots, tomatoes, celery and coriander then oven-baked. Next to these fish dishes, a medley of salads would be laid out along with the traditional tahini sauce, fresh wedges of lime and some hot puffy flat bread. Always served with a side of fried onion rice, fish, made using any of the similar Egyptian recipes, comes along with some fried calamari and grilled shrimp, also pre-marinated in a salty garlic-cumin-lime mixture.
Getting tired of these authentic albeit overdone recipes, younger and more affluent Egyptians are finding refuge in sushi and sashimi – cleaner, sleeker versions of seafood that play on subtlety instead of overpowering you with heady aromatics.
See Also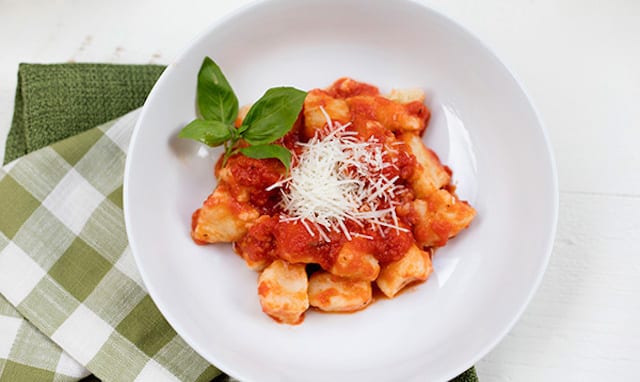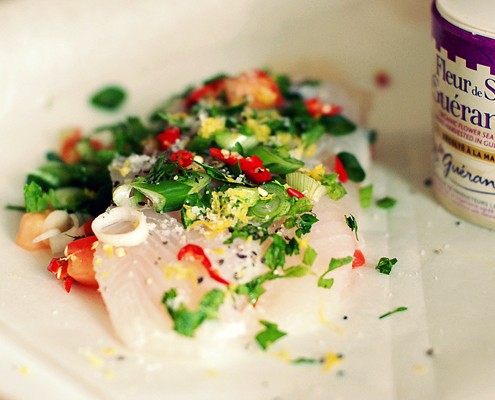 But maybe running to the other side of our food planet and disregarding our own culture is not the solution. Maybe it's about time we start taking our own local dishes and transforming them into something a little lighter, a little prettier and a lot more dramatic. Maybe it's time we combine elements of our food culture that, for the most part, do not come together to build on those world cuisines we are slowly losing.
This recipe brings a little bit of variety to the Egyptian kitchen. Inspired by the French though utilizing ingredients readily available in most Egyptian homes, this simple sole en papillote is characterized by the freshness of your fish, the aromatic scents of your ingredients, the spicy zing of the chili and the sweetness of fresh tomatoes sprinkled with dukkah, a spice mix usually used to dip bread in. The pleasantly scented steam that hits you upon opening your little package is maybe a little ceremonious, perhaps a little more humbling; and smell will always remind you of where you come from.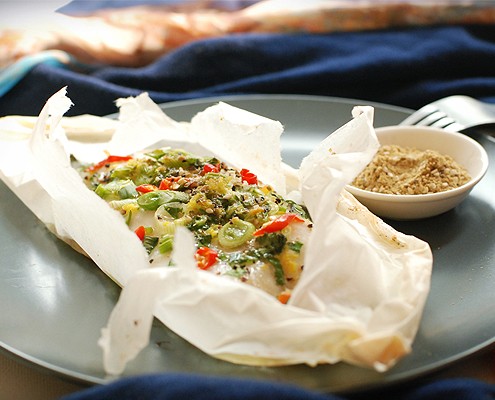 Print
Celery Scallion en papillote
Celery-scallion sole en papillote served with a side of Egyptian dukkah.
Author:

Sarah Khanna

Prep Time:

10 mins

Cook Time:

15 mins

Total Time:

25 minutes

Yield:

1

1

x
1

fillet of sole

1

small tomato, finely diced

2 tablespoons

of finely chopped celery

3 tablespoons

of thinly sliced scallions

2

small red chili peppers or

½

a large green chili pepper, sliced

1 ½ teaspoons

of lemon zest
salt and pepper to taste
olive oil to drizzle
For a basic dukkah:
50 grams

of coriander seeds

10 grams

of cumin seeds

50 grams

of sesame seeds

1 teaspoon

of salt
teaspoon of black pepper
Instructions
For the sole:
Preheat your oven to 190 degrees Celsius.
Cut a large square sheet of baking paper.
Add the the tomatoes and half the scallions.
Pat dry your fish and place on top of your initial mixture.
Scatter the celery, lemon zest, chilli and the rest of the scallions then season with salt and pepper.
Fold the paper in half and double fold all around to seal in the fish. It should look like a pastry case.
Place the parcel on a baking sheet and bake for 10-12 minutes for a smaller fillet or 15-20 minutes depending on your thickness.
Serve in the parchment paper by snipping the top open at the table.
Drizzle the fish with olive oil and sprinkle with dukkah.
For the dukkah:
Toast the coriander and cumin seeds in a hot dry pan until fragrant then cool.
Toast the sesame seeds separately and cool.
Grind the coriander and cumin together then add the sesame seeds, salt and pepper.
To be served with the fish as a condiment alongside the olive oil.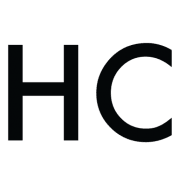 Sarah Khanna
Sarah Khanna is the half-Egyptian, half-Indian author behind Buttered-up.com who quit her Cairene career in advertising to become a full time cook, writer and photographer in Kuala Lumpur. She is also a weekly food columnist for the Daily News Egypt where she critiques Arab food culture. Raised as a hotel brat, Sarah has moved frequently but considers Egypt to be her real home. She loves butter and knives and shudders at the sight of canned tuna.