Sylvie Shirazi weighs in on the EatSmart Precision Pro kitchen scale.
By Sylvie Shirazi
I was recently given the opportunity to test out the EatSmart Precision Pro Digital Kitchen Scale.  EatSmart makes a line of kitchen, bathroom and luggage scales. The Precision Pro is their basic kitchen scale.  It features four measurement units: grams, ounces, kilograms and pounds, an 11-pound capacity, and a tare function.  It also comes with a calorie factors book, so users can calculate the amount of calories in the food they are weighing.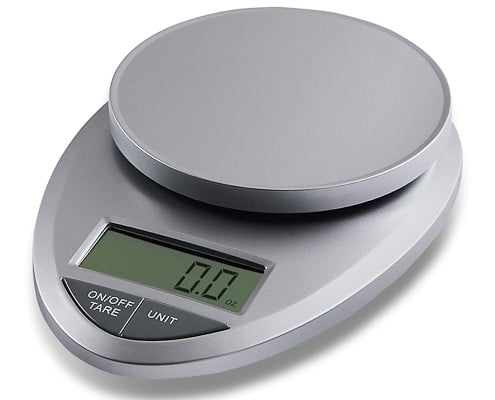 I have always used a kitchen scale.  For those of you who bake, you know that exact measurements are a necessity and weighing your ingredients is the best way to get consistent and accurate results every time.  Additionally, most people agree that the key to successful weight loss is portion control. A kitchen scale makes portioning out the food you are eating very easy.  I was eager to see how this scale performed.
Here's what I liked about it: THE PROS
You can place food items directly on the scale platform or use your own bowl or plate by hitting the tare button.  An 11 lb capacity allows you to zero out a large bowl like a Kitchenaid mixer bowl and measure directly into the bowl.  This eliminates the need for extra clean-up of a separate measuring bowl common on some older kitchen scales.
A three minute auto-turnoff feature also gives you the time to prep ingredients without losing your measurements.  Converting between grams and ounces, even while measuring, is done with the push of a button.  An extra large LCD means the numbers are easy to read.  Five rubber feet prevent the scale from sliding when in use.
It takes ordinary batteries. I like my old scale, but it's a pain to have to buy overpriced lithium batteries every time the batteries die. This scale uses standard AAA batteries that can easily be replaced.  The manufacturer claims that these batteries should last about 1 year under what they call average use, which they deem to be 3 times a day.
I also like the concept behind the Calorie Factors Book which is to make portion control and calorie counting easy for users.  You weigh your food and then multiply the number of grams by the "calorie factor" in the booklet.  The "calorie factor" is how many calories are in each gram of food.  The small booklet that comes with the scale lists the "calorie factor" for most fruits, vegetables, meats and dairy products.
What I didn't like about it: THE CONS
Measuring with a large bowl or plate can block the LCD display making it impossible to read.  This can be a problem because you have to be right over the scale to read the digital display.
The construction is a very lightweight plastic.
The display shows weight readouts in decimals only, not fractions.
The "calorie factors" in the booklet may not be accurate on some items.  For example it lists the "calorie factor" for homemade granola as 4.89, but there cannot be a standard calorie count for homemade items like granola because recipes and therefore calorie counts can vary widely.
THE VERDICT:
The EatSmart Precision Pro Digital Kitchen Scale is a compact economical kitchen scale; it's easy to use and reasonably priced at around $25.00 at most online retailers.  It has a simple sleek design, useful basic features, takes up very little space and stores easily.  The additional Calorie Factors Book makes this is an excellent tool for someone who is watching their portions.  While difficulties reading the LCD display and the lightweight construction maybe a deal breaker for the advanced home user who puts their scale to rigorous use, this hardworking scale is a good buy for most average consumers.
Full Disclosure: EatSmart provided the scale to review at no cost. No additional compensation was received. All opinions expressed are the authors own.
Sylvie Shirazi
Sylvie Shirazi is a freelance food photographer and food writer, who pursues life with a camera in one hand and a fork in the other. On her food photography blog, Gourmande in the Kitchen, she celebrates the simple joy that food brings to our lives every day by filling our plates with wholesome food to nourish the body, along with some sweet stuff to satisfy the soul.