Revamped Clam Chowder with Sausage and Fennel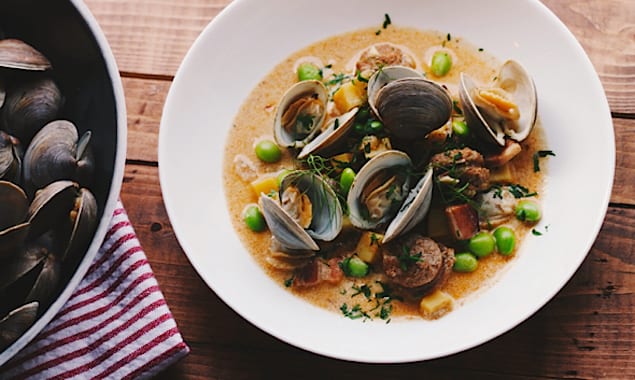 Aromatic fennel, bacon, and spicy sausage create a whole new world of clam chowder that goes great with grilled bread and a glass of white wine.
By Bryan Picard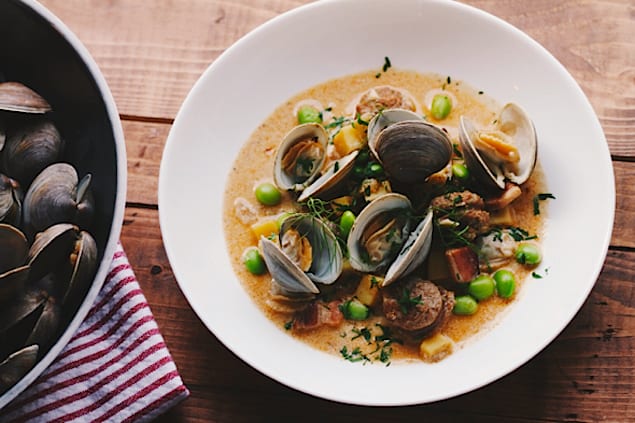 The smokiness of bacon and spiciness of the sausage, together with the aromatics of fennel and bay leaf make this recipe of my favourite chowders. This time, I used spicy moose sausages, but merguez is a great substitute. Serve for lunch with a piece of grilled bread and a glass of white wine.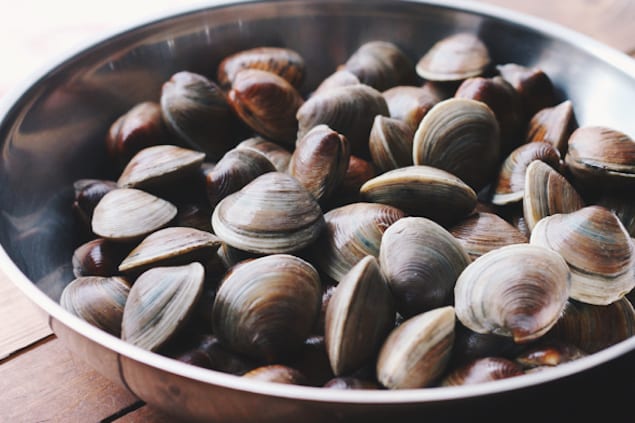 Revamped Clam Chowder with Sausage and Fennel
Aromatic fennel, bacon, and spicy sausage create a whole new world of clam chowder that goes great with grilled bread and a glass of white wine.
Ingredients
Clams
2 lbs whole clams
1 cup white wine
Chowder
1 large onion, finely chopped
3 tablespoons butter
1 fennel bulb, thinly sliced
1 medium potato, diced small
3 thickly cut slices of smoked bacon
2 sausages, cut in slices
2 bay leaves
1¾ cups milk
¼ cup heavy cream
2 garlic cloves, chopped
a squeeze of lemon
sea salt
Garnish
1 cup edamame, blanched for 2 minutes, cooled in icy cold water
small handful of parsley, thinly sliced
few fennel strands
Instructions
Clams
Cook the clams, covered, with the wine for a few minutes until they open.
Reserve the cooking liquid, you should have about 2 cups.
Chowder
In a large pot melt the butter and cook the onions on medium heat for 5 minutes.
Add the fennel, potato, bacon, sausages, bay leaves and cook for another 5 minutes.
Add the reserved cooking liquid and simmer for a few minutes then add the milk, cream, garlic, and lemon. Simmer on low for 10 minutes. Taste and season with salt.
Garnish
Serve chowder with the reserved clams either in it or in the shell.
Garnish with some warmed edamame, parsley and fennel strands.
Bryan Picard
Bryan Picard is a wild and homegrown food enthusiast. He lives in the Maritimes in Canada and has worked the kitchens as a cook and chef for the past ten years. He writes on his blog The Bite House.