If you're carving pumpkins this Halloween use the "guts" to make your own pumpkin puree. If not, canned puree works just as well in this soup.
By Roberta Pipito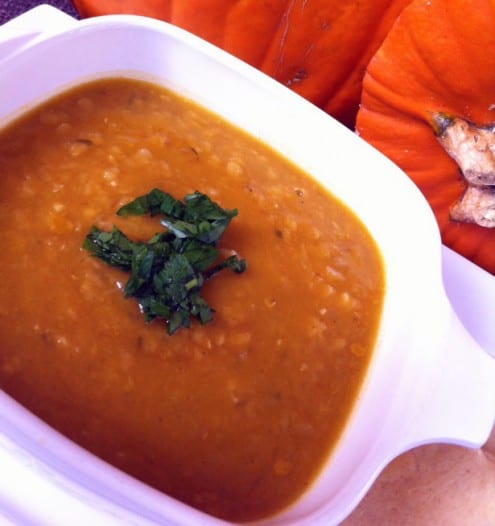 Pumpkin and Lentil Soup
If you're carving pumpkins this Halloween use the "guts" to make your own pumpkin puree. If not, canned puree works just as well in this soup.
Ingredients
3 Cups of Pumpkin Puree, canned is fine
2 Tablespoons of Extra Virgin Olive Oil
1 Cup of Red Lentils
1 medium onion, diced
3 garlic cloves, minced
Salt & Pepper, to taste
1 teaspoon of cumin
1 teaspoon of ground coriander
1 teaspoon of ground ginger
¼ teaspoon of cayenne pepper
pinch of cinnamon
32 FL oz. of Chicken Stock
Chopped Parsley, for garnish
Hazelnuts, optional for garnish
Instructions
In a large Dutch oven or saucepan turn on medium heat. Drizzle in olive oil, and add onions.
Cook for about 1-2 minutes then add garlic.
Afterwards mix in lentils and stir.
Then add puree and stir again.
Lastly, mix in stock and let cook for about 30 minutes or so on medium to low heat.
You can blend and make this a smooth soup or leave the texture. I did half and half.
Roberta Pipito
Roberta Pipito is a chef, food blogger and wine and beer aficionado. Her work continues to expand in the foodie world, and can be seen on www.homemadedelish.com.