Topped with a crumbled pretzel bread, this unique mac and cheese is comfort food at its finest. Blended with an IPA, gourmet cheese shine bright in this dish with mustard to add tang.
By Keith Jackie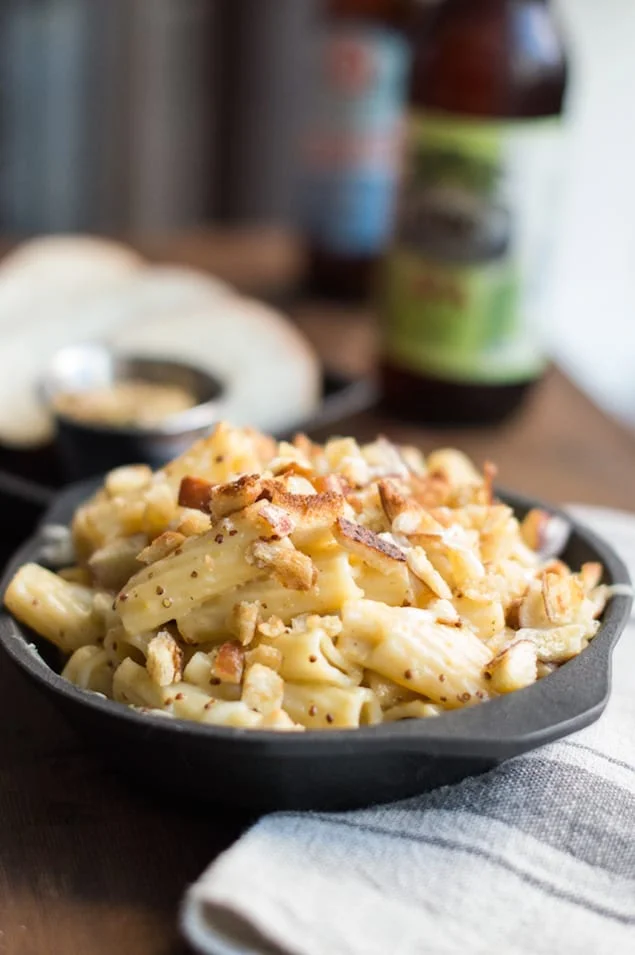 Mac and Cheese is the quintessential comfort food. I love a gourmet version that is made from scratch with gooey cheese sticking to the fork of each bite. I am also not opposed to the box variety; it got me through college and it still gets me through a bad day. This pub style mac and cheese that Keith created is simply delightful. It is comfort food beyond compare, as it uses some of my favorite vices: beer, cheese, and pretzel bread. It doesn't get better than this.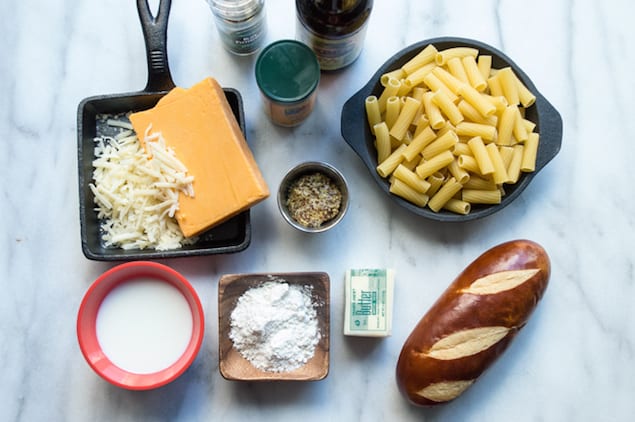 Keith's Pub Style Mac and Cheese was conceived out of his love for traditional bar appetizers. He blended two cheeses with a bit of IPA and mustard to create the perfect "tang". We chose elicoidali pasta for this dish, as this tube-shaped pasta with helix ridges best soaks up the beer cheese flavor to create a perfect, ooey-gooey bite.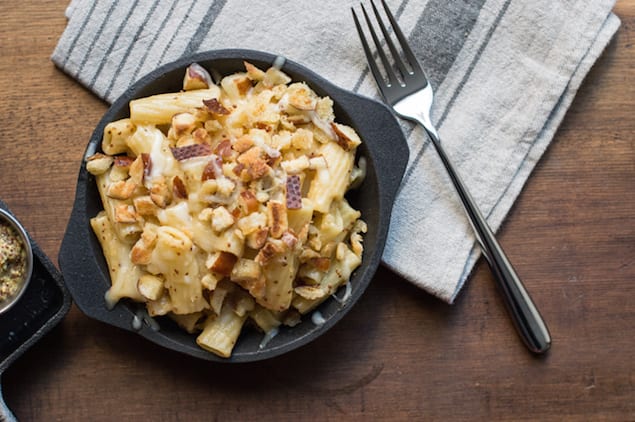 Pub Mac and Cheese with Beer and Mustard
Topped with pretzel bread, this unique mac and cheese is comfort food at its finest with an IPA and tangy mustard to help the cheeses go gourmet.
Ingredients
8 oz dry pasta (we used elicoidali)
4 tbsp butter
2 tbsp flour
6 oz beer (we used an IPA)
¼ c milk
1 tbsp coarse-ground mustard
6 oz sharp cheddar cheese (shredded)
3 oz shredded Monterey jack cheese (shredded)
1 C soft pretzel, diced into ¼" pieces
Instructions
Boil pasta according to directions on package
Drain and set aside
In a sauce pan, melt 2 tbsp butter and mix in 2 tbsp flour and cook for 2 minutes over medium heat.
Add beer and stir until combined
Add milk and cook over medium heat for 5 minutes until slightly thickened, stirring frequently.
Add cheese and mustard and reduce heat to low. (if too thick you can add more milk or beer). You want a medium thickness to the sauce.
In a separate pan, melt 2 tbsp butter and add chopped pretzels to coat with butter.
Combine cheese sauce and pasta and transfer to an oven safe container and bake in a 350 degree oven for 15 minutes.
Remove from oven and sprinkle with pretzel pieces and return to oven to bake for 15 more minutes.
Serve and enjoy
Keith Jackie
We met on a warm summer evening. His square jaw and engaging smile reminded me a bit of Clark Kent. We share a passion for life: music, baseball, and especially food. He makes me feel like I can fly. Welcome to our exploration of food, recipes and ideas that celebrates our life together. He creates the recipes and prepares the food, and I am the documentarian. My superman can cook! Check out our site, Superman Cooks.