Buy the best piece of hog you can afford, and serve it with a delicious chimichurri sauce and seared brussels sprouts.
By Diana Bauman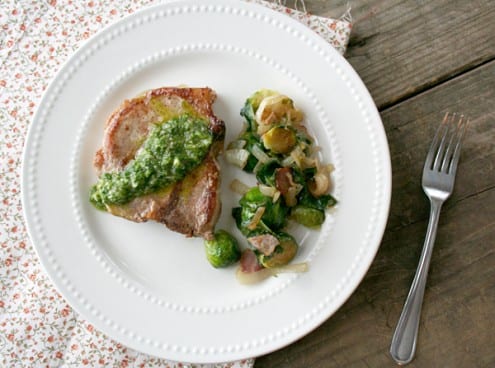 Pork Chops with Chimichurri and Brussels Sprouts
Buy the best piece of hog you can afford, and serve it with a delicious chimichurri sauce and seared brussels sprouts.
Ingredients
Pork Chops
Four 1" pork chops
2 tsp extra virgin olive oil
Chimichurri Sauce
3 shallots
1 clove garlic
⅔ cup extra virgin olive oil
a big handful of flat leaf Italian parsley
a smaller handful of cilantro
2 tablespoons lemon juice
½ tsp salt
Sauteed Brussels Sprouts
1lb brussels sprouts, halved
4 slices bacon, sliced
½ red onion, sliced
Splash of lemon juice
Salt to taste
Instructions
For the Pork Chops
Heat 2 tsp extra virgin olive oil in a skillet or cast iron pan.
Season pork chops with salt and pepper and sear on both sides until cooked through. The sides should brown and carmelize a bit giving them a deep flavor. (Do not slice open to check for doneness as its juices will drain making them dry. Instead use a meat thermometer to check for 160F internal temperature.)
Set aside in a 170F oven to keep warm.
Chimichurri Sauce
While the pork chops are searing, combine all ingredients in a food processor and process until finely chopped. If you don't have a food processor finely chop all ingredients by hand and mix in a bowl. *A chimichurri sauce can be made in numerous ways. Feel free to add more of any ingredient to your liking.
Sauteed Brussels Sprouts, Onions, and Bacon
Once all of your pork chops have been seared, use the same pan to start your brussels sprouts. You'll be picking up the flavors of the pork chops including all the wonderful brown bits it left behind.
To the skillet or cast iron pan, add the bacon and cook until most of its fat has rendered out.
Add the brussels sprouts and onion and saute until they begin to brown and soften. 8-10 minutes.
Finish with a splash of lemon juice, and salt to taste.
To Serve
Serve a spoonful of chimichurri sauce on top of each pork chop with a side of brussels sprouts.
Diana Bauman
As a first generation American, Diana shares her family's traditional Spanish and Mexican recipes at her successful blog Spain In Iowa. She also writes about faith, family, organic gardening, raising backyard chickens and preserving the harvest.