With Saint Patrick's Day coming, Irish pubs are preparing for their busiest week of the year. But why frequent only Irish bars?  Other bars and eateries like the LIFE HOTEL's subterranean cocktail lounge, GIBSON + LUCE, are teaming up with Tullamore D.E.W. and transforming into limited-time pop-up bars. You don't want to miss out!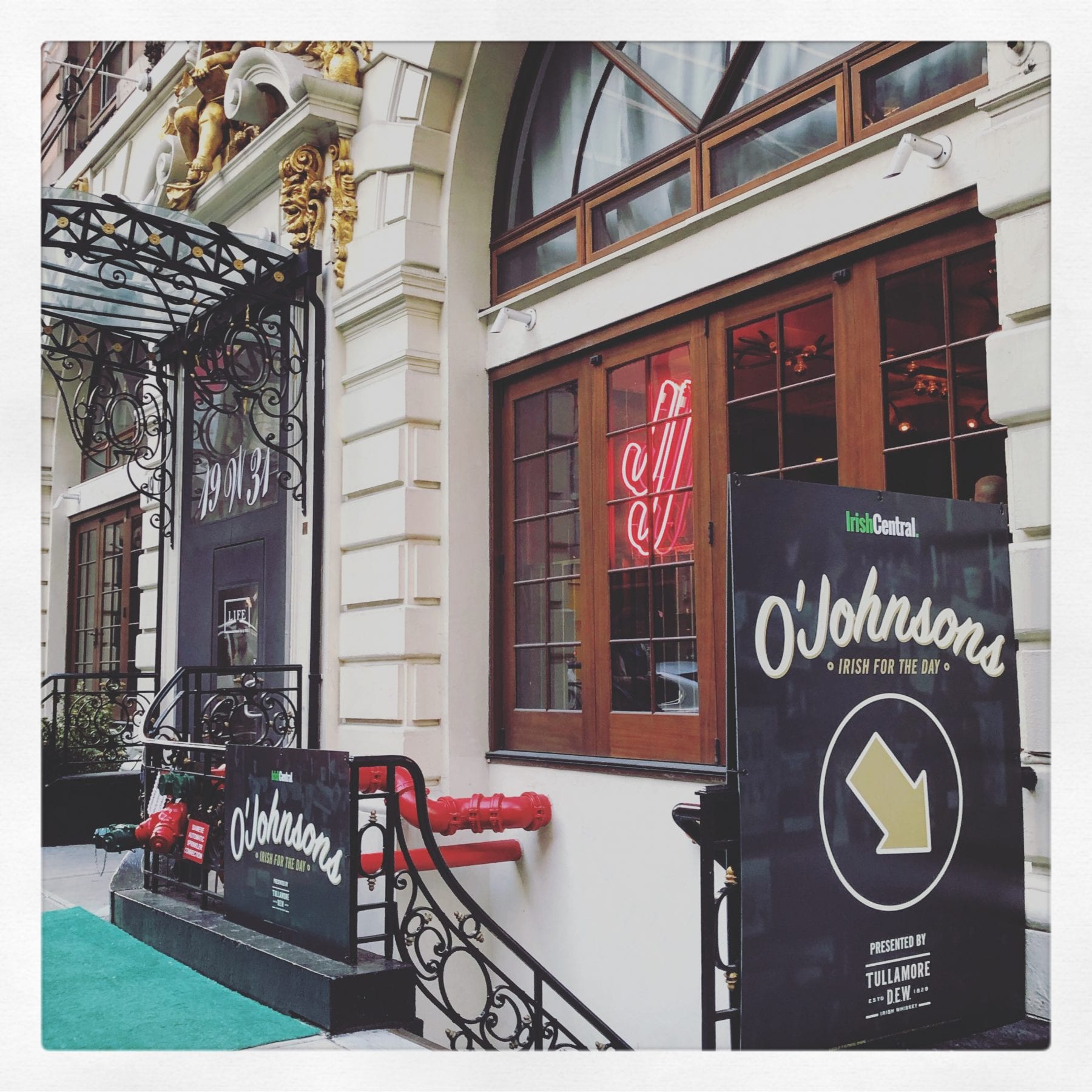 O'Johnsons Pop-up at the Life Hotel
Needless to say, with Saint Patrick's Day around the corner, Irish pubs are preparing for their busiest week of the year. But you needn't rely solely on them to enjoy seasonal Irish drink and fare.  Other bars and eateries like the LIFE HOTEL's subterranean cocktail lounge, GIBSON + LUCE, are taking the old saying "Everyone's Irish on St. Paddy's Day" to heart.
Teaming up with IrishCentral and Tullamore D.E.W., the bar is being transformed into a limited-time pop-up named "O'Johnsons" after the hotel's new executive chef and James Beard nominee, Chef Joseph "JJ" Johnson.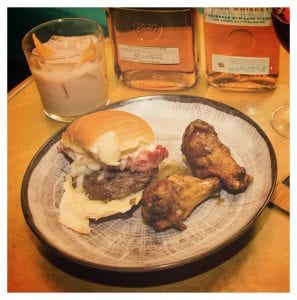 If you're looking to celebrate the holiday with traditional Irish pub grub, you'll want to go elsewhere. Chef Johnson is known for his globally influenced cuisine that masterfully combines African, Caribbean and Asian flavors. So it will come to no surprise that his Irish Pop-up menu elevates the European bar food by adding an international twist.
Where most chefs might make a St Patrick's Day burger by combining ground and corned beef into one patty, Chef Johnson adds a thick slice of Corned Beef as a second patty in his twist on the American classic. This way, the familiar texture and flavor of both types of beef are easily distinguishable and arguably more enjoyable.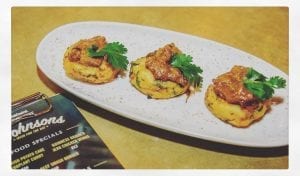 Easiest of the bar munchies to put away are the Crispy Irish Potato Cakes with Eggplant Curry. The whipped-then-fried potato base is a light vehicle that adds a slight crunch to the flavor-packed curried eggplant dollopped on top.  The velvety finger food eats quicker than you'd like which has you reaching for another sooner than you'd expect.
But of all Chef Johnson's pop-up dishes, the one I could see remaining on the menu year-round is the Guinness Braised Jerk Chicken Wings. Though the stout beer imparts its flavor subtly, it appropriately adds to the complexity of the jerk seasoning and gives it a sweetness I consider obligatory for any crispy fried wing served at a bar.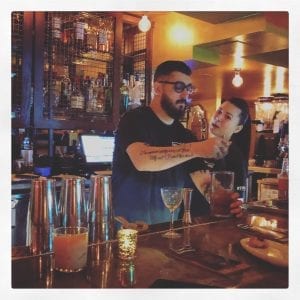 An obvious pairing to these wings and the rest of the pop-up dishes would be a tall pint of Stout beer or shot of whiskey (or both), but the mixologists at GIBSON + LUCE have also turned traditional St. Patty's Day drinks on its ear with two Tullamore D.E.W. Irish Whiskey cocktails that are made specifically with Chef Johnson's dishes in mind. Don't worry, the spirit of the holiday was equally considered so the drinks are as boozy as you'd want them to be. In fact, with the tried and true pairing of beer & whiskey shot in mind, "The Shaking Shamrock" is a combination of Tullamore D.E.W. Irish Whiskey and a syrup created by reducing Guinness Stout. Irish cream is added to smooth out the cocktail and orange bitters keeps the drink from being an outright dessert.
The Shaking Shamrock and The Pot of Gold
See Also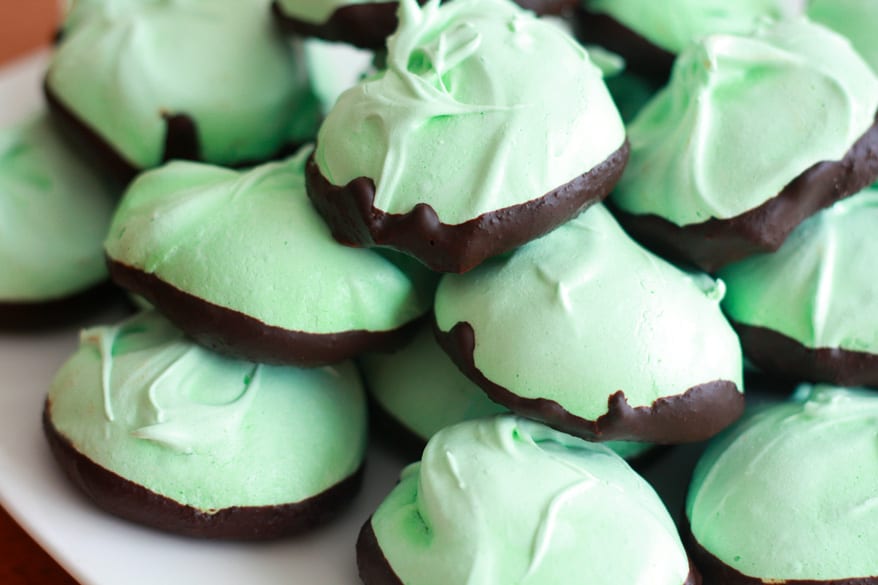 "The Pot Of Gold" is the other specialty cocktail created just for the pop-up. An even more complex blend of flavors, The Manhattan-esque cocktail starts when Irish breakfast tea is infused with Tullamore D.E.W. Caribbean Cask Finish Whiskey which already carries sweet tropical flavors. Then, Oloroso sherry, sweet vermouth & orange bitters are stirred in to ensure even more taste buds are involved. Finally, gold flakes are sprinkled on top as a visually necessary garnish. The only thing missing was a tiny rainbow magically splashing into the libation.
So whether you're looking to add a stop to your NoMad pub crawl or just want a small taste of St. Patrick's day, "O'Johnsons" is the unconventional holiday pop-up that shouldn't be missed. Sláinte!
O'Johnsons Pop-up is found at the Life Hotel: 19 West 31st Street New York, NY 10001 until Sunday, March 17, 2019.
"If ye don't have an O in your last name, we're here to give ye one and say anybody can be Irish on St. Paddy's Day," said Tim Herlihy, National Ambassador for Tullamore D.E.W. Irish Whiskey. "We're proud to be working with this killer group of talent from all backgrounds in the food and cocktail world, and we're excited to celebrate with everyone on our favorite holiday of the year."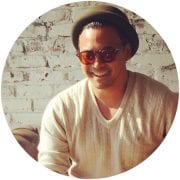 jordi adiao
I learned early in life to embrace your awkwardness... now, are you going to eat your chicken skin?