Inspired by the salads of Southeast Asia, this shrimp salad is loaded with fish sauce and the citrus fruit pomelo, before being topped off with crispy fried shallots and sesame seeds.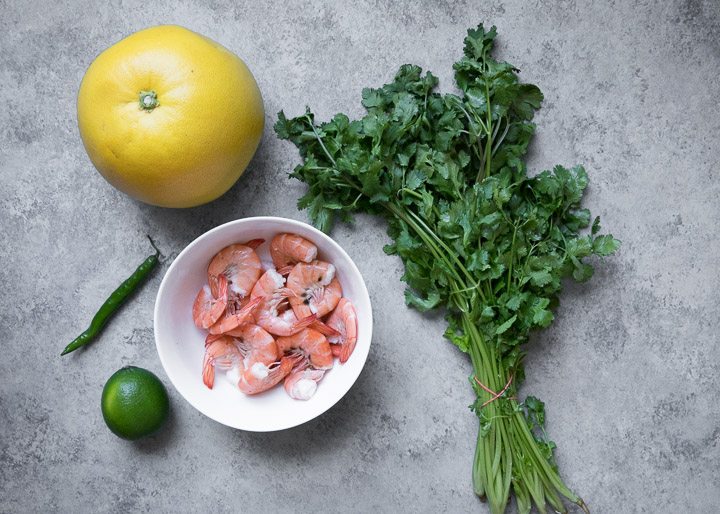 After my wedding last month we went on a three week honeymoon to Vietnam and Hong Kong. It was the longest trip I'd ever been on besides long stays in Korea to visit family as a kid. Luckily we passed our first marital test with flying colors! We decided to start our trip on the island of Phu Quoc so that we could stay at a resort and relax for a few days to recover from wedding madness and the extensive traveling we had to do to get to Asia (14 hours to Seoul and then 5.5 hours to Ho Chi Minh City then an hour to Phu Quoc Island). It was there that I was first introduced to pomelo and shrimp salad.
The island is off the southern coast of Vietnam in the Gulf of Thailand and is famous for its black pepper and fish sauce. The resort we stayed at offered a cooking class and we decided to take it to learn how to make a few Vietnamese dishes. We started our day at the local market with Chef Hung and he showed us the abundant seafood caught here and the produce the farmers grow on the island. We returned to the resort with freshly caught scallops and ripe fruit.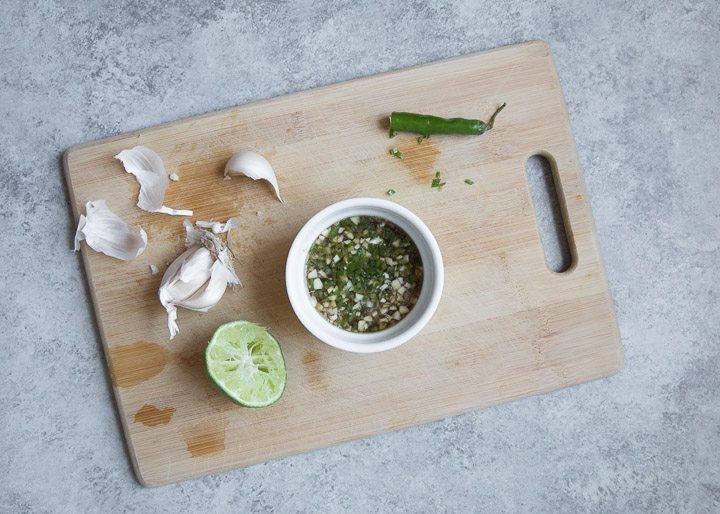 We must have cooked at least six different dishes but my favorites were this pomelo salad and the scallops Chef Hung grilled for us over a wood charcoal fire. I couldn't stop eating this salad-I found it to be so bright, fresh, and interesting. Pomelo is a citrus fruit that is somewhat similar to grapefruit but I find it to be less bitter. It's pepperiness balances the sweetness of the shrimp and the fish sauce dressing seasons the two main components perfectly. Crispy fried shallots and toasted sesame seeds add texture to the salad and the herbs make it fragrant and fresh. It was difficult to get off the long flight home from such a beautiful and temperate place and step into the middle of the "bomb cyclone" in NYC, but I'm immediately taken back to the beautiful country of Vietnam whenever I eat this salad.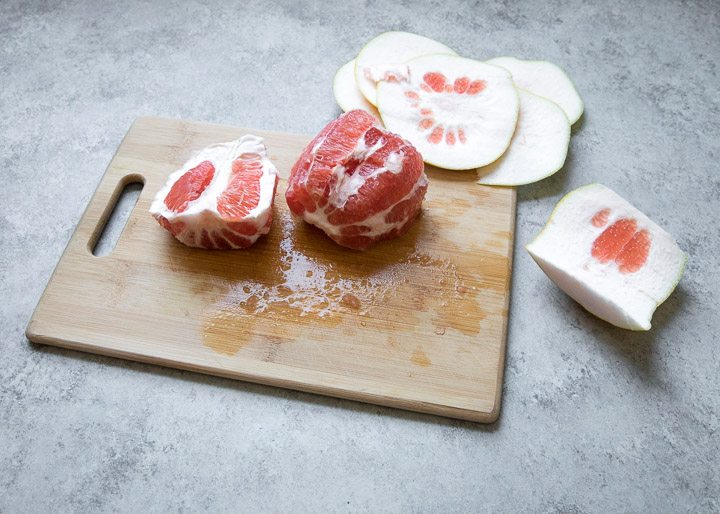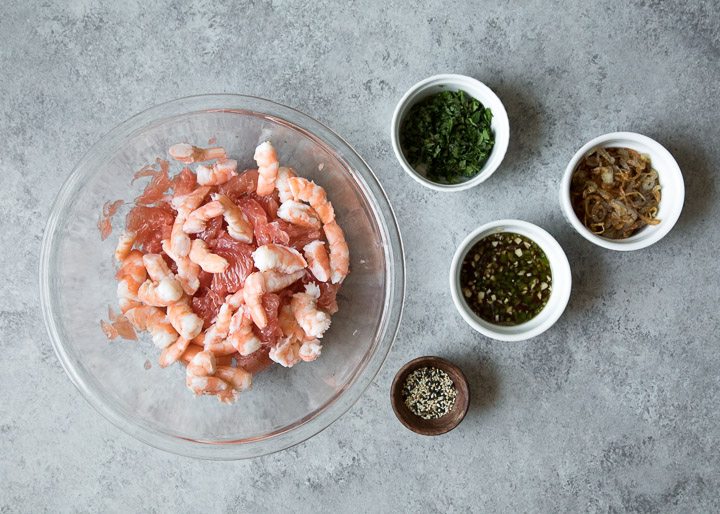 See Also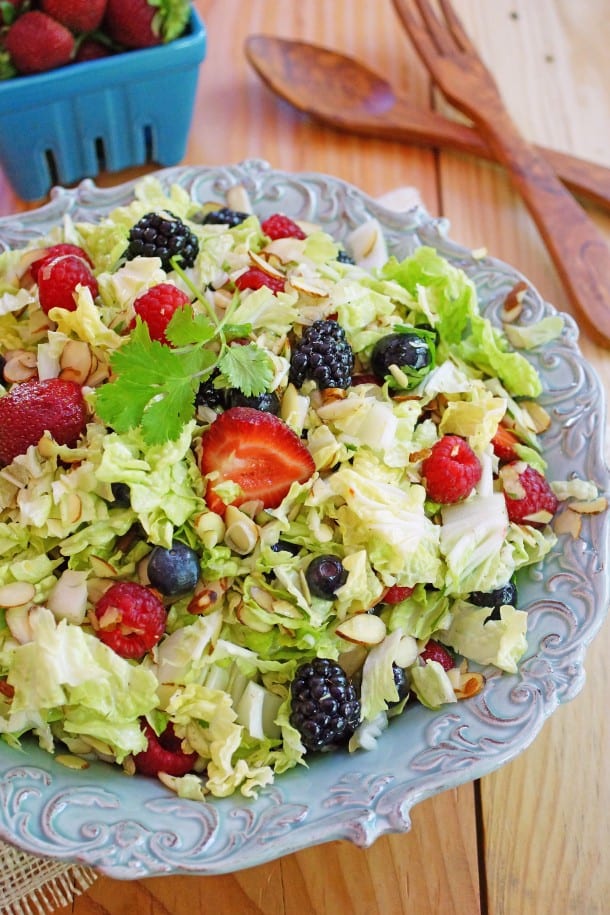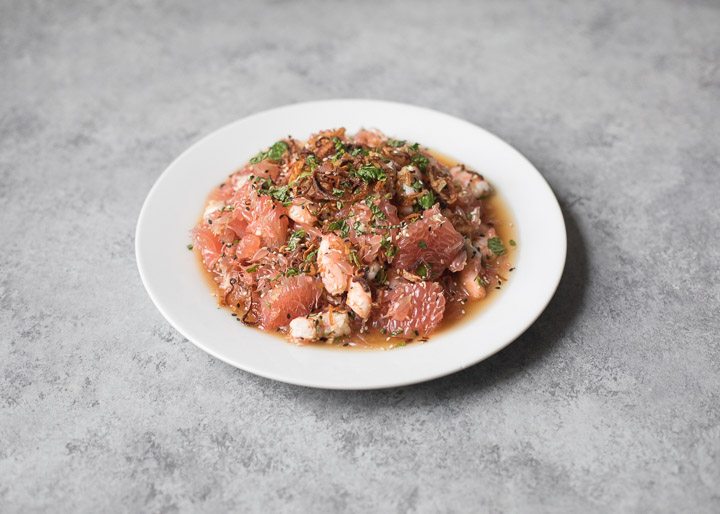 Click here for the dressing recipe.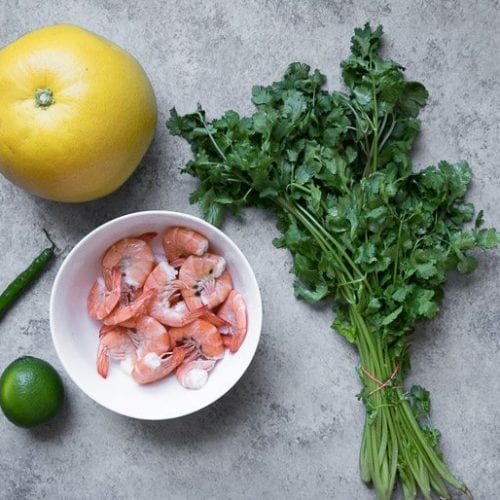 Pomelo and Shrimp Salad
Sonja Bradfield
Ingredients
1

pomelo

8

oz

shrimp

I cooked them in the shell then peeled and deveined them. If it's easier you can buy them already prepared.

1

large shallot

thinly sliced

3

tbsp

neutral cooking oil

2

tbsp

sesame seeds

toasted

1/4

cup

fresh mint

chopped

2

tbsp

fresh cilantro

chopped
Instructions
Bring a small saucepan filled 2/3 of the way with water to boil. Prepare a large bowl with ice water. Once the water comes to a rolling boil, drop the shrimp in and cook them for a minute or so, until they turn pink and opaque and curl. Strain them and immediately put them in the ice water. When completely cooled, peel and devein (if not already prepared), and cut into bite sized pieces.

Heat the oil in a small frying pan to medium-low. Press the sliced shallots with a paper towel to absorb excess moisture. When the oil is hot drop in the slices of shallots making sure to spread them out. Stir occasionally and cook until golden brown (it will take about 10 minutes). Drain on paper towels and allow to cool to crisp up.

Meanwhile, prepare the pomelo by using a large knife and cutting off both ends (the rind will be quite thick), then cut off the sides. Break the pomelo in half with your hands and take out the segments from the membrane over a bowl. They should easily peel off but you can also use a small paring knife. Break up the segments into bite sized pieces.

Mix together the dressing ingredients. Add the dressing, shrimp, half the shallots, half the sesame seeds, and half the mint and cilantro to the bowl with the pomelo pieces. Mix together and plate it on a serving platter, then top with the remaining shallots, sesame seeds, and herbs.
Notes
I really like Red Boat fish sauce.
You can find pomelos in the citrus section of your grocery store. I saw them at Trader Joe's. You will probably also find them at an Asian market. A ripe pomelo feels heavy for its size and will have a grassy, floral scent.
Sonja Bradfield
Hello there! My name is Sonja and I love food. I'm food obsessed, actually. I moved back to the US last year after living in Seoul, Korea for five years. I hope to share what I've learned about good eating from my time in Korea and traveling Asia. I focus on recipes that are influenced by my Korean heritage and experience as an expat in Seoul which inspired cooking recipes from home, as well as the ever changing food scene in DC and Virginia.