Places We Love – Farmhaus, St. Louis, Missouri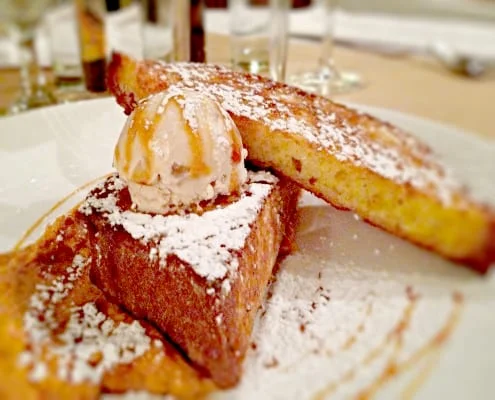 Farmhaus, a restaurant by Kevin Willmann, is a locale that will envelope you in its ways; from the house-infused vodkas for creative drinks, the fermented and delicious kimchi, and the freshly churned ice creams.
By Marnely Rodriguez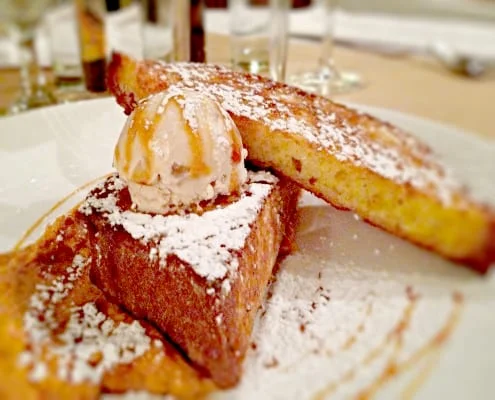 On our latest visit to the Midwest, we discovered and fell in love with a restaurant that focuses not only on supporting local farmers, but creates a memorable dining experience that will satisfy your need for sustainable, seasonal, and fresh food.
Farmhaus, a restaurant by Kevin Willmann, is a locale that will envelope you in its ways; from the house-infused vodkas for creative drinks, the fermented and delicious kimchi, and the freshly churned ice creams, you'll want to get up and move to Missouri!
Chef Willmann focuses on approaching his menu items with a sense of respect for just what they are – locally grown, organic, and sustainable produce, meats, and more. The seafood is some of the best we've ever tried, although of course not local to the landlocked "Show Me" state, it's sourced from the same Gulf Coast waters the chef enjoyed fishing as a young man.
The restaurant offers a Chef's Tasting Menu, but we decided to order off the menu, which was packed to the brim with mouthwatering choices. To start off, a platter of Nachos and not just any kind of nachos but "House made sweet potato chips, Salemville blue cheese, cherry wood smoked house bacon lardoons, house pickled jalapeños, fire-roasted red pepper catsup"! Crispy potatoes drizzle, sprinkled, and laced with flavors and textures unlike any other nachos we've ever had.
Up next, we tried their Porchetta Steamed Buns, with (of course) house steamed buns, local cabbage kimchi, and house XO sauce. The buns were airy and light, with a nice slice of porchetta and topped with their kimchi. Followed by a few Black Fin Tuna Crostinis, these led the way to the start of a gorgeously detailed dinner.
Notable entrees included their comforting Bacon Wrapped Meatloaf accompanied with Sweet and Yukon Gold smashed potatoes, sous vide pearl onions,  and a tomato- merlot reduction. Elevated by the use of the sous vide technique present with the onions, and the combination of the tomato-merlot reduction. A must have.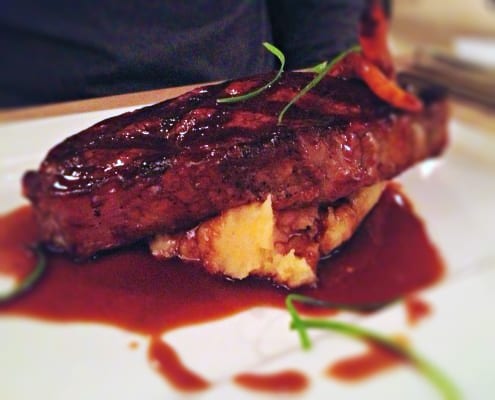 Another classic showcase of Chef Willmann's Southern and Midwestern flavors is the Cotechino platter. Cotechino is an Italian charcuterie product, cooked normally by boiling for hours. Farmhaus' is made with Berkshire pork and pancetta, served with bourbon braised collard greens, honey roasted Hakurei turnips, and a red wine ham hock sauce.
Let's not forget the desserts! With an ever changing and seasonal menu, stand out desserts we had were a Pumpkin French Toast, a Beet Chocolate Cake with Beet Sorbet, a Pistachio Financier, and a Peanut Butter Chocolate Mousse. Decadent, rich, comforting, and delicate.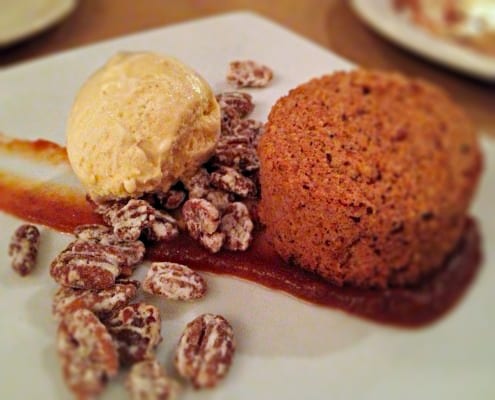 Put this on your list of must-haves when traveling to St. Louis, MO and I'm sure you'll be raving about Farmhaus as much as we are.
Farmhaus
3257 Ivanhoe Avenue, St. Louis, MO 63139
Website
Marnely Rodriguez-Murray
Marnely Rodriguez-Murray is the author of the food blog Cooking with Books. A graduate of The Culinary Institute of America, she has worked as an Overnight Bread Baker in Colorado, a Chocolate Maker in Virginia as well as a Pastry Cook on the whimsical island of Martha's Vineyard, just to name a few. She currently resides on Martha's Vineyard with her chef-husband, where they are both on an endless search for Caribbean flavors, new culinary trends and gastronomic inspiration.