Pistachio Gremolata and Squash Soup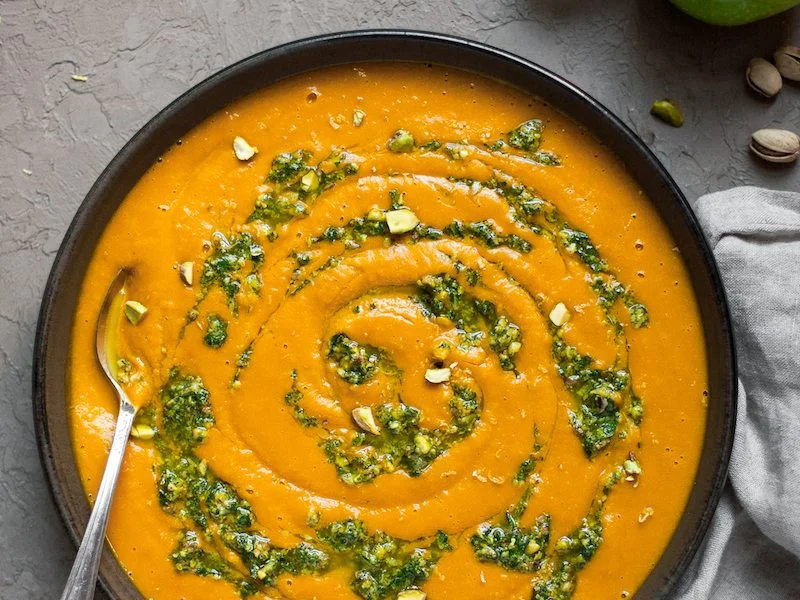 This hearty, smooth hubbard squash soup is made extra delightful swirled with an herb-loaded pistachio gremolata.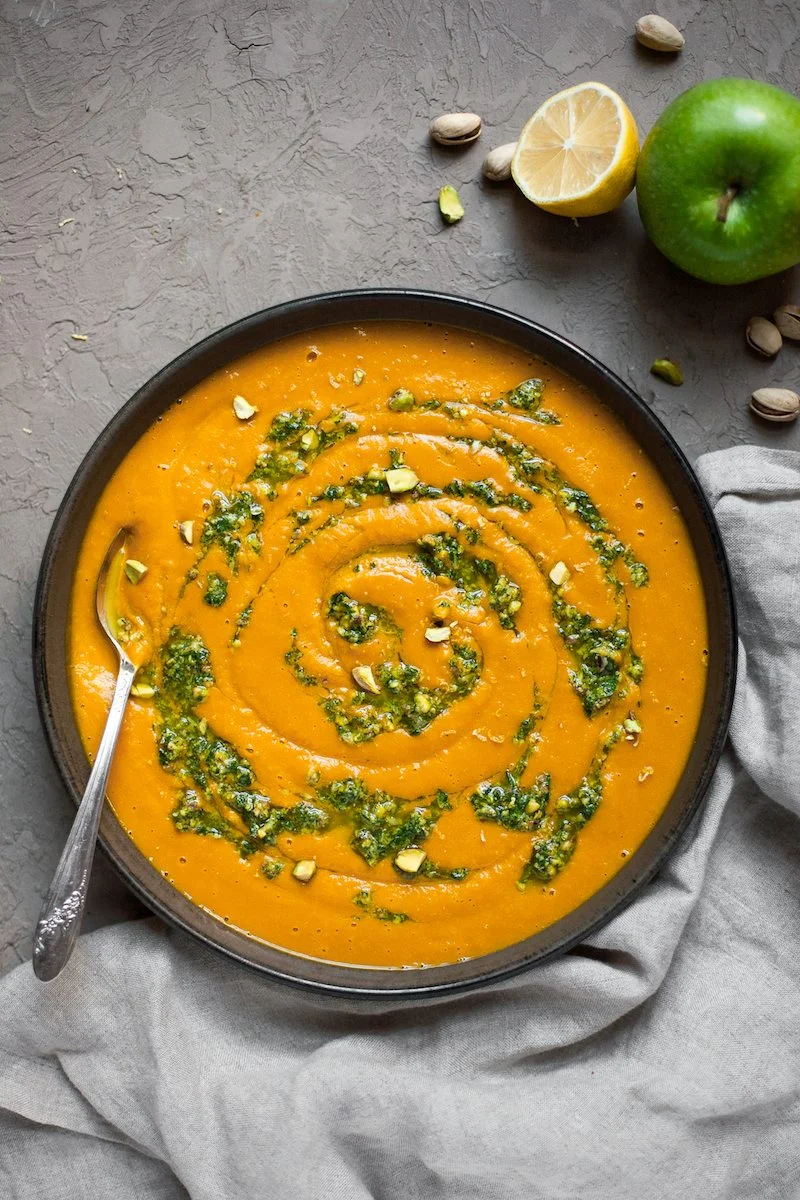 This easy hubbard squash soup with pistachio gremolata will quickly become a favorite in your weeknight rotation. The slightly sweet soup and punchy gremolata complement each other perfectly.
Making squash soup is a tradition in my world, beginning with butternut squash soup with fried garlic and chili oil. The tradition continued with parsnip and pumpkin soup and butternut squash and potato soup (with bacon and pomegranate on top!).
I invented this recipe on a whim when I got sick a few days after my wedding and have not been able to stop eating it since. The soup is rich and delicious on its own, but worlds better with a few dollops of pistachio gremolata swirled in.
I originally made this soup with a red kuri squash from my CSA. Since then, I've had trouble getting my hands on another red kuri, so I turned to buttercup squash (pictured above), which is another member of the hubbard squash family. I have a slight preference for red kuri squash and am constantly on the lookout for it, but either will work (and other orange-fleshed winter squashes like butternut will probably work, too).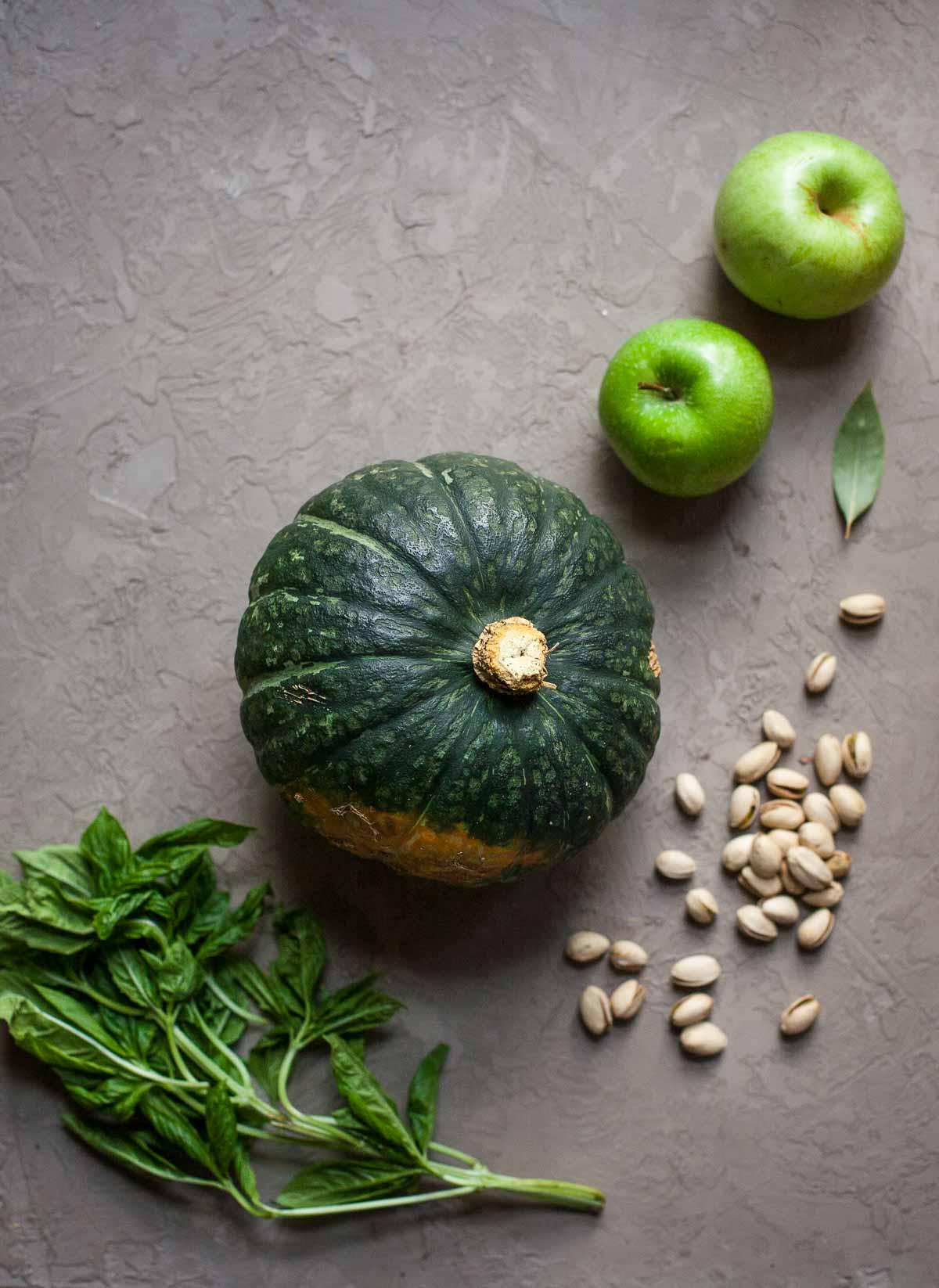 Since it was conceived as a quick lunch while I was sick and loathe to put forth any actual effort, this hubbard squash soup is extremely simple. It goes like this: bring some broth to a simmer while you peel, cut, and deseed a squash (I love Pacific Organic Chicken Bone Broth here because the rosemary comes through a little and is great with the squash). Add squash cubes to the hot broth along with a bay leaf and some salt and pepper. Peel and chop a green apple, and add that once the squash is tender. Cook a few more minutes, then stir in some ghee and blitz with an immersion blender. See? Easy and quick.
The pistachio gremolata is also simple to make in the time the soup takes to cook. Gremolata is similar to pesto but is usually made with parsley, garlic, and lemon. Here I've kept the garlic and lemon but used basil instead of parsley, and added some pistachios and olive oil. So really, now that I think about it, this is more of a cross between pesto and gremolata. No matter what you call it, it's fresh and flavorful, and goes so well with the velvety and slightly sweet hubbard squash soup.
Click here for the gremolata recipe.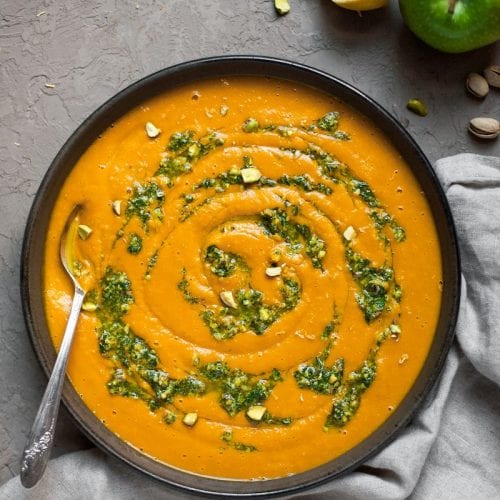 Pistachio Gremolata and Squash Soup
Becky Winkler
This hearty, smooth hubbard squash soup is made extra delightful swirled with an herb-loaded pistachio gremolata.
Ingredients
For the hubbard squash soup:
1

quart

4 cups homemade or store-bought chicken bone broth (such as Pacific Organic)

One 4-5 pound hubbard squash

such as red kuri or buttercup

1

bay leaf

Sea salt and freshly ground black pepper

to taste

1

tart green apple

2

tablespoons

ghee or olive oil
For the pistachio gremolata:
Click the link above for the recipe.
Instructions
To make the hubbard squash soup, pour the bone broth into a large saucepan or stockpot set over medium heat. While the stock is heating up, peel the red kuri squash, cut it open, and scrape out the seeds and pulp. Roughly chop the squash (you should have about 5 cups).
Raise the heat to medium-high and add the squash and bay leaf to the hot broth along with a generous sprinkle of sea salt and a few grinds of black pepper. Cook for 20 minutes, adjusting the heat as needed so that the soup stays at a low simmer.

While the soup is simmering, peel and chop the apple and set it aside, then make the pistachio gremolata (see below). Once 20 minutes are up, add the apple to the soup and simmer for 3-5 more minutes.

Remove the soup from the heat, fish out the bay leaf, add the ghee or olive oil, and carefully puree the soup with an immersion blender until very smooth (or transfer it even more carefully to a food processor or blender to puree in batches). Season to taste with salt and pepper. If you like a thicker soup, return the pan to the heat and simmer for a few more minutes until thickened to your liking. If you like a thinner soup, add a little more broth or some water.

Serve hot, with pistachio gremolata and/or other toppings of your choice. This soup reheats well and should also freeze well, although I haven't frozen this particular recipe yet.
Gremolata
To make the pistachio gremolata, Click the link above.
Assembly
Spoon some pistachio gremolata on top of each bowl of soup to serve, swirling with a toothpick or skewer if desired. The gremolata can be stored in a sealed container in the refrigerator with a layer of olive oil poured on top for a few days. Bring to room temperature before using.
Becky Winkler
Becky Winkler is an enthusiastic eater who shares paleo and gluten-free recipes on her blog, A Calculated Whisk. She enjoys chopping chocolate, salting dessert, searing short ribs, and taking pictures. In her other life, she's a grad student in Boston.