Sponsored Post: We're celebrating Vinho Verde wines this season. These Portuguese bottles are young, fresh, vibrant, and affordable. It's the perfect wine for all your favorite summer recipes, beach trips, and vacations. It truly is like no other wine in the world.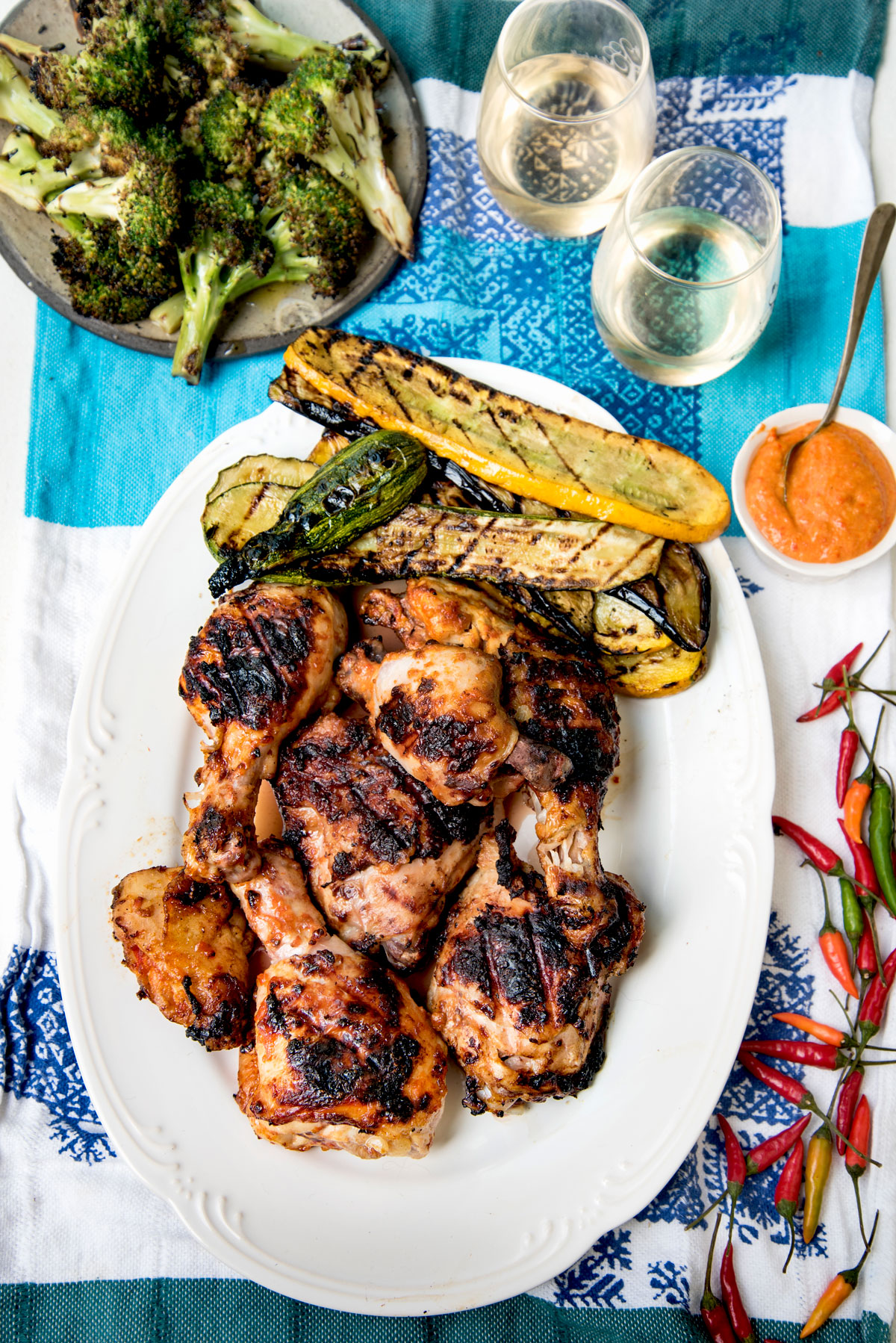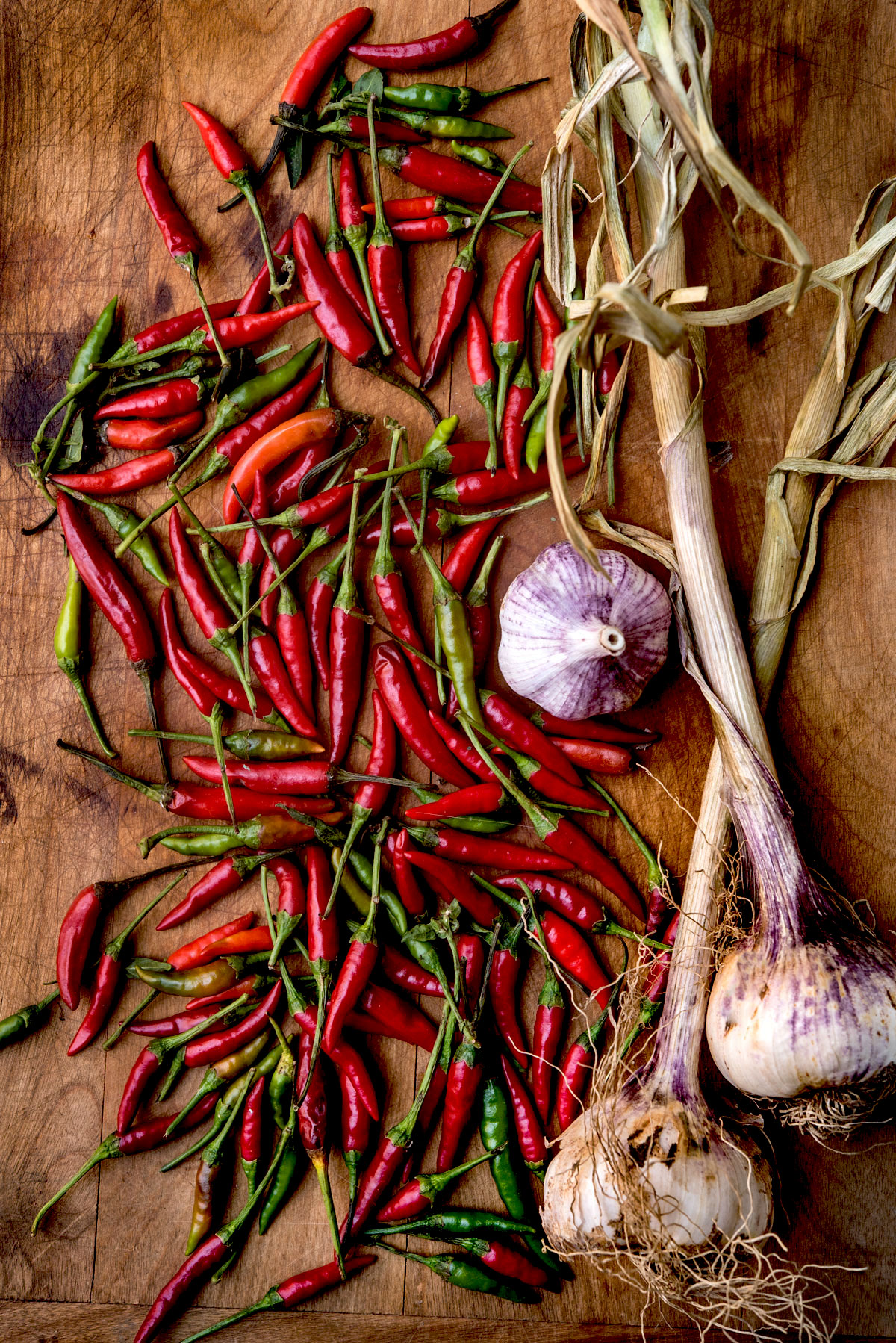 Labor Day is a day of rest and relaxation. It's also an invitation to celebrate those fleeting final days of summer. What better way than to gather with friends and family for a backyard barbecue. Good food, good friends, and good wine. What more do we need?
A perfect wine pairing for your summer grilling is a light, fresh, and slightly effervescent Vinho Verde. Vinho Verde is not a grape varietal, but rather a protected designation of origin (DOC) or denominação de origem controladaof northwest Portugal. The DOC is comprised of nine sub-regions named after rivers or towns — Monção, Melgaço, Lima, Basto, Cávado, Ave, Amarante, Baião, Sousa, and Paiva — in the Douro Valley, starting just below the Portuguese-Spanish border and extending all the way to the Atlantic Ocean, where it meets with the city of Port (where, by the way, most Port wine is made). Vinho Verde is typically a blend of white grape varietals, though you can also find single varietal and rose Vinho Verdes. They're approachable, easy drinking, fresh and young, and pair exceptionally well with any number of foods.
Inspired by my travels to Portugal, I decided that barbecue piri piri chicken would be a perfect complement for Vinho Verde. Piri piri chicken is a spicy dish with roots in Africa and Portugal. The dish was created in Angola and Mozambique, where Portuguese settlers arrived with chile peppers known as piri-piri (in Swahili). Piri piri are small red chiles, nicknamed African Red Devils for their fiery heat, hitting 175,000 Scoville units.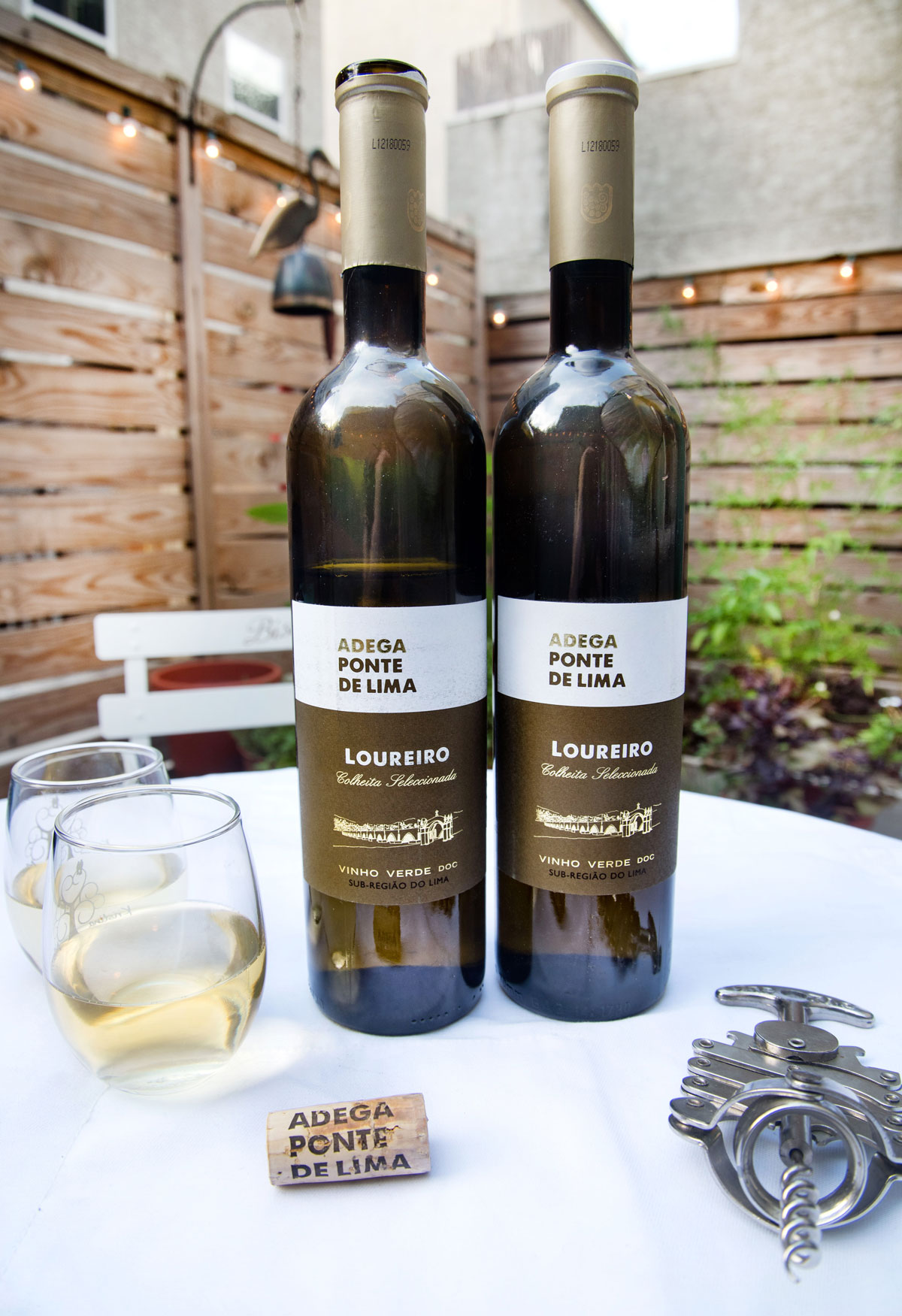 My piri piri sauce also includes onion, garlic, lemon, vinegar, whiskey (the alcohol in the whiskey cooks off as it simmers), and a touch of honey to balance out the heat. It also has a nice dose of olive oil, which contributes a luscious texture.I included a couple of long red cayenne chiles, 30,000 to 50,000 Scoville units, which contribute to the sauce's bright orange-y hue. Either red jalapenos (2,500 to 8,000 Scoville) or Fresno chiles (around 5,000 Scoville) would be good a substitute for red cayenne chiles. The fruitiness of Vinho Verde stands up well to the spiciness of the chicken. I also grilled up an assortment of summer vegetables – eggplant, zucchini, squash, peppers, and even broccoli – to make it a complete and festive meal to be enjoyed by all.
Be sure to reserve some of the piri piri sauce for serving, with both the grilled chicken and vegetables, for an extra pop of flavor and heat.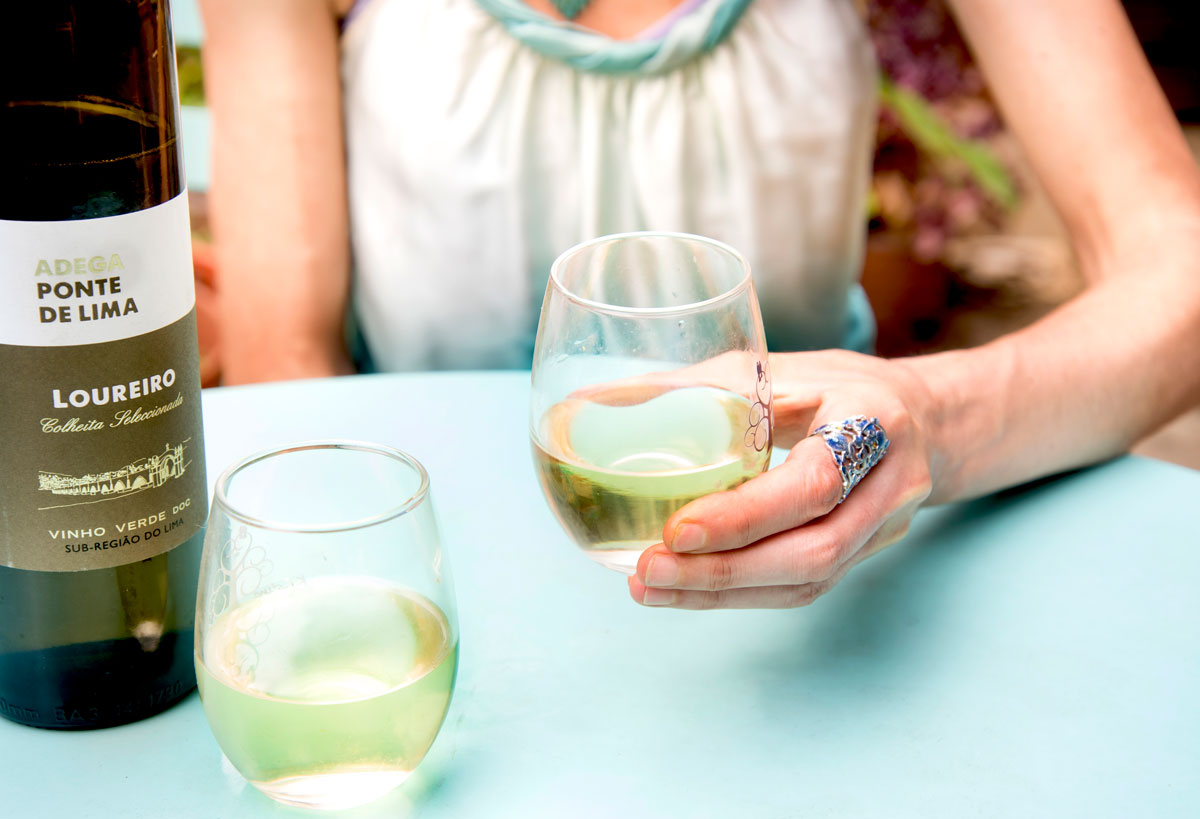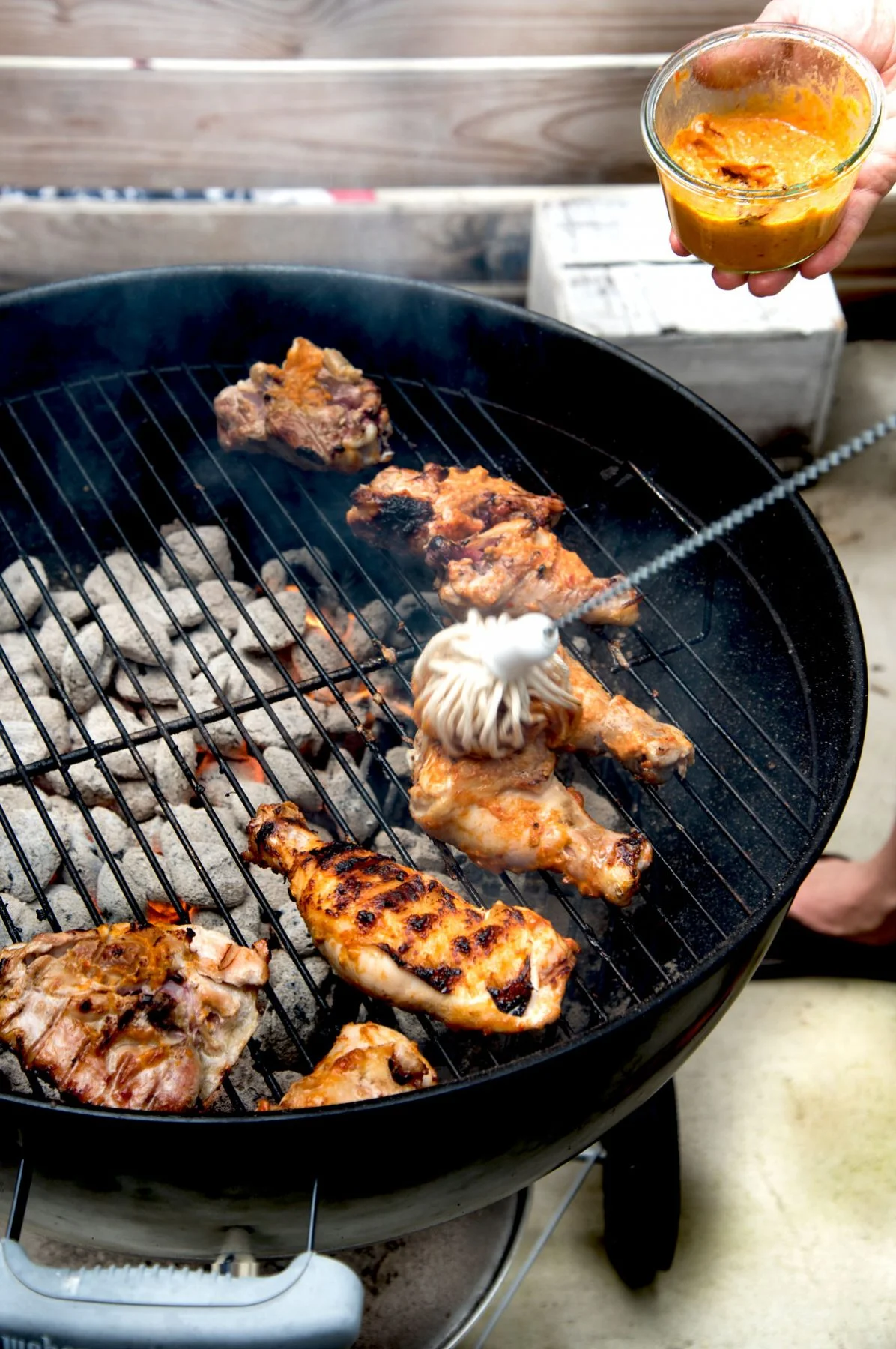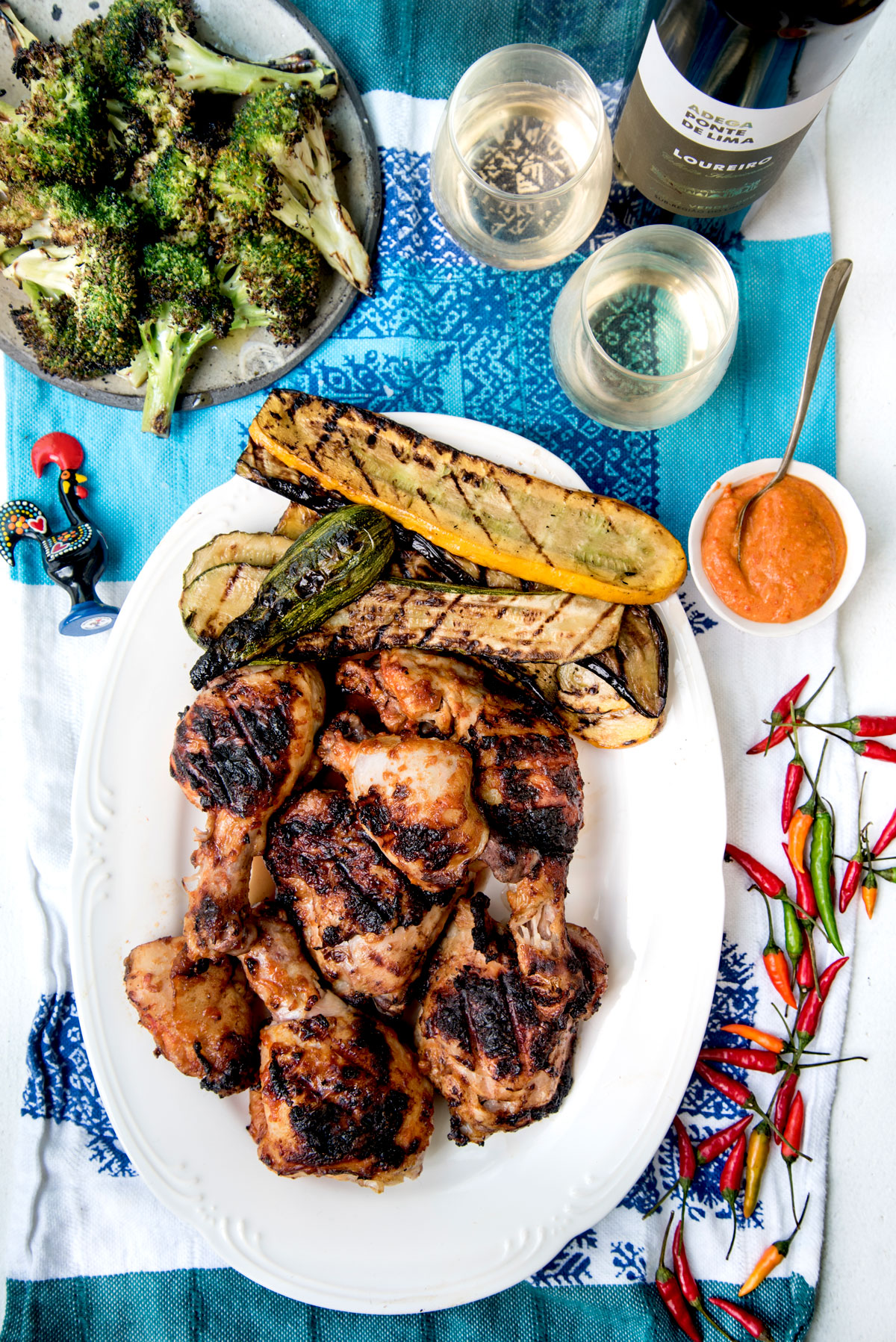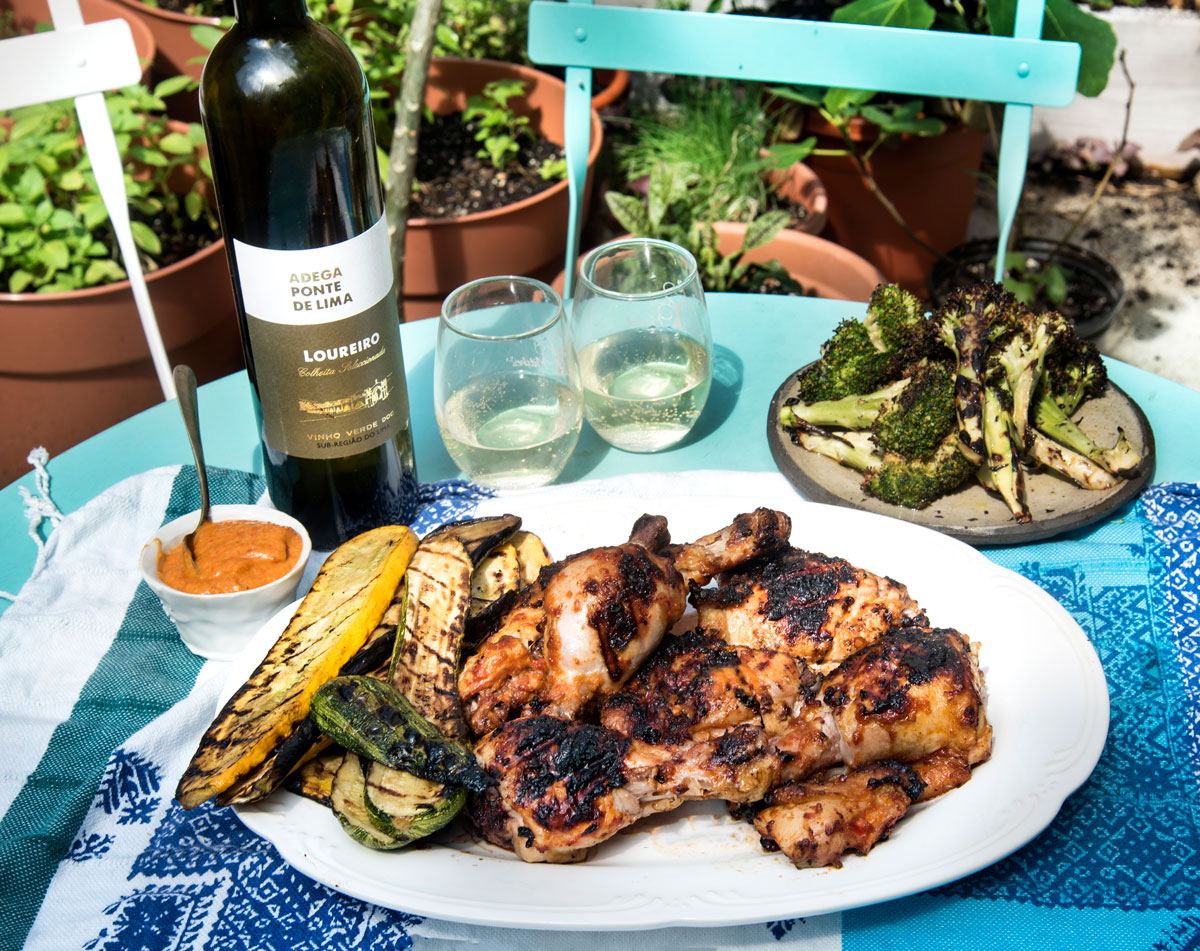 Print

Piri Piri Chicken and Vinho Verde Wine
---
Piri Piri Chicken
4

pounds bone-in chicken (thighs and legs)

1

recipe piri piri sauce (recipe below+)
Assortment of sliced vegetables for grilling (such as eggplant, summer squash, zucchini, bell peppers, broccoli)
Olive oil
Salt and pepper
Piri Piri Sauce
1

medium head of garlic (cloves removed from skins)

1

medium yellow onion (finely chopped)

16

red bird's eye chiles (a few less depending on desired heat level)

4

red long chiles (such as red jalapeño, cayenne, or Fresno, roughly chopped)

1/3 cup

plus 2 tablespoons red or white wine vinegar

1/2 cup

olive oil

1/2

medium lemon juice and zest

1 cup

whiskey

2 tablespoons

honey

1 1/2 teaspoons

salt
---
Instructions
Piri Piri Chicken
Liberally salt and then lightly coat the chicken with some of the piri piri sauce, reserving the rest for serving. Allow the chicken to marinate for 30 minutes or so as you prepare the grill. Once the grill is hot, create a hot zone (direct heat) and a cooler zone (indirect heat) on the grill for cooking the chicken. Place chicken on the grill on the cooler zone, just bordering the hot zone, close/cover the grill (vents open, if applicable), and cook for 10 minutes. After 10 minutes, flip chicken pieces, close grill, and cook for another 10 minutes or so until completely cooked through.
Toss the vegetables with the olive oil. Season with salt and pepper. Grill the vegetables in an even layer, flip, and continue to grill until nicely browned.
Piri Piri Sauce
Combine all ingredients in a pot. Simmer over low heat for 45 to 60 minutes. Cool. Blend in a food processor until smooth.
Linda Schneider
Linda Schneider is the blogger behind Wild Greens and Sardines, an homage to her love for all things food and [Mediterranean] travel. What she enjoys most is seasonal, farm-to-table recipes that highlight local ingredients, farmers, and food artisans. She loves going to local farmers' markets, seeing what's in season, and sharing recipes with others.