Something special happens to pickle people when Kirby cucumbers hit the market. They lose their minds.
By Rebecca Orchant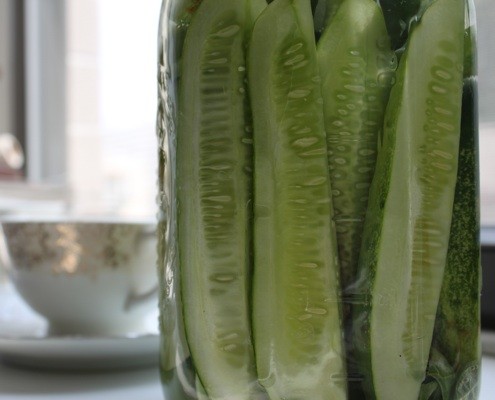 A good friend of mine recently tweeted, "I don't use the term "hog wild" lightly. Let's just say there were Kirbys at the farmers market and leave it at that."
This particular friend is a bit of a master pickler. Someone I am always striving to catch up to. Once, he made pickles that were so delicious, yet so spicy, that we all sat around crying as we ate them by the handful and essentially pepper-sprayed ourselves at the same time. A few weeks ago, the pickling cucumbers at the farmers market were so crisp, so petite and so lovely, that I have to admit to going a bit hog wild myself. I raced home and pickled them that very hour.
See Also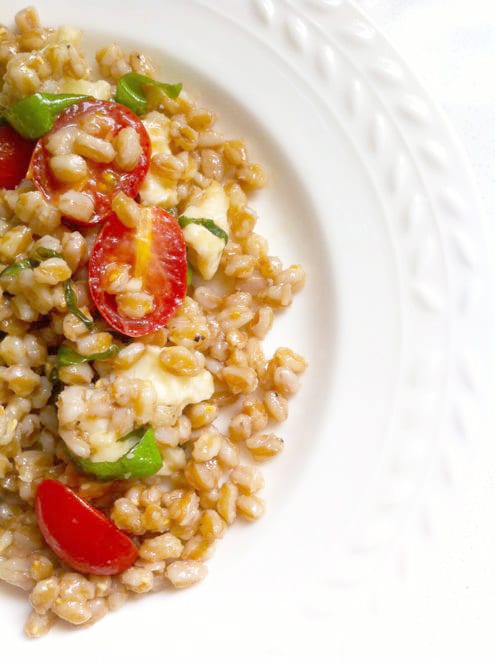 I had every intention of making garlicky dill pickles, probably with a few big chunks of jalapeno for spice (though not nearly as much as the Death Pickles mentioned above). Unfortunately, as my brine came to a boil on the stove I realized I didn't have any dill. And so, like some kind of hell-possessed contrarian, I turned to the ridiculous amount of basil I'd brought home from the market. It was a long-shot. I'd never heard of putting basil in pickles before and worried it might go limp and brown in the bottom of the jar as the cucumbers soaked up their vinegar bath. As it turns out, the basil lends a lovely, floral, mildly licoricey flavor to these little guys, proving once again that enough vinegar and salt will fix any mistake.
Print
Basil Pickles
Makes one quart of floral, vinegary, salty pickles.
Author:

Rebecca Orchant - Adapted from The Joy of Pickling, by Linda Ziedrich
1.5

pounds pickling cucumbers

8

peppercorns

1

large garlic clove, peeled, smashed and cut into a few chunks

1

jalapeno, cut into thick slices

2

stalks basil

1 cup

distilled white vinegar*

1 cup

water

3 tsp

pickling salt
Instructions
Gently scrub the cucumbers, halve or quarter the cucumbers lengthwise.
Add the peppercorns, chile and garlic to the bottom of a 1 quart mason jar.
Pack basil and cucumbers into the jar tightly (pouring the brine in will loosen things up).
In a non-reactive saucepan, bring the vinegar, water and salt to a boil, stirring to dissolve the salt.
Pour the liquid over the cucumbers, leaving 1/2 inch headspace, but making sure all the cucumbers fit under the brine.
Store the pickles in the fridge for at least 3 weeks before eating.
Notes
*Guys, I'm terrible at math. It's a wonder I can balance a checkbook (just kidding, I can't). I used just shy of 1 cup of vinegar for this recipe. The recipe I was using as a guide calls for 2 3/4 cups of vinegar for 3 quarts of pickles. I tried to divide that by three, panicked and eyeballed it. It worked out just fine. If you like pickles to be REALLY vinegary, use the whole cup.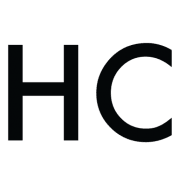 Rebecca Orchant
Rebecca Orchant is a New Mexican ex-pat living in Brooklyn. She likes onions and pickles more than most people, stops in every diner that crosses her path and has been known to indulge in a cocktail or two. You can find more vinegar, whiskey and butter-soaked tales on her blog, Chronicles of a Stomach Grumble.