This delicious breakfast smoothie will challenge everything you thought you knew about a classic PB&J.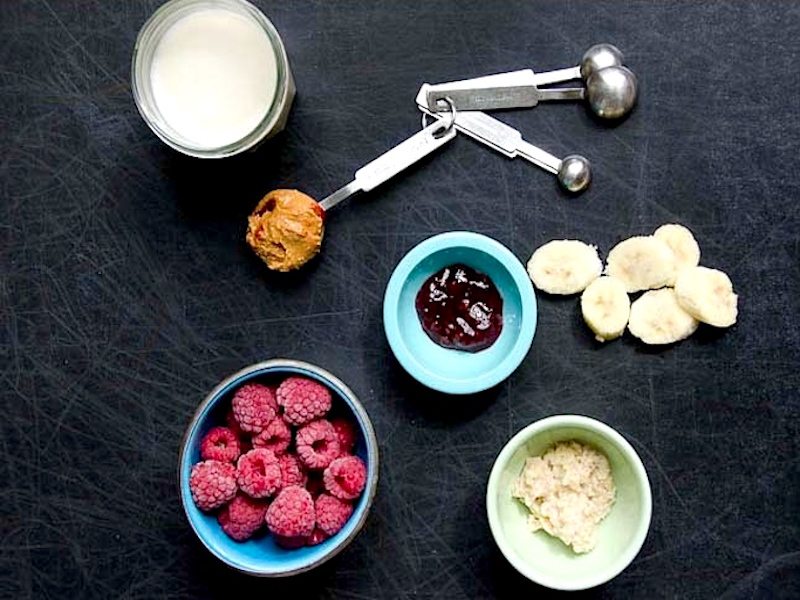 Peanut butter and jelly is traditionally two things: and sandwich and a lunch food. Prepare to hear the sound of conventions shattering and your tastebuds thanking you! In this recipe, all your preconceived notions of the classic PB&J will be turned upside when it is made into a breakfast smoothie. With cooked oats, peanut butter, and banana slices (optional, just like on the sandwich), it's incredibly creamy. Frozen raspberries and a spoonful of raspberry jam make it bright and sweet. It's hearty enough to stick to your ribs all morning, but not overly heavy. I like to use oat milk as the base, but this smoothie would work well with just about any dairy or non-dairy milk you like to drink. It's like a PB&J sandwich and a glass of milk all in one.
Peanut Butter and Jelly Breakfast Smoothie
Ingredients
2 cups milk of your choice
2 cups frozen raspberries
1 frozen banana, sliced (optional)
¼ cup cooked oatmeal
2 rounded tablespoons peanut butter
2 tablespoons raspberry jam
Instructions
Combine all ingredients in blender and blend until perfectly smooth.
Divide between two glasses and serve immediately.