Pasta is one of the easiest ways to get from hungry to dinner on the table. Next time you're stumped on what to add, try this assortment of flavorful and nutritious toppings.
By Laura Davidson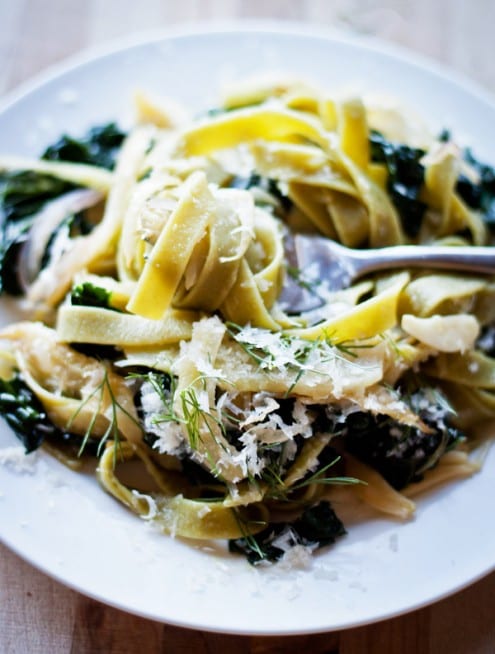 Pasta with Fennel, Kale, Garlic and Lemon Juice
Pasta is one of the easiest ways to get from hungry to dinner on the table. Next time you're stumped on what to add, try this assortment of flavorful and nutritious toppings.
Ingredients
2-3 tablespoons extra virgin olive oil
½ large red onion, thinly sliced
2 fennel bulbs, (tough outer layer removed and fronds reserved) thinly sliced
3 large garlic cloves, finely slivered
2-3 large pinches red pepper flakes
1 large bunch of lacinato kale, tough stems removed and roughly chopped
juice of one lemon
10 ounces spinach fettuccine
salt
pepper
To Serve:
Parmigiano-Reggiano Cheese, grated
fennel fronds
chili pepper oil (optional)
Instructions
Put a large pot of well-salted water on to boil.
Heat the olive oil in a large frying pan over low heat. Add the onion and cook gently for 5 minutes, or until the onions are beginning to soften.
Turn up the heat to medium, add the sliced fennel, and saute gently for an additional 6-8 minutes or until the fennel is tender and slightly caramelized. Add the garlic and red pepper flakes and continue to cook, stirring frequently, for another minute or two. Turn off the heat.
When the fennel is almost cooked, add the pasta to the pan of boiling water and cook until al dente, adding the greens to the pasta pot about 2-3 minutes before the pasta is done cooking.
Drain the pasta (reserving ½ cup of cooking water) and greens thoroughly and toss with the onion, fennel and kale mixture in the pan--adding pasta water if necessary. Add the lemon juice, season with salt and pepper, and serve immediately.
Drizzle each serving with chile oil, fennel fronds, and lots of grated parmigiano-reggiano cheese.
Notes
Chile oil is available at Whole Foods and other grocery stores--or make your own by lightly heating a cup of olive oil with one tablespoon red pepper flakes.
Laura Davidson
After deciding to take a leap of faith, Laura enrolled in culinary school to pursue her passion for all things food. On her blog, Blogging Over Thyme, she shares her experience as a culinary student, her favorite recipes, stories, and photography!