Sarah Schiffman decides to go all in on these amazing coconut macaroons with lemon curd for Passover.
Text And Photo By Sarah Schiffman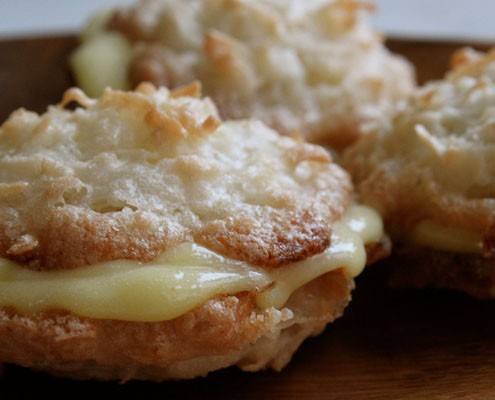 As a kid, I was no fan of Passover. I decided at an early age that long seders, dry meat, and flourless baked goods disguised as brownies and fluffy cakes were not for me. Each year, however, I found myself holding out hope for the cylinders of coconut macaroons that would begin to line the shelves of our pantry come April. Not trying to be something they were not, the little globs of sticky coconut held so much potential. But no matter how much I hoped, they were always just a bit wonky: sometimes too dry, other times too moist, a little grainy at best, and sticky sweet in all the wrong places. I would usually eat two, maybe three, mostly because I can be quite persistent when trying to get good cookie fix, but eventually I would give up and resign myself to the black hole of bad food that has the tendency to engulf Passover.
Tradition is important. It teaches us lessons from the past and engrains a sense of stability and value in our lives. Tradition brings us together each year but eating food that actually tastes good keeps us coming back. Our ancestors spent forty years wandering in the desert for heaven's sake, a little variety isn't going to kill us. So I say: spice up that brisket with a little aoli, add a twist of cranberry to the haroseth, bust out the good wine, and while you're at it whip up some homemade coconut macaroons and sandwich a little lemon curd in between. I think you're going to like this new Passover, I really do.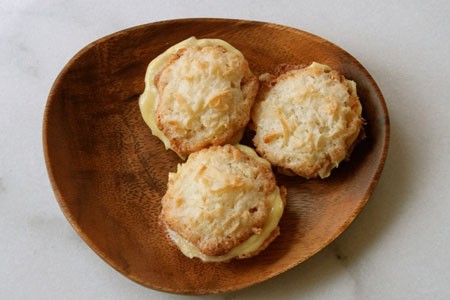 Coconut Macaroons with Meyer Lemon Curd
Even as an adult, I never did give up on those coconut macaroons. I've played around with recipes, I've dipped them in chocolate, and I've added different flavors to the batter. I've eaten them with ice cream, and whipped cream, and yogurt. They're versatile, dead simple, and perfect any time of the year. The concept is easy: you mush together a few egg whites with some coconut and sugar and glop it on a baking sheet. Ten minutes later they emerge from the oven, golden brown at the tips and snowy white in the middle. This recipe is one of my favorites. Once between the teeth, the thin and sweetly craggly crust gives way to a delicate but chewy center. Coupled with the softly tart lemon curd, they're the perfect bite for Passover, Easter, or any day really.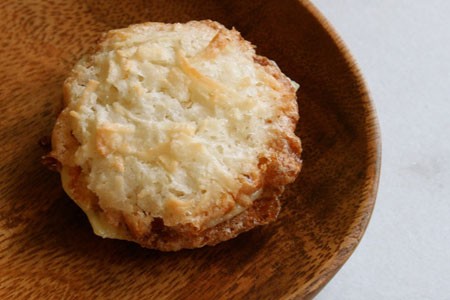 Meyer Lemon Curd
I love using Meyer lemons for this curd which I adapted from a recipe found in a December 1999 issue of Gourmet. Meyer lemons have a little less pucker than traditional lemons, sort of lemon meets tangerine. Also they are magical and don't come around very often so if you only have regular lemons just increase the sugar to ¾ cup (170g). Keep in mind that the curd will need to chill in the refrigerator for several hours or overnight.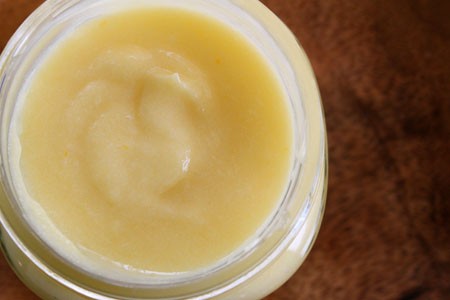 Print
Coconut Macaroons With Meyer Lemon Curd
The macaroons are terrific on their own and can be quickly assembled if you don't have time to make the lemon curd.
Author:

Sarah Schiffmann

Prep Time:

30 mins

Cook Time:

20 mins

Total Time:

50 minutes

Yield:

15

-

20

cookies

1

x
For The Lemon Curd
2

–

3

Meyer Lemons

1 cup

(

113g

) sugar

2

Large eggs

1

Large egg yolk

1

stick unsalted butter (

113g

), cut into 4 pieces
For The Macaroons
2 cups

(

150g

) shredded sweetened coconut
cup (115g) granulated sugar

2

egg whites, slightly beaten

1 teaspoon

vanilla extract
Instructions
For The Lemon Curd
Set up an ice bath by placing a medium bowl in a larger bowl partially filled with ice and water. Set a fine mesh sieve strainer over the top of the smaller bowl and set aside.
Finely grate enough zest from lemons to measure 1 tablespoon and squeeze enough juice to measure ½ cup (118ml).
Combine lemon zest and sugar in a small bowl and blend thoroughly with your fingers.
Whisk together sugar mixture and eggs in a metal bowl. Set bowl over a saucepan of simmering water and whisk until sugar has dissolved, about 1 minute. Add the lemon juice and continue whisking, until thick and smooth and an instant-read thermometer registers 160°F (71°C), about 5-7 minutes.
Add butter and whisk until well combined. Remove from heat and strain into prepared bowl.
Let mixture cool completely then transfer to an airtight container and refrigerate over night. Lemon curd will keep for about 1 week, covered and chilled.
For The Macaroons
Preheat oven to 350°F (176°C). Mix all of the ingredients together in a medium bowl until well blended. I like to use my fingers at the end to make sure everything is combined well.
Line a baking sheet with parchment paper or a silicone baking mat. Scoop 1 heaping teaspoon of the dough and place on baking sheet. Shape dough into a thin flat circle and repeat with remaining dough. Try and make circles more or less even in size since they will be sandwiched together.
Bake for 10-15 minutes or until edges are golden brown then remove from oven. Let cookies cool for a couple of minutes before transferring them to a wire baking rack to cool completely. If using a silicone mat, cookies can cool on baking sheet. Repeat with any remaining dough.
When ready to serve, spread desired amount of lemon curd between two cookies and sandwich them together. Note that once lemon curd has been placed between cookies, they will need to either be eaten or refrigerated. I like to keep the sandwiched cookies in the fridge and eat them cold. This recipe makes about 15-20 sandwiched cookies depending on the size of dough circles.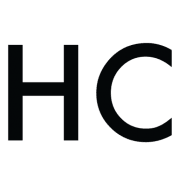 Sarah Schiffman
Sarah Schiffman is the author of the food and photography blog Pearl and Pine. Her recipes focus on fresh seasonal ingredients and she loves to share the stories and pictures that accompany each dish.