Alex Guarnaschelli creates winter recipes using Robert Mondavi Woodbridge wine such as Vegetable Lasagna, Onion Sausage and Apple Stuffing
I'm a big fan of Chef Alex Guarnaschelli and when I was asked to meet her to talk about her partnership with Robert Mondavi's Woodbridge wines I jumped at the offer.   I mean, how often do you get the chance to sit down with a Celebrity Chef to discuss wine and taste her winter recipes created with Woodbridge Reds and Whites?  Almost never.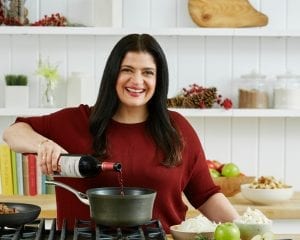 I have to admit, I was panicked meeting her but all of the fear subsided and I couldn't have been more at ease when she sat down with me at her restaurant Butter on West 45th Street.   Like any good Italian, I was at Chef Alex Guarnaschelli's table and she was going to make me feel at home.
As the weather gets chilly and with the holidays approaching quickly, Chef Alex Guarnaschelli created 3 wonderful, comfy recipes using Woodbridge Chardonnay 2017, Cabernet Sauvignon 2016 and their Red Blend, 2016 wines.   Partners since 2014, the Chef has been creating and pairing recipes with Woodbridge wines for about 4 years.   First on the menu was Vegetable Lasagna with Woodbridge Chardonnay White Sauce
Wanting to cut through some of the sweetness of the cheese and tomatoes, Chef Alex added a bit of acidity to the dish by creating a white sauce infused with the clean and crisp Chardonnay. One would think Lasagna would be paired with a deep, red wine but Chef Alex felt this particular dish needed a lighter, precise note that was tasted but not so easily identifiable.   Strategically placing the white sauce in-between the layers of tomato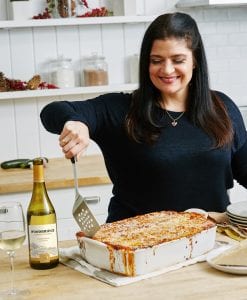 and cheese, Chef Alex continued to layer lasagna noodles and chopped Eggplant and Zucchini cooked enough to still have a bite to them.  The outcome was wonderful.   And just as she planned, at the very end of the experience, when your mouth was left with this divine taste of goodness, a subtle note lingered on your palate.   A warmness.  The Chardonnay in its most delicate form.  Pairing the Chardonnay to drink with this dish was a perfect marriage.  The notes of the wine continued through out the experience of eating the Lasagna and than sipping the wine after your first bite.   It also allowed you to use the wine not only in your recipe but also as your wine of choice to serve with it.   You couldn't have asked for anything better.
As we were sipping our Woodbridge Chardonnay, Chef Alex bought up some great suggestions about easing the stress while hosting a Holiday party.   With this particular dish still on our minds, the Chef suggested making the Vegetable Lasagna 1 to 2 days a head of time and store it in the fridge until you were ready to heat it up.  While the Turkey was resting and the gravy is being cooked, just pop the Lasagna in the oven. The Chef also noted that by making it several days ahead, the flavors would marry together and intensify.  The dish is great as a Vegetarian option but you an also swap out the noodles and replace them with planks of Eggplant making an Eggplant Parmigianino for a great Gluten Free option.   Again, like every good Italian, Chef Alex makes sure all of her guests have a meal to eat regardless of their food choices.
Claiming Red Wine should be the "Holiday Spice", Chef Alex and I moved from a crisp Chardonnay to Woodbridge's Red Blend while sampling the Chef's Woodbridge Red Blend Onion, Sausage and Apple Stuffing.    This full bodied "deliciously'" rich wine added a deep fruitiness to this dish that was so incredibly warm and satisfying.  Chef Alex was looking for the onions and apples to "act like a sponge" and absorbed the wine.  Mission accomplished. Actually, the onions and apples were a deep reddish color from the Red Blend.   Starting out on the stove top and baking in the oven, the Sausage, Onion and Apple stuffing bought the Chef back to the holidays she spent in her childhood kitchen with her Mother and Father in NYC.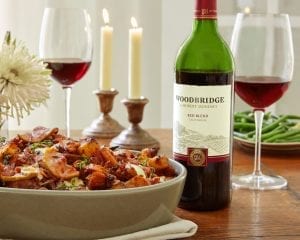 The naturally sweet flavors from the onions and apples meshed with the boldness of the wine and the Italian sausage gave this dish the perfect balance.  With Woodridge's Red Blend served with it, you became very greatly for the moment you were in.   And one other thing—if you over bake the stuffing, not to worry. Just add a splash of stock flavored with Woodbridge's Red Blend and put it back in the oven until it reaches the consistency you desire.
See Also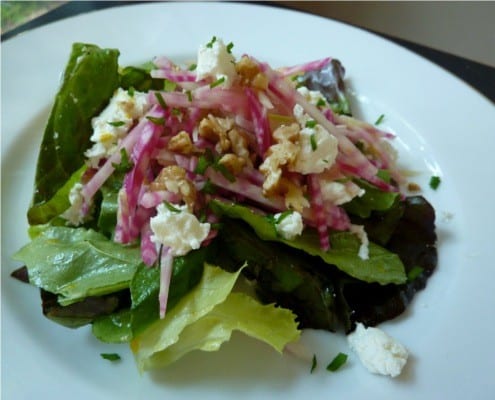 The weather change is letting you know that fall is here and that winter is steadily approaching.  As we spend a great deal of time inside, there's nothing better than wrapping yourself in the warmness of a blanket and hot chocolate.  But not just any hot chocolate, Chef Alex's Spiked White Hot Chocolate with Woodbridge Cabernet Caramel Sauce.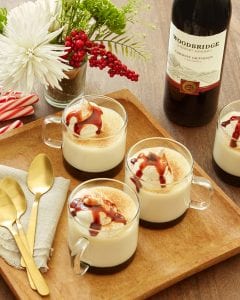 Seriously, Chef Alex created a Winter Wonderland in a glass.  Finding herself without cocoa powder but craving hot chocolate, the Chef created this white pool of steamy milk by infusing white chocolate into it and a bit of rum (it's cold outside!).  But something was definitely missing.  The Chef realized she needed something to replace the pleasant bitterness of the cocoa.  With some sugar, water and yes, Woodbridge by Robert Mondavi Cabernet she created an offbeat caramel sauce with the Cabernet that left hints of chocolate throughout.   Sampling this in Butter with Chef Alex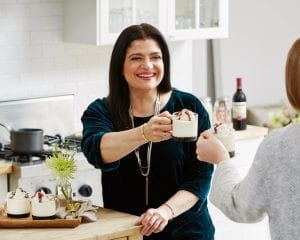 on
this wonderful afternoon was memorable but honestly, I had no idea what she was saying. I was so busy looking at the streaks of deep maroon coming up the sides of my glass from the delicate drop of caramel resting in the bottom of it and savoring every last taste of what I was drinking.  Oh wait, I forget to mention the Chef topped it off with unsweetened, homemade whipped cream and shards of white chocolate.   Chef Alex pointed out you can definitely serve this at parties and if you're truly not in the mood to make the Caramel sauce from scratch, feel free to buy a can of Carmel sauce in the grocery store and heat it up with some of the Cabernet.  The whipped cream can also be purchased in your grocery store as well.
With goodbyes said and tons of Thank you's being exchanged, I left Butter and began to walk down 7th avenue towards the train.  My mind was in overdrive, so happy to have met Chef Alex Guarnaschelli, share her creations made with Mondavi's finest, and learn about her Holiday Tips.   With my goody bag in tow, I thought about the ending of this article long before I even began at the beginning.  Chef Alex truly has a genuine affection for the Robert Mondavi's Woodbridge wine brand and has a passion for not only using the wine in a creative way in her cooking, she also drinks and serves her guests the wine as well.   Chef said, "Listen, the wine is Good, Affordable and Accessible to everyone and that's why I love the brand."   I think that pretty much says it all.
Gabe Fanelli
In another lifetime I went to Culinary School (ICE) and graduated with a degree in Pastry Arts. I interned and worked for a bit in the Test Kitchen of Rachael Ray's Magazine "Everyday with Rachael Ray" but missed meeting her by 15 minutes. Currently, I'm the Marketing Director for Town Sports because after eating all of that pastry and working in a test kitchen, I needed a free gym membership.