Orange Biscotti with Black Sesame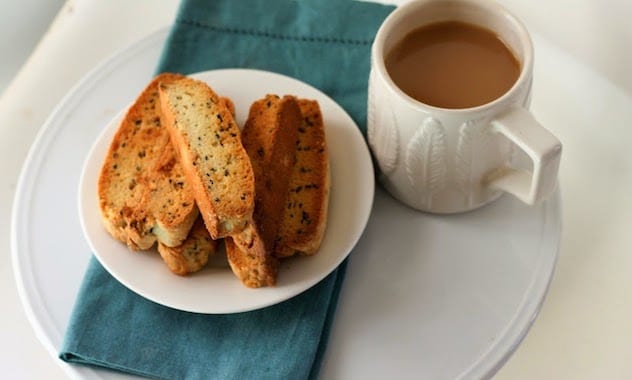 These biscotti are citrusy and light. They're crunchy until dipped into a hot drink, then they melt in your mouth. The black sesame seeds add an extra dimension of texture, and the cardamom is a welcome spice to balance out the citrus.
By Amrita Rawat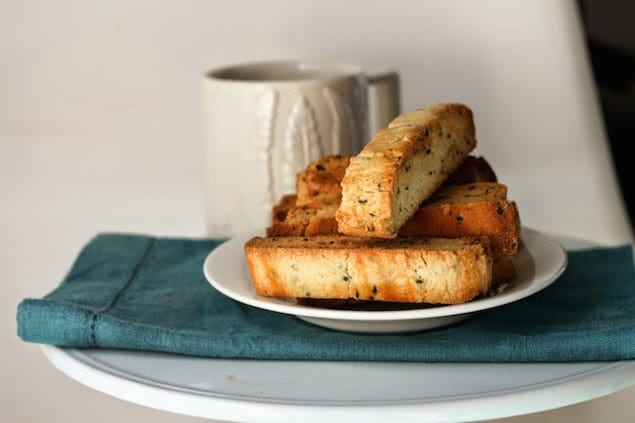 I couldn't be more thrilled for this turn of weather, and thankful that we get to experience all the seasons. It's time for all the things to help keep us warm and here's something you can dip in that mug of hot brew this fall.
A while back, an old high school friend paid me a visit and shared her love of baking biscotti in different flavors and varieties, something I've never attempted before. She inspired me to try my hand at them, so I decided to make something that would go well with my favorite tea, lavender earl grey.
These biscotti are citrusy and light. They're crunchy until you dip them into your hot drink, then practically melt in your mouth. The black sesame seeds add an extra dimension of texture, and the cardamom is a welcome spice to balance out the citrus. They aren't too sweet, and you will certainly want more than one.

Orange Biscotti with Black Sesame
These biscotti are citrusy and light with a crunch of sesame and warm cardamom. They're crunchy until dipped into a hot drink, then they melt in your mouth. Adapted from a recipe from Bon Appetit
Ingredients
2¼ cups all-purpose flour
1 cup almond flour
1 tsp. baking powder
⅓ tsp. kosher salt
¾ cup sugar
10 Tbsp. (1¼ sticks) unsalted butter, melted
3 large eggs
Zest of 1 orange
2 tsp. cardamom
¼ cup black sesame seeds
1 large egg white
Instructions
Position the rack in center of oven and preheat to 350 degrees. Line a baking sheet with parchment paper.
Sift together the flour, almond flour, baking powder and kosher salt into medium bowl. Set aside.
In another large bowl, use a wooden spoon to stir together the sugar, melted butter, the eggs, orange zest and ground cardamom. Add the flour mixture to the wet ingredients until well blended. Stir in the black sesame seeds.
Using floured hands, divide the dough in half and shape each half into a 13½-by-2½-inch loaf. Transfer both loaves to the prepared baking sheet with space between to allow them to spread.
Whisk the egg white in small bowl until foamy. Brush it over the top and sides of each loaf. Bake 30 minutes until golden brown.
Remove the loaves but keep the oven on. Cool the loaves on a rack about 5 minutes, then move them to a cutting board.
Using serrated knife, slice the loaves on a diagonal into ½-inch wide slices.
Arrange the slices cut-side down on the baking sheet. Bake 12 minutes, then flip and bake another 8 minutes. Transfer to the rack and cool.
Biscotti will keep up to 1 week in an airtight container at room temperature.
Amrita Song
Amrita Rawat is the author of the blog Chai and Dumplings. Born in India and a lifelong resident of Atlanta, she recently moved to Saint Louis. Her love for food stems in part from its ability to bring cultures together and in part from how darn good it feels to eat a delicious meal. She loves traveling and has eaten her way through cities like Hong Kong, Paris, Budapest, Mumbai, and Shangri-la. Amrita is also a contributor to Sauce Magazine in St Louis.