Helmed by owner Chef Brian Kim, Oiji has been drawing the attention of foodies since 2015. The small open-kitchen restaurant is simple and modern in design and allows dark wood finishes and warm lighting to set the cozy atmosphere.
I have to admit, if it's not homecooked, I usually eat Korean food exclusively in Manhattan's Koreatown. Mainly because I know those Korean eateries well, and more importantly, they're a stone's throw away from the noraebang (karaoke) joints I frequent. Always bustling, Koreatown never disappoints as it churns out quality Korean staples like barbecues, jjigaes and bokkeums. But when it comes to innovation, it seems Koreatown eateries default to simply adding melty cheese to traditional dishes to modernize them. To find more sophisticated and unique takes on Korean food you'll have to venture away from midtown south. So I headed downtown to the East Village to experience notably refined interpretations of classic Korean dishes at Oiji.
Helmed by owner Chef Brian Kim, Oiji has been drawing the attention of foodies since 2015. The small open-kitchen restaurant is simple and modern in design and allows dark wood finishes and warm lighting to set the cozy atmosphere. The added outdoor seating is much brighter in décor but just as intimate as each table is completely enclosed for privacy.
Cocktails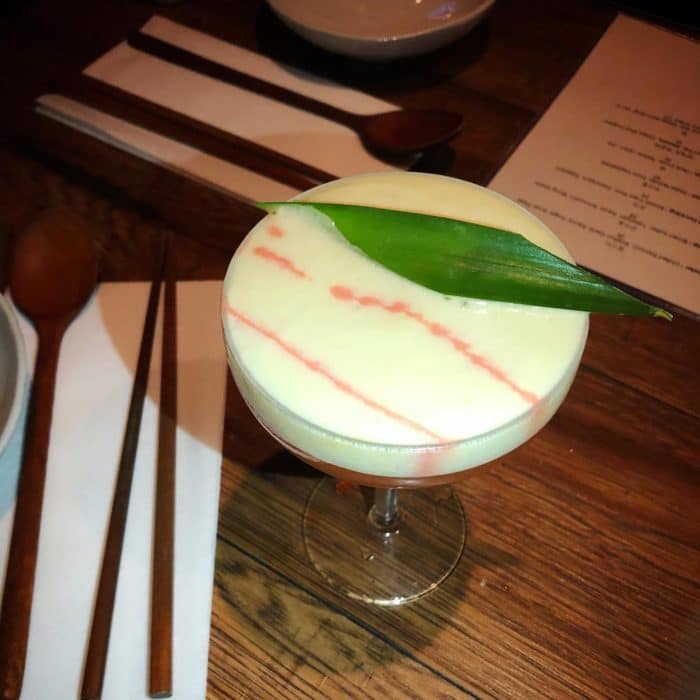 Oiji has a nice selection of premium Soju and even offers a Makgeolli, in case you like your rice wine milky and slightly effervescent. But I would suggest trying one of their various cocktails that are complex enough to intrigue the palate without competing with the small plates that they'll share the table with. If you like tropical creamy drinks, try The Ladyboy. It's booziness from the mix of soju, rum and gin was tempered by flavors of lime, pineapple, ginger, tamarind and coconut. I also enjoyed Shiso Fancy which had similar citrus notes but the pineapple and curry leaf infused gin really was a great vehicle for that distinct minty/basily shiso flavor. It paired perfectly with the Scallops "Hwe" (shown next to Oiji's interior in the title image).
Small Dishes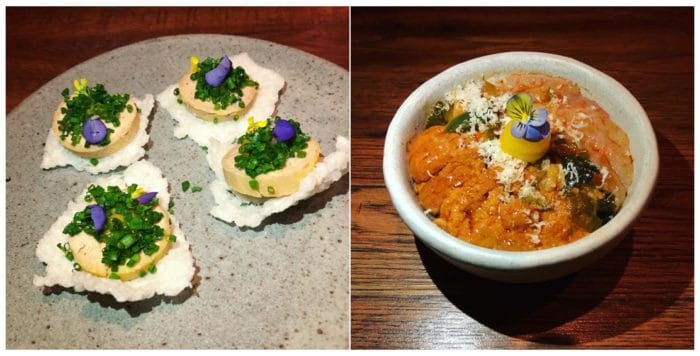 The small dishes at Oiji are clearly composed and obviously meant to be thoughtfully savored (unlike the bottomless banchan I mindlessly pick at in Koreatown eateries). We chose three to start off our meal. The Scallops "Hwe" is a dish that uses Korean mustard in a balanced light broth. The broth is used to highlight the oceany sweetness of thinly sliced scallops which are meticulously combined with snow crab and jellyfish. Our second plate was comprised of discs of mi-cuit Foie-gras that sat atop crisp rice chips and garnished with a confetti of chives and flower petals. The rice chips were dusted with a vinegary seasoning that helped meyer lemon cut through the richness of the soft liver. Finally, the Oiji bowl was reminiscent of a traditional hwe dup bap. However, the familiar Korean sushi bowl flavors that usually come in a large vessel (so that all the ingredients can be tossed together) were much more concentrated and luscious and served in a much smaller bowl. The bowl was carefully packed with fresh sea urchin, shrimp and seaweed rice which made it easy to taste all the components without having to mix it all together.
Larger Dishes

The larger plates we ordered were a continuation of the masterful use of traditional Korean flavors in a way that would entice the most discerning New York palates. Unlike in Koreatown where tableside pours consist of scrambled egg streamed into hot egg moats, at Oiji you're more likely to get a tableside pour of warm jus around perfectly cooked herb-encrusted Lamb. The lamb and jus were served along side the best tasting Nokdu Jeon (aka bindae-tteok, aka mung bean pancake) I've ever had. Another remarkable larger plate was the Bone Marrow. Chef Kim intends his bone marrow to eat like a substantial bite than a spread. The serving bone is topped with not only the marrow but maitake and shredded short rib, as well. This makes the dish hearty and earthy and prevents it from becoming cloyingly unctuous as roasted marrow can sometimes get. It's served with vinegary rice crackers and crisp raw vegetables, as well, to add brightness, freshness and texture. Again, a superlative version of a dish I've had many times before.
Dessert
To finish, we had the only dessert on the menu (and really, none other is needed): Honey Butter Chips with Vanilla Ice Cream. The dish has been on Oiji's menu since they opened in 2015 when Honey Butter Chips were all the rage. The potato chips are made in-house and serve as the perfectly crisp and warm vehicle for both a sweet and salty bite. The velvety cool vanilla ice cream then rounds out the mouthfeel that is all together addictive. This dish ate like the most elegant munchies you can find. Which means, no matter how full you are, you'll keep eating it and wanting more.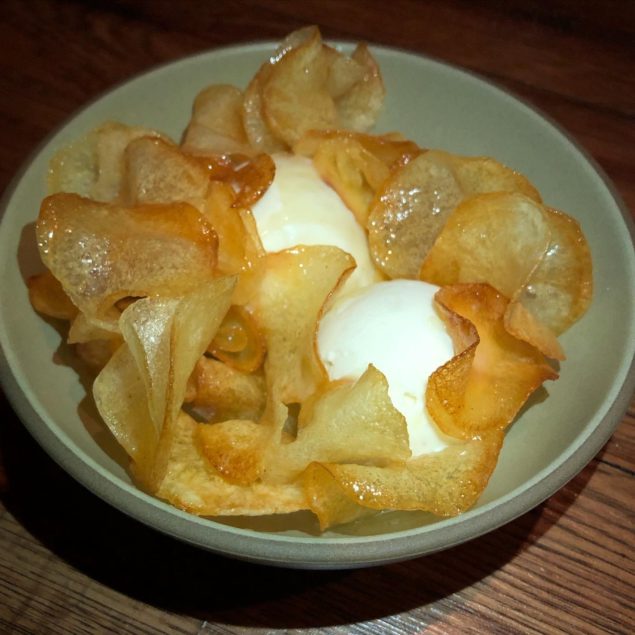 If you're looking for familiar Korean flavors with noticeably more sophistication (and a little less fermentation), venture away from Koreatown. Oiji is worth the trip; and don't worry, there's a karaoke bar just a couple of blocks away.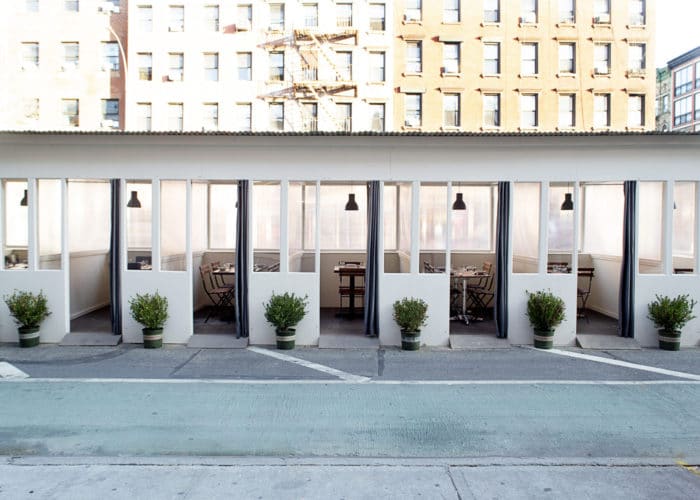 Oiji
119 1st Avenue, New York, NY 10003
(between 7th and St. Marks)
reservations can be made by calling 646-767-9050 or online.
Hours:
Wednesday – Thursday: 6pm – 10:00PM | Friday – Sunday: 5pm – 10pm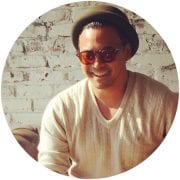 jordi adiao
I learned early in life to embrace your awkwardness... now, are you going to eat your chicken skin?