No need to feel guilty leaving your furry friend cooped up inside while you meet your friends at a bar.  Bring him with you!  Spring is just around the corner and there are more than a few pet friendly restaurants and bars in New York City.  Whether you enjoy relaxing on the patio with a summer salad and sangria in hand or sitting inside at the bar with a pint and a burger, here is a list of  pet friendly spots in the city.
By Molly Nugent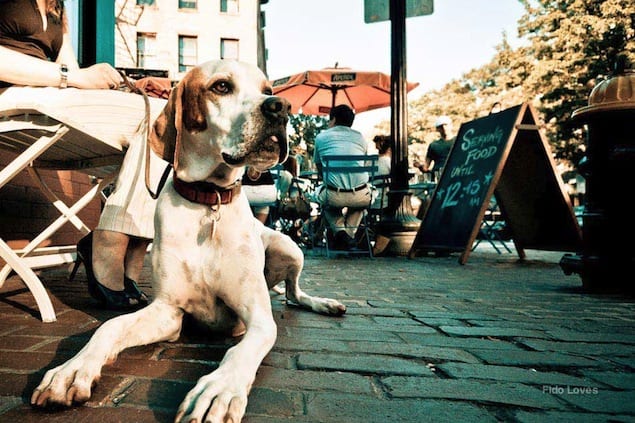 fidoloves.com
11th St Bar
11th Street Bar is a great place to stop in for a beer in the East Village.  There is a great selection of drafts and liquor, live music, and a low key vibe.  Most of the time you don't have to worry about it being overcrowded, so it's a perfect place to bring the dog.
510 E 11th St
New York, NY
(212) 982-3929
Website
Barcade
How can you go wrong with a bar that doubles as an arcade?  Williamsburg's Barcade has a huge beer selection and vintage video games to play.  If you aren't one for a crowded scene, stop in on a weeknight as the weekends tend to be pretty packed.
388 Union Ave
Brooklyn, NY
(718) 302-6464
Website
Bar Great Harry
With 20 rotating draft lines, 30 bottles, a hand pulled cask and plenty of other funky beer, Bar Great Harry in Carroll Gardens is just the spot for a beer nerd.  Other highlights for anyone, beer nerd or not, include a great happy hour, pinball machines and weekly trivia.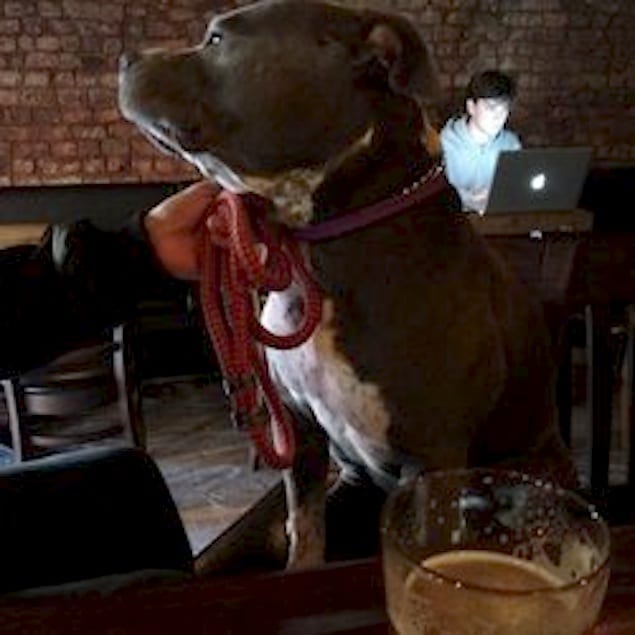 www.yelp.com
280 Smith St
New York, NY
(718) 222-1103
Website
Barking Dog
Not only can your pup come along to Barking Dog, there's even a fountain especially for dogs! This is a very family friendly cafe style restaurant with good, reasonably priced food.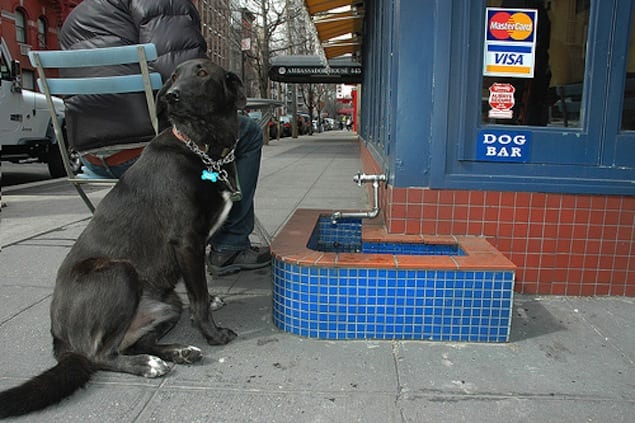 www.examiner.com
1678 Third Ave (at 94th St.)
(212) 831-1800
Website
Bistro Chat Noir
Bistro Chat Noir is a more formal French restaurant on the Upper East Side. With great service and frequent celebrity sightings, this is a fun and elegant place to bring your dog.
Bistro Chat Noir
22 E 66th St
New York, NY
(212) 794-2428
Website
Black Door
No draft beers at this Chelsea bar, but there are certainly strong drinks and good vibes. It's a little loud and small but if that's not your thing and you go on a Sunday, Monday or Tuesday you're likely to enjoy your time.
127 W 26th St
New York, NY
(212) 645-0215
Website
Boat Basin Cafe
Great views and a fun place to sit and relax with friends on the Upper West Side. Food and drinks are mediocre, but the energetic atmosphere in the summer makes it a fun spot to hang.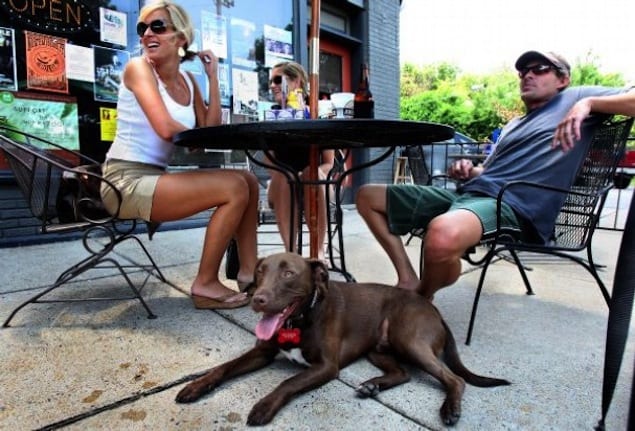 candyisdirt.com
West 79th St
New York, NY 10024
(212) 496-5542
Website
Brooklyn Ale House
A great little bar to hang out at in Williamsburg. There is a large selection of beer, comfortable booths to sit in, usually plenty of room at the bar, and pool tables. Nothing too out of the ordinary, but it is consistent and a great place to bring the dog.
103 Berry St
Brooklyn, NY
(718) 302-9811
Brooklyn Botanica
Botanica, located in Red Hook, Brooklyn has a very romantic feel with beautiful vintage decor.  Delicious cocktails and large open windows make this a great place to go on summer nights.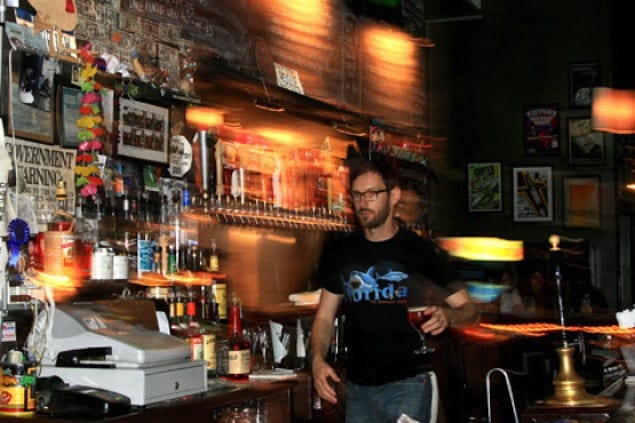 www.timeout.com
220 Conover St
New York, NY
(347) 225-0147
Website
Canal Bar
With both a small, dark interior and a large open back patio this is a nice spot to come relax in Gowanus.  There is free popcorn, an extensive beer list and a friendly staff.  Canal Bar is also a Chicago Bears bar.  Lots of singing and grilling up Chicago hot dogs goes down on game days.
270 3rd Ave
Brooklyn, NY
(718) 246-0011
Website
Cornelia Street Cafe
Cornelia Street Cafe is an "Old New York" cafe/restaurant in the West Village.  They provide quality food and service, live music and poetry readings.  Simple, classic and definitely worth checking out.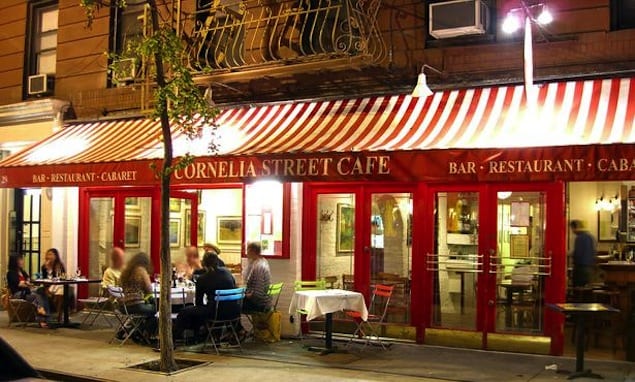 www.bringfido.com
29 Cornelia St
New York, NY
(212) 989-9319
Website
d.b.a.
If you're in the East Village and looking for a a cheap place to grab a beer and sit outside in a beer garden, this is your spot.  Wide beer selection, nice atmosphere, but tends to get especially crowded on the weekends.
41 1st Ave
New York, NY
(212) 475-5097
Website
Fetch
This is a friendly, down to earth place to come eat on the Upper East Side that offers consistently delicious comforting food.  The walls are covered in pictures of neighborhood dogs and there are even adoption applications for those of you who are looking for a new furry friend.
browardpalmbeach.com
1649 3rd Ave
New York, NY
(212) 289-2700
Website
Franklin Park
Franklin Park in Crown Heights is again one of those places to beware of going at the wrong time.  It tends to get crowded and if you want to bring your dog you really have to go at the right time.  But showing up on a weeknight you can enjoy a good burger and beer on the patio at an affordable price.
618 St Johns Pl
New York, NY
(718) 975-0196
Website
The Gate
The Gate has one of the best patio hang outs in Park Slope.  It has a very rustic vibe, frequently many dogs lounging around, a wide beer selection and a knowledgable staff who help you choose what is best to drink.
321 5th Ave
Brooklyn, NY
(718) 768-4329
Website
The Levee
The Levee is one of the best dive bars to bring your dog in Williamsburg.  It is very cheap (you can get a beer and a shot for $5) and as many free cheese balls and Twizzlers as you could possibly want!  There are also many board games to play, a pool table and an outside area to hang out in.
212 Berry St
New York, NY
(718) 218-8787
Website
Mission Dolores
Located in Park Slope, Mission Dolores is a comfortable, relaxing bar that has a unique inside courtyard feel.  There is a great selection of drafts and decent drinks as well as some arcade games to play.
249 4th Ave
Brooklyn, NY 11215
(347) 457-5606
Website
yandiel.com
The Park
The Park is a little fancier than most of the places on this list.  The outside area is gorgeous with lit up trees and a cobblestone floor.  The food and drinks are delicious, especially the wood over pizzas and sangria.  A little pricey but the atmosphere is worth it.
118 10th Ave
New York, NY
(212) 352-3313
Website
Pine Box Rock Shop
Pine Box Rock Shop is a vegan friendly bar in Bushwick.  There are plenty of rotating drafts to choose from and each day of the week there is something different to look forward to: live music, comedy open mic, trivia, karaoke and a vegan pop-up market.
12 Grattan St
Brooklyn, NY
(718) 366-6311
Website
Sidewalk Cafe
Sidewalk Cafe is a landmark in the East village with a casual atmosphere, live music, comedy shows and plenty of outdoor seating.  The menu features many Mediterranean influenced items as well as a highly praised burger.
94 Avenue A
New York, NY
(212) 473-7373
Website
Siggy's Good Food
Siggy's Good Food, located in both Brooklyn Heights and NoHo is a down to earth, casual place to grab a healthy bite.  Many vegetarian, vegan, gluten free, and healthy carniverous options to choose from with a cute outdoor section.
76 Henry St.
Btw Pineapple & Orange
Brooklyn Heights
(718) 237-3199
and
292 Elizabeth St.
Btw Houston & Bleecker
(212) 226-5775
Website
mypetfirst.com
Skinny Dennis
With free live music and warm peanuts that you can shell on the ground, this county inspired Williamsburg bar is a cozy place to hang out.  Cheap drinks, friendly bartenders and a homey atmosphere will keep you coming back with or with out the pup.
152 Metropolitan Ave
New York, NY
Website
Tom & Jerry's
A unique bar in the East Village that has a relaxed atmosphere, animal heads attached to the walls, friendly bartenders and lots of dogs lying around!
288 Elizabeth St
New York, NY
(212) 260-5045
Website
Von
Von is a cozy spot in NoHo to bring the dog.  If you look carefully you'll even spot some vintage photos of dogs throughout the pub.  It is affordable and there is dancing downstairs at night!
3 Bleecker St
New York, NY
(212) 473-3039
Website
Zablozki's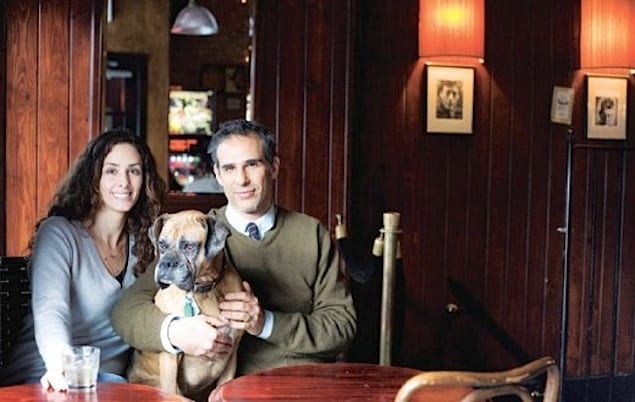 thewgnews.com
Zablozki's, located in Williamsburg, is a typical dive bar.  It has a very laid back atmosphere with darts and pinball available.  Most notably, however, is that this bar is very spacious.  A great place to bring the pup without feeling cramped.
107 N 6th St
Brooklyn, NY
(718) 384-1903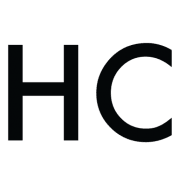 Molly Nugent
Food, travel and art are three of Molly's biggest passions and she loves to combine them whenever she can. Whether it's coming up with a new and exciting recipe to try out in the kitchen or taking photographs, Molly is most happy being creative and eating well.