This no-churn pistachio ice cream is simple, approachable and delicious. It's the perfect project for a lazy afternoon and is delicious as a cool ice cream or served drowned in a shot espresso for a sublime affogato.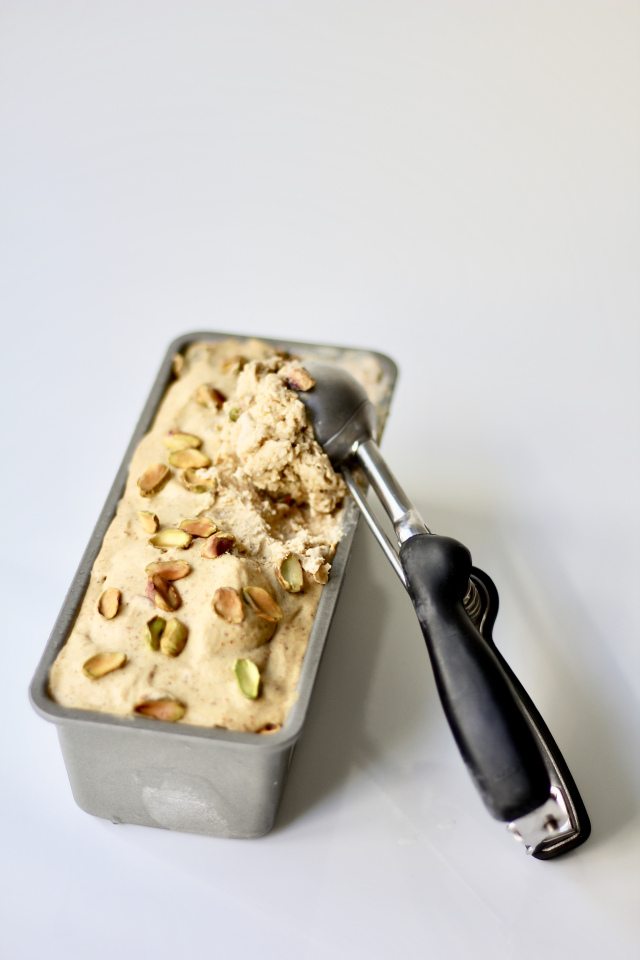 This pistachio ice cream, born out of having an excess of pistachios nearing their expiry date and created sans ice cream maker. The texture of the ice cream isn't as smooth as what an ice cream maker would yield, but I'd argue that it's a pretty decent low-effort substitute. Consume affogato style for bliss, dark chocolate optional.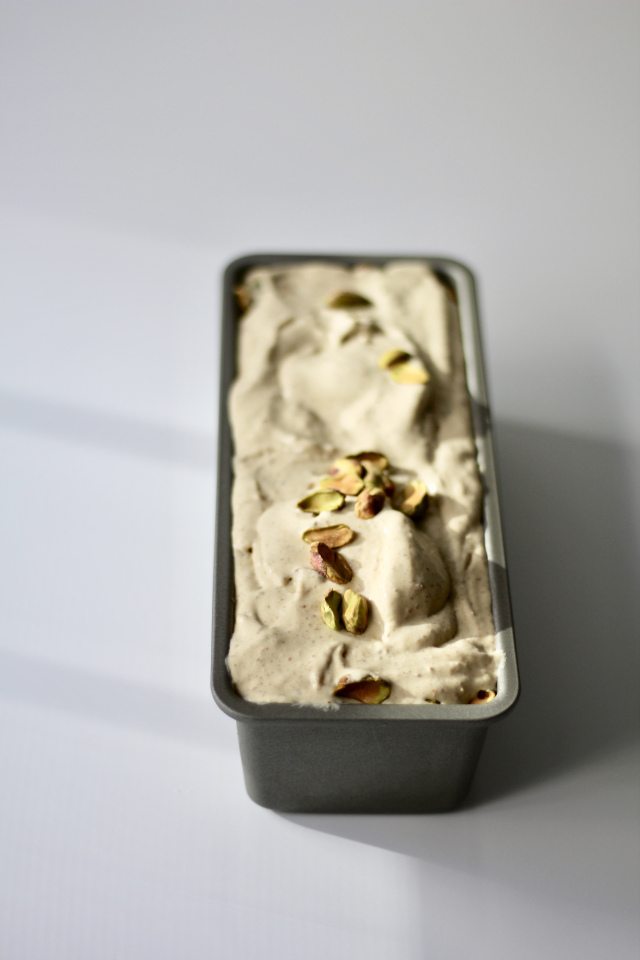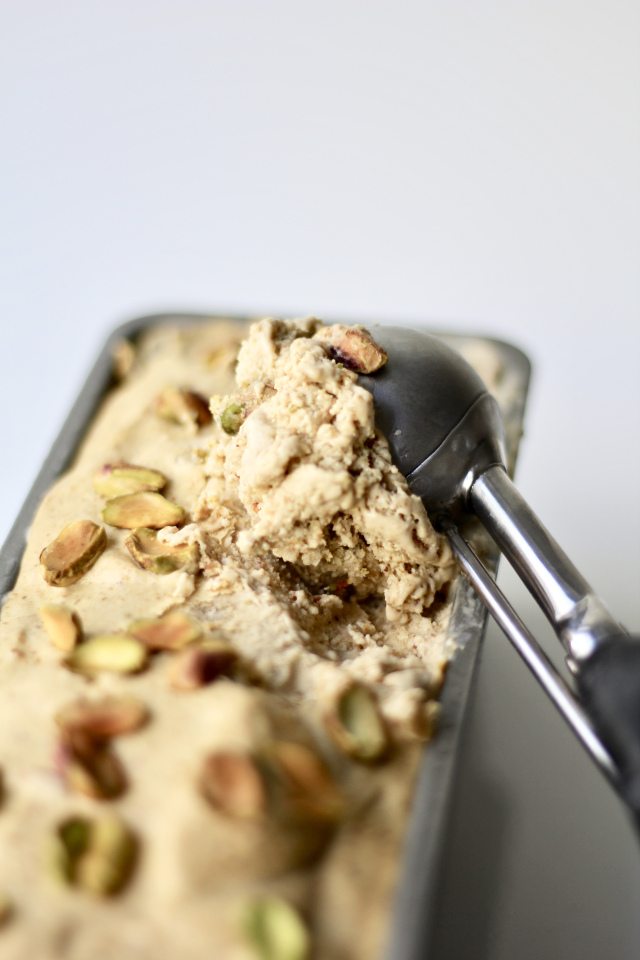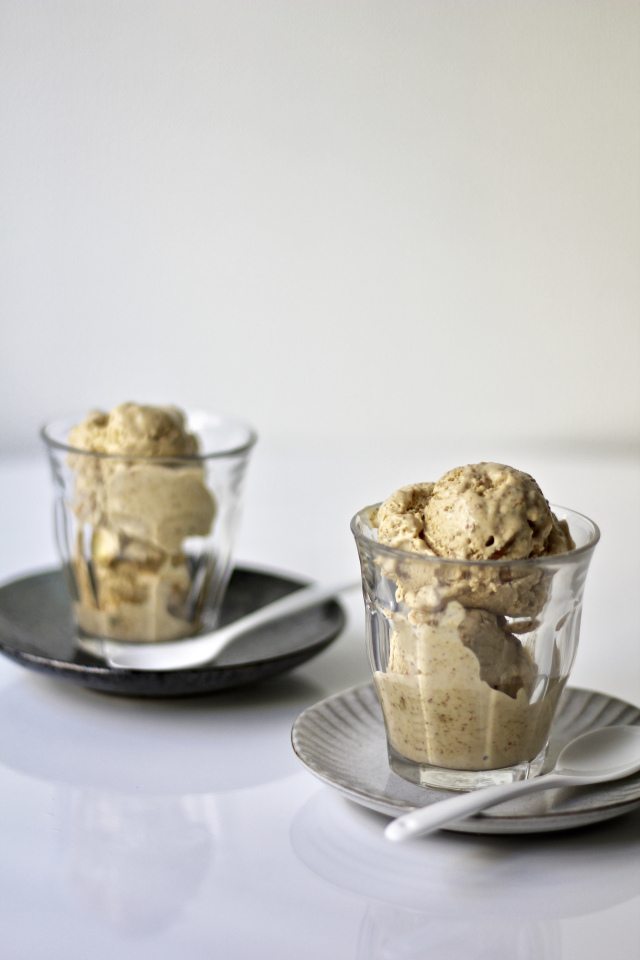 See Also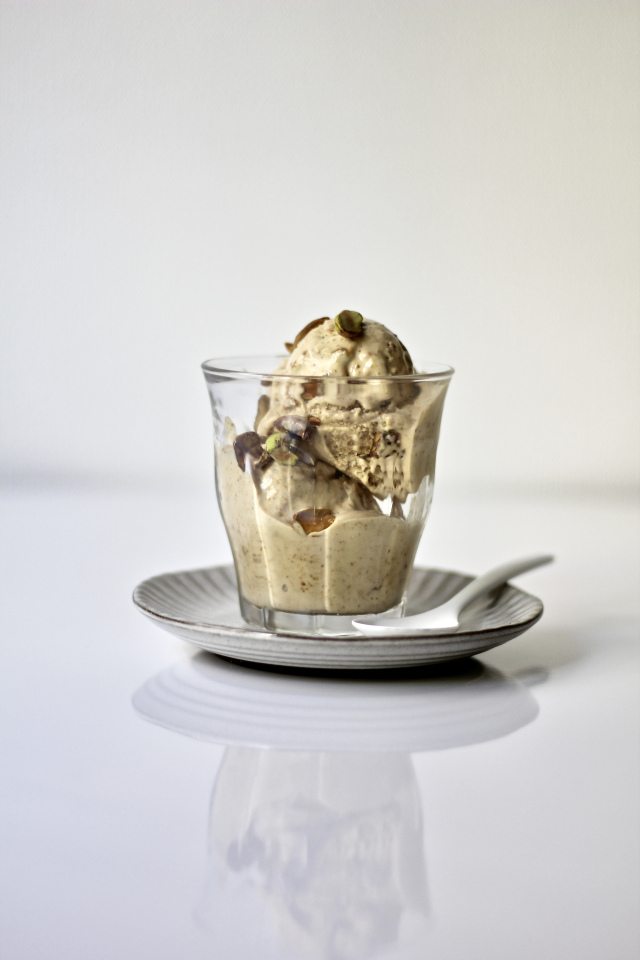 Print

No-Churn Pistachio Ice Cream
---
1/2

+ 1/4 cup shelled pistachios (toasted and cooled)

50

+

50 grams

sugar

360

ml whole milk

360

ml heavy cream

3

eggs +

2

egg yolks

1/4

+

1/8 teaspoon

almond extract

1/4 teaspoon

vanilla extract
---
Instructions
In a food processor, grind 1/2 cup of the toasted pistachios and 50 grams of sugar together until fine. Set aside.
Bring the milk, cream and 50 grams of sugar to a boil in a large saucepan. Whisk in the pistachio mixture and bring the mixture back to a boil, whisking constantly.
In a separate bowl, lightly whisk the eggs and egg yolks. Gradually pour in the hot milk mixture into the eggs while whisking constantly. Pour the egg-milk mixture back into the saucepan and cook over low heat until it thickens and reaches 170 degrees on a thermometer while stirring occasionally with a spatula. Remove from heat and sieve custard into a large bowl. Stir in the almond and vanilla extracts and allow to cool to room temperature. Divide the custard between two freezer bags and freeze overnight.
Break up the frozen custard into chunks using a spatula. It might be easier to let the frozen custard sit at room temperature for a few minutes before attempting to break it up. Transfer the chunks into the food processor and process until the mixture is smooth and lightens in colour just a hint; be careful not to incorporate too much air. I did this in two batches because my food processor is on the smaller side.
Scrape the ice cream into a container, distributing the remaining 1/4 cup of pistachios on top of the layers as you transfer. Freeze until completely firm.
Notes
Adapted from here: https://lifemadesimplebakes.com/2015/02/the-best-homemade-pistachio-ice-cream/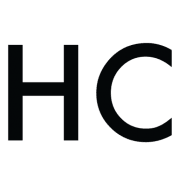 Amanda Koh
After successfully producing her first batch of chocolate chip cookies at the age of twelve, Amanda has since become a baking fanatic. She likes to make a variety of desserts and documents them on her blog, Crumbs and Cookies. While eating the final product is usually the best part about baking, she secretly finds the process even more fun. You may also find her on Instagram @carramellatte and Pinterest @crumbsxcookies.