A smooth, creamy, no-bake key lime cheesecake filling nestled in a toasted graham cracker crust, and crowned with the most luscious blackberry topping.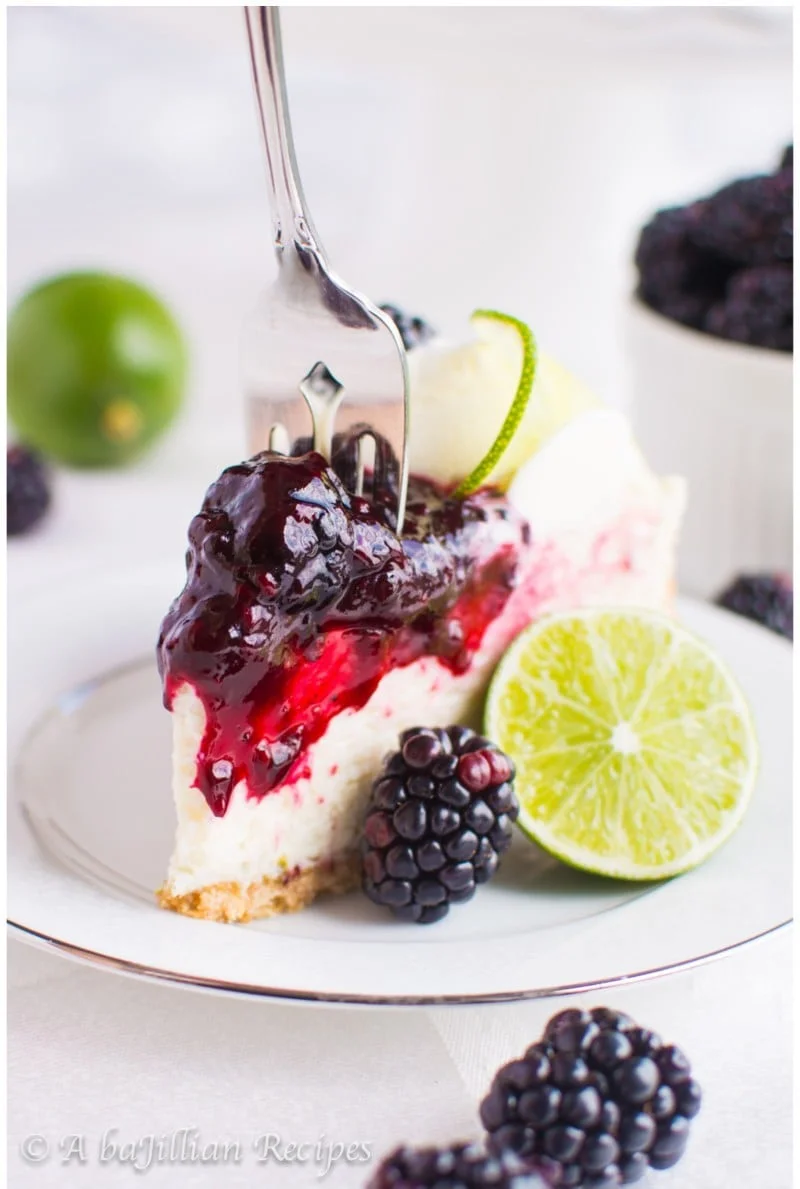 What was supposed to be a classic key lime pie, turned into this…
So you might be wondering how my pie turned into a cheesecake.
Well, first it started with the graham cracker crust. Unfortunately, I made too much crust and it wouldn't fit into a 9-inch pie plate, so I instead pressed it into a springform pan. I thought, maybe it can be a deep-dish pie, or something…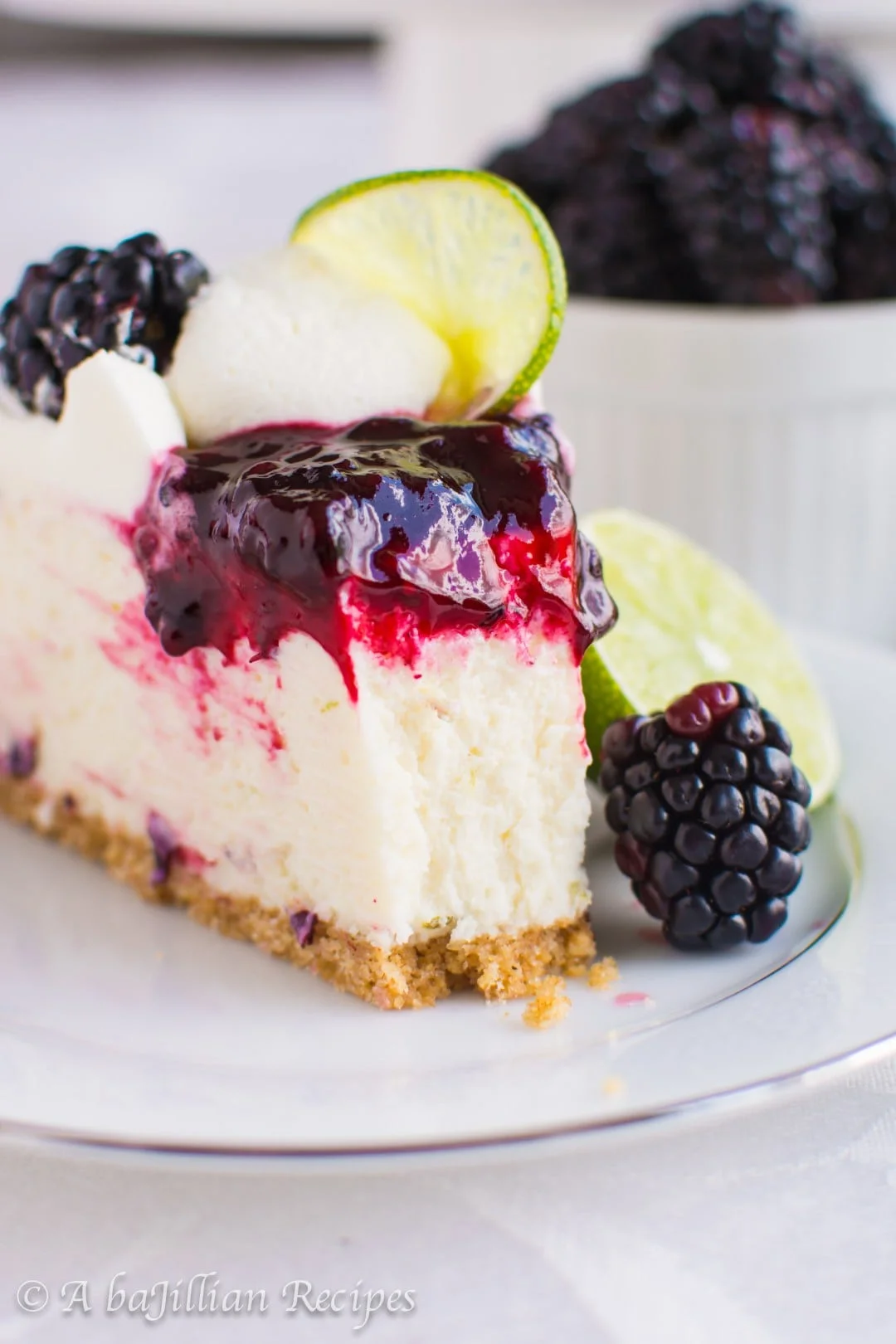 Then the filling followed suit. I used all of the usual key lime pie filling ingredients–lime juice, lime zest, and sweetened condensed milk. So far, so good. However, my change-things-up tendencies got the better of me, and I decided to add a box of cream cheese to the mix. I figured the creaminess and tang of the cream cheese would only complement the other ingredients and boost the overall flavor and texture of the "pie."
As a result, the filling was definitely creamy, definitely smooth, but a little firmer than classic key lime pie. Hence, my reasoning for calling it a cheesecake instead. I even hesitate to call it a cheesecake since there's only one box of cream cheese in the entire recipe. Are there any official/unofficial rules that justify whether a cheesecake is a cheesecake??
I dunno….I guess you could say it's a "healthier" cheesecake since it requires about a quarter of the cream cheese that most traditional cheesecakes call for. Just forget the fact that there's TWO cans of sweetened condensed milk in the filling ?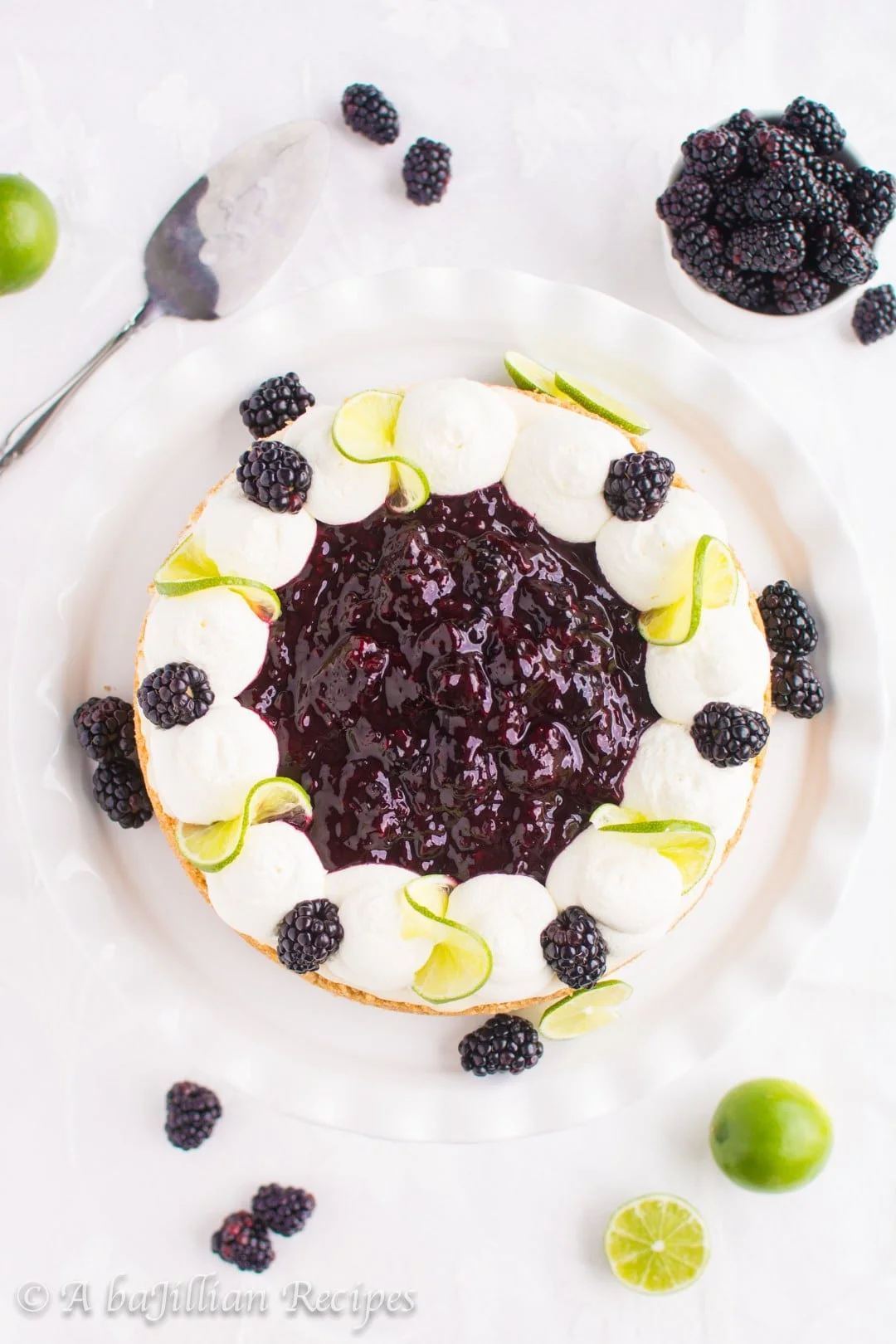 Since my original plan was basically "ruined," I decided to keep going by covering the cheesecake in something sweet and fruity. Hmmmm….what kind of topping?
"Oooooh, look!! Blackberries are on sale at the grocery store!"
Blackberry topping it is!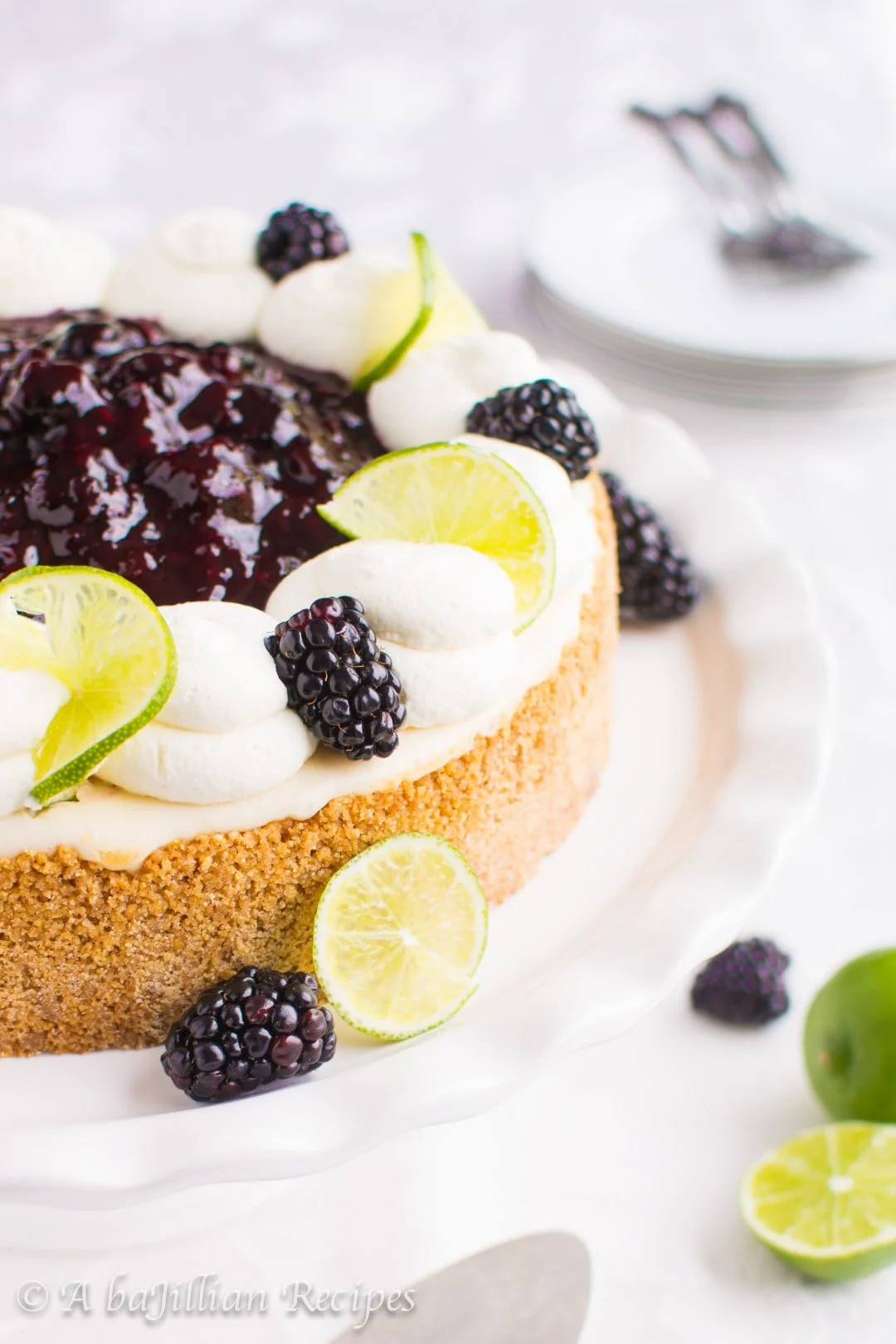 See Also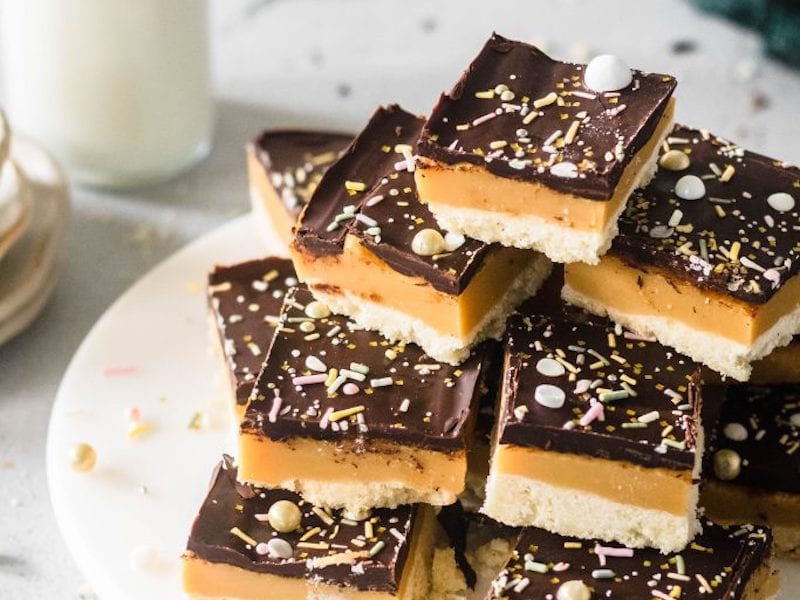 While I'm sure most any berry would pair well with lime, I am so in love with the key lime/blackberry combo. Blackberries just have that perfect sweetness to tartness ratio, which pairs wonderfully with the citrus of lime. Speaking of, I have to admit that I did not use key limes in this pie. Not only are they a little spendier than regular limes, but you have to juice a baJillian of them to get about a cup. Well, maybe not a baJillian, but you get what I mean.
When I do decide to use key limes, however, you can bet that I'll be using them to make an ACTUAL key lime pie.
While the graham cracker crust tends to take the backseat when it comes to cheesecakes, I have one simple tip to brighten up that crust a little…CINNAMON. Just a dash of it makes a world of a difference in turning that once tasteless crust into something sweet and flavorful. It's no longer doomed to become that one part of the cheesecake that gets left on the plate. You'll want to engulf every single morsel of this cheesecake.
The filling is so smooth and creamy. It's bursting with that refreshingly tart "key" lime flavor, yet not too sour to give you the always attractive pucker face. And the blackberry topping is definitely a keeper. Its heavenly sweetness balances out the tartness of the cheesecake, making it the perfect accompaniment to this cheesecake. Lucky for you, the recipe makes more than enough to top the cheesecake, which means you'll have some leftover. Other than chugging it straight from the bowl (which I'm sure most of you will do), you can pour it on top of so many different treats–pancakes, crepes, waffles, french toast, ice cream, angel food cake, cinnamon rolls, etc. The options are pretty much endless.
And while this "accident" didn't quite live up to my key lime pie expectations, I can't really be mad at the result…
Click here for the blackberry sauce recipe.
Print

No-Bake Blackberry-Key Lime Cheesecake
---
Graham Cracker Crust:
1

and 3/4 cup graham cracker crumbs (about

10

crackers)

6 Tablespoons

granulated sugar

1/2 teaspoon

cinnamon

7 Tablespoons

butter (melted)
Key Lime Filling:
1

8 oz package cream cheese

2

14 oz cans sweetened condensed milk

3/4 cup

lime juice

1

and 1/2 Tablespoon lime zest

1/4 teaspoon

salt
Blackberry Topping:
Click the link above for the recipe.
For Serving:
Freshly whipped cream
Fresh blackberries
Lime slices
---
Instructions
Make the Crust:
Preheat oven to 350ºF. Combine graham cracker crumbs, sugar, cinnamon, and melted butter in a medium bowl. Press mixture into the bottom of a 9-inch springform pan and bake for 10 minutes. Remove from oven and allow to cool.
Make the Filling:
In a stand mixer fitted with the paddle attachment, beat the cream cheese until lightened and creamy. Pour in the sweetened condensed milk and continue beating until smooth. Add the lime juice, lime zest, and salt, and continue mixing until mixture is fully incorporated.
Pour into cooled crust and bake for 15-17 minutes, or until the filling is set. Allow pie to cool for at least 30 minutes before putting it in the refrigerator for at least 3 hours, before serving.
Make the Topping:
Click the link above for the recipe.
Just before serving, top pie with blackberry topping. Decorate pie with whipped cream, fresh blackberries and lime slices.
Jillian Hatsumi
I'm Jillian, the writer, baker, chef, recipe creator, and amateur (very amateur) photographer of A baJillian Recipes. Though I'm not a classically trained chef, I like to think I know my way around a kitchen pretty well. Aside from baking, cooking, and EATING, I also enjoy acting, couponing (I LOVE saving money!!), running, working out, photography, and playing with my little fluffernutter, Olivia. She's a dog, if you're wondering...