Deliciously Simple Almond Cream Tartlets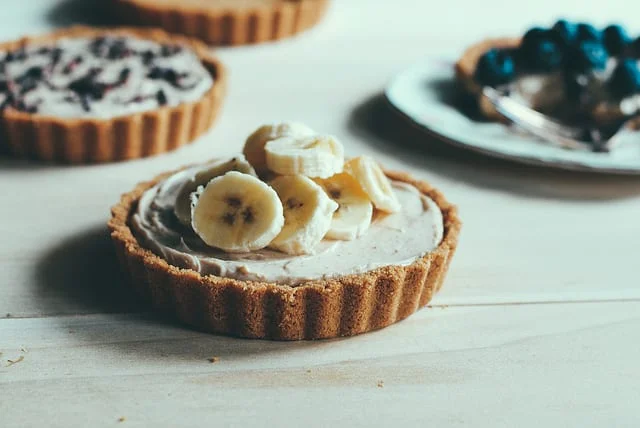 These sweet treats come together without butter or baking for the perfect summer dessert.
By Natasha Steinberg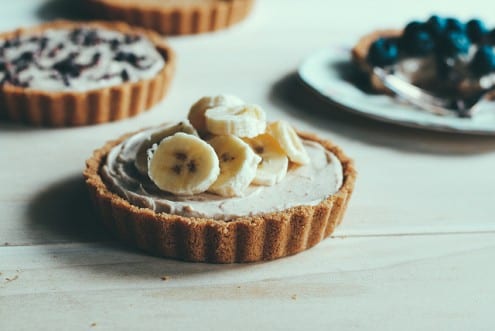 These tartlets are, in some ways, representative of a shifted outlook on how and what I choose to eat and on appreciating and being aware of my food. Although I have always been pretty conscious in my food choices, I have not made a point to share much of that here nor have I, in the past, made a purposeful effort to incorporate those ideals into the sweet end of my eating. That is something I want to change. I have lately become pretty enamored with such things as coconut oil and muscovado sugar and maple syrup and almond flour and stone ground whole wheat and other such things. I'm not saying that a cake chockfull of white sugar or cookies chockfull of butter are completely a thing of the past, it's just that I want to share more of what I eat on a regular basis (and to be clear, I do eat sweets pretty regularly!). On that note, let's eat dessert.
No-Bake Almond Cream Tartlets
These sweet treats come together without butter or baking for the perfect summer dessert.
Author:
Natasha Steinberg
Ingredients
For the crust
16 whole wheat graham crackers
2 Tbsp raw sugar or sucanat
½ cup coconut oil, melted
pinch salt
For the filling
⅓ cup raw sugar or sucanat
5 oz cream cheese or coconut milk fat
½ cup natural almond butter
1 can full fat coconut milk, refrigerated overnight
1 Tbsp pure maple syrup (any grade will do)
bananas, cacoa nibs, berries, or any other topping your heart desires
Instructions
Make the crust
Place the graham crackers in a food processor or blender and process/blend into crumbs.
Add sugar and salt and pulse a few times to combine.
Pour crumbs into a medium bowl, add coconut oil, and stir until mixture is evenly moistened.
Divide mixture evenly among tartlet pans and press into bottom and up sides. Freeze for at least two hours.
Make the filling
Place the sucanat or raw sugar in a food processor or blender and process/blend until fine.
In the bowl of a stand mixer fitted with the paddle attachment, add the cream cheese or coconut milk fat (spoon the milk fat off the top of the can of coconut milk) and almond butter and beat on medium until smooth.
Spoon the coconut milk fat off the top of the can of coconut milk into a small bowl. Add the maple syrup and beat by hand with a whisk until smooth and fluffy.
Fold the whipped coconut milk fat into the almond mixture until just combined. Refrigerate until ready to serve.
To serve, spoon the filling into the tartlet shells, smooth the tops with an offset spatula, and refrigerate for 15 minutes.
Top with blueberries, bananas, cacoa nibs, and/or other toppings of choice.
Natasha Steinberg
Natasha is a love-and-matriarch-taught maker of sweet things. She is passionate about using local and seasonal ingredients and making simple, satisfying sweets that make even the least of sweet tooths swoon. Although she is a native Texan, she currently resides in Atlanta where she is finishing up law school and documenting her sweet adventures through photos, recipes, and stories on her blog at tartletsweets.blogspot.com.