Lemon and coriander prawns it takes about 15 minutes, easy to make and it's great to have in a wrap.
By Trisha Jones
So, I am trying to introduce more savory cooking to Sugar Thumb – firstly because all this baking is making me into a bit of a chubster and secondly because I cook a lot so it seems a waste not to photograph it all! I am trying to be a bit healthier, but have no fear… I will never cut baking out and the majority of posts will still have sweet treats in mind.  I am going to start including some of my favourite meals from my childhood in a series called "Family Traits". Many of which I will take from my mum, dad, grandmas and family friends… I hope it's interesting and I think it will be a wonderful trip down memory lane for me!
My mother, Kala, has a real skill for throwing things together when she is busy and has little time to make something elaborate. And it still looks and tastes like a dream! This is one of her classic quick recipes – lemon and coriander prawns it takes about 15 minutes and its great to have in a wrap. It has a beautiful tang from the lemon and coriander which is smoothened by the use of butter instead of oil to fry the shallots in.
See Also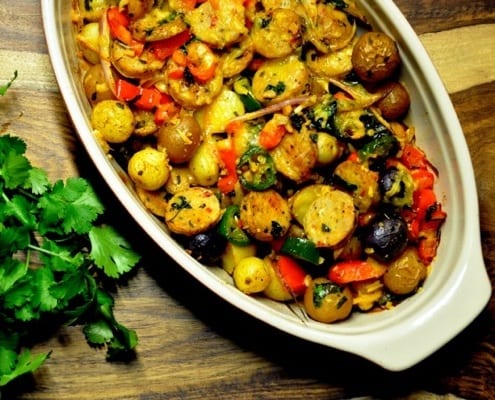 Print
Mum's Coriander and Lime Prawns
Prep Time:

10 mins

Cook Time:

10 mins

Total Time:

20 mins
a thin slice of salted butter

1

shallot

2

cloves garlic

100g

prawns (i usually use fresh raw ones, but i had frozen ones in the freezer – the fresh ones are better if you can afford them)
a handful of fresh coriander leaves

1

lime
half tbsp dried chilli flakes
Salt (to taste)
Instructions
Chop the shallots and place in a frying pan with the butter and cook until they begin to turn a bit golden
Add the garlic and the prawns
Chop the coriander and add in
Squeeze on the lime and mix in the salt and dried chilli flakes
Cook on a medium high heat for about 5 minutes or until the prawns are cooked through
How to eat – Heat up some wraps in the oven and spoon on the prawns – roll and eat!
Trisha Jones
I am originally from England but I am now living and baking like a maniac in Berlin. Noone would deny that I have a relentless sweettooth, but you will see the odd savory dish on my blog - Sugar Thumb - normally when I am going through a "I should cut down on sugar" phase!