Eat, Pray, Love – a true story where a lonely American named Liz Gilbert packed her bags and left her seemingly exasperating life behind perhaps seems a little unrealistic for many. But after you visit Monforte D'Alba, in Piedmont, Italy, you might just change your perception.
In less than one hour from neighbouring city Turin, is a collection of towns and villages located in the Province of Cuneo. Thanks to the rich soil, excellent climate and hard-working families in the region, red wines from the region are highly regarded as some of the best in the world – akin to France's Burgundy region. But what makes this cluster of villages in Cuneo so rich and abundant for excellent quality ingredients is the terroir.
Although the region is highly acclaimed for wine: Barolo, Barbaresco, Dolcetto ( a white wine in this  strong 'red' region), the terroir does give way to other great products like hazelnut (yes, for that wonderful chocolate nut-spread we all know so well) and of course, truffles.
Here are Michelle Tchea's list of great spots in and around Monforte D'Alba for a true foodies getaway chasing the 'Dolce Vita' we all crave in life.
For more adventures by Michelle – check out her story on Novara in Piedmont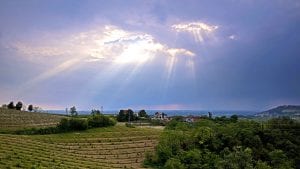 Monforte D'Alba Tourism 
TRUFFLES 
Let's start with the most iconic and possibly highly prized possession for every chef, foodie and self-professed gourmet – the truffle.
With excellent soil for wine, the Italian terroir near Monforte D'Alba make it the best place for truffles. We do not talk about French cultivated truffles or others found in far places like my home, Australia. Piedmont is the place for truffles. If you want a great truffling experience – do what Jay-Z did when he visited the region a few years ago and contact the Monforte D'Alba tourism office – ask them to direct you to Mr. Flavio – the king of truffles.
Go during the colder months for the elusive white truffle… but if you find yourself in Monforte D'Alba during the Summer, Flavio will take you out with his truffle-dog, Luna – you will not be disappointed with the black truffle.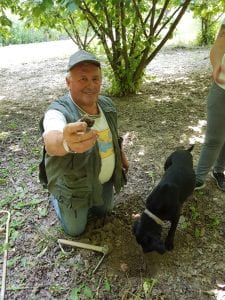 Truffle hunting with Flavio and Luna
HAZELNUTS – Go NUTS
Mentioning the word Nutella is perhaps doing an injustice to all the 5th-generation hazelnut farmers in the Piedmont region… but I do have your attention now… right?
With hazelnut trees dating back to more than a century ago, the Monforte D'Alba region is where you gorge on REAL hazelnut, chocolately goodness.
My favourite is the 5th generation hazelnut grower – Taste Langhe – where more than 50% of hazelnuts are used in each indulgent chocolate product and spread. No one else compares and the family are are wealth of knowledge on the area and why people go nutty over their spreads, gluten-free cakes and pure hazelnut spreads!
The best hazelnut, chocolate spread you will taste – Taste Langhe 
SAFFRON – Golden Threads 
Imagine waking up at 4am in the morning to pick tiny little golden threads known affectionately to the world as the most expensive spice in the world.
Yes, Saffron is grown and known to come from Iran but it is a Mediterranean herb and can be found in Spain and now.. Italy.
The tiny herb is priced so highly because of the intensive labour behind producing the tiny herb. More than 75,000 flowers need to be handpicked for just one-pound of this golden spice. Roberto and his team at Safranum are pioneers and innovators – being the first Saffron farm producing excellent and high-quality Saffron in Monforte D'Alba.
Excellent Italian products are produced by Roberto at Safranum with chocolates, chocolate spreads and honey made from surrounding local producers. The saffron liquer and the chocolate/ginger/saffron panettone is my favourite and will be yours too.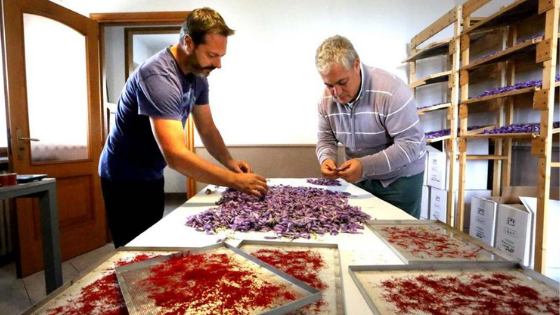 Roberto from Safranum 
WINE – The Great Barolo
If you are serious about wine, a visit to Monforte D'Alba and the surrounding villages is a must. Known collectively as the Langhe region of Piedmont, the region is robust with wine families and excellent quality red wines like Barolo and Barbaresco.
At the top of my list for great experiences with fabulous cellars and wine tastings are: Conterno Fantino and Costa Di Bussia. The wineries are located within riding distance of each other and produce excellent high-quality wines for both locals and wine-buffs. There are a handful of great trails and e-bikes for rental at the local Monforte D'Alba Tourist Office to help you on your wine trail in Monforte D'Alba.
EAT
Locals from Monforte D'Alba will tell you the food is the best in all of Italy and they are not wrong. The gourmet restaurant in Villa D'Amelia, Benevello is home to Damiano Nigro – 1-Michelin star restaurant headed up by chef Damiano Nigro. The staff are friendly and add to the overall experience at this award-winning restaurant. Local products take full flight on the menu with both fish, seafood and excellent meat dishes gracing the menu.
The pigeon with morels is one of Chefs Nigro's signature dishes and the desserts are equally pleasing.
For something a little more simple but with an excellent view of Monforte D'Alba, head straight into town and seat yourself on the terrace at Moda Restaurant. Chef Sara turns out pleasing dishes with the home-made pasta dishes coming highly recommended.
For something more innovative Restaurant FRE is the spot for a more innovative menu if you want something beyond pasta.
Chef Damiano Nigro's seasonal menu at his Michelin restaurant, Damiano Nigro
STAY
Costa Di Bussia for an authentic farm-house / winery experience
Villa Beccaris for a more classier and all-inclusive getaway
Villa Beccaris, Monforte D'Alba, Italy
Michelle Tchea
Michelle Tchea is a 4-time bestselling author. Her books include, Building a Perfect Meal, My Little SoHo Kitchen, Signature Dishes (Australia's Best) and Chefs Collective. Her work can be found in other leading luxury travel and food magazines including Travel+Leisure Asia, SMILE, NUVO Magazine and The Telegraph