Jessica Flanigan decides to breathe new life into a classic French appetizer, and ends up with a delicious modern take on the retro dish.
Text And Photos By Jessica Flanigan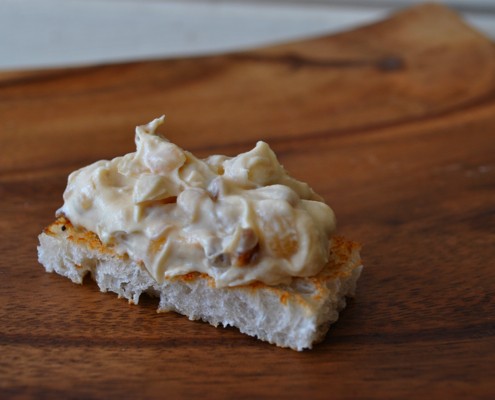 Many of my holidays growing up were spent at my grandparents house. Easter Sunday always included a ham spiked with cloves, and the very popular french onion dip appetizer. Everyone would stand around the coffee table until the bowl of dip was gone. A package of Lipton french onion soup mixed with sour cream along side a plate of celery and carrot sticks. A vivid food memory in my mind. Fast forward 20 years, and I still crave this appetizer. I have tried making it from scratch before, mixing sour cream, mayonnaise and sometimes chevre with onions to create something vaguely similar to what my childhood mind remembers. I never was able to get it just right however, until now.
I decided to skip the sour cream and mayonnaise component and instead opted for creme fraiche. I wanted a slighty sour taste that had a mostly creamy texture. Mayonnaise has a flat flavor note that I thought would cover the subtle taste of shallots and onion. I was right. Creme fraiche turned out to be the perfect blank canvas for caramelized onions and onion powder. This dip was incredibly easy too. A perfect throwback to the old days of my Easter dinner traditions. Serve with carrot sticks, celery or sourdough toast points.

New look for a delicious French retro dish.
Ingredients
7.5 ounces Creme Fraiche (213g)
1 heaping cup finely chopped onions (150g)
3 Tablespoons finely chopped shallots (1.5 oz)
½ teaspoon salt (1.5g)
1 Tablespoon plus 1 teaspoon onion powder (18g)
1 Tablespoon extra virgin olive oil (.5 oz)
pinch salt
Instructions
Saute onions and shallots with olive oil and small pinch of salt over medium heat until caramelized, about 30 minutes.
Stir occasionally.
Cool in a bowl to room temperature after cooked.
In a bowl, gently mix onion powder and salt into creme fraiche.
Add the room temperature onion mixture to creme fraiche.
Refrigerate overnight, covered.
Bring to room temperature before serving.
Jessica Flanigan
Jessica cooks, writes, entertains and talks a lot about food. She roams around local farms, occasionally plans underground dining events and delights in unusual food pairings. She cooks and writes about uncomplicated seasonal food, and hopes to inspire others to support their local food movements.