California Love – Mile High Cornmeal Crust Pizza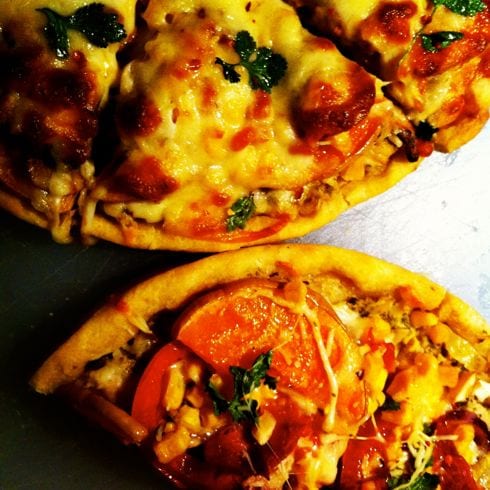 Olivia Caminiti provides a San Franciscan take on pizza. Meet the Mile High Cornmeal Crust Pizza.
By Olivia Caminiti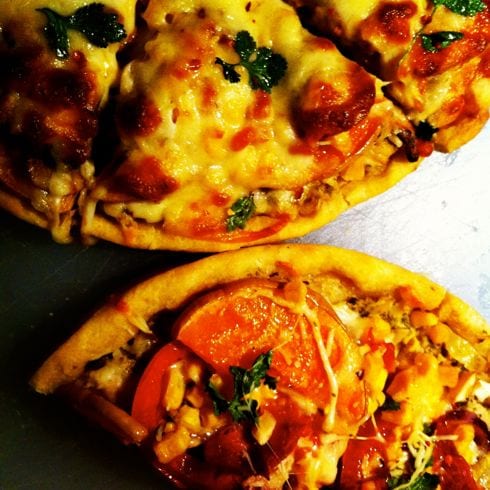 A classic family favorite of mine is mile-high cornmeal crust pizza. We always use San Francisco's Vicolo Pizza crusts. The "mile-high" title comes from the depth that our pizza reaches after adding every topping desired. My Mamma's classic always consists of ground turkey, marinated artichokes and any other goodies on hand and always topped with Italian seasoning.
California Love- Cornmeal Crust Pizze
A San Franciscan take on pizza.
Ingredients
San Francisco's Vicolo Cornmeal Crust
3 Tbls. artichoke pesto
quarter butternut squash, roasted
pancetta, diced
4 crimini mushrooms, sliced
half a red onion, sliced
1 cup grated mozzarella
¼ cup grated Parmigiano Reggiano
3 Tbls. cilantro, rough chopped
pinch or two, chili flakes
olive oil for roasting and sauteing
1 Tbls. good olive oil for finishing
Instructions
(!)Preparation
Saute mushrooms and onions in 1 Tbls. olive oil until slightly browned with caramelization, reserve.
Crisp pancetta in a non-stick saute pan over medium heat until slightly browned. Remove to a paper towel and reserve.
Roast butternut squash on a sheet pan in a 425*F oven, tossed in a pinch of each salt and pepper and a table spoon of olive oil, for 12 minutes or until softened. Reserve.
(!)Assembly
Preheat oven to directed temperature on San Francisco's Vicolo Cornmeal Crust packaging. Place crust on sheet pan.
Spread artichoke pesto over bottom of crust.
Layer roasted butternut squash, mushroom mixture, and pancetta on top.
Top with mozzarella and Parmigiano Reggiano.
Place in the center-top position of the oven and bake 12-15 minutes, till there is slight browning on the cheese and crust edge is crispy.
Remove and sprinkle with cilantro and chili flake.
Finish with 1 Tbls. good olive oil.
Cut. Enjoy. Repeat!
Notes
This recipe is per pizza crust. Double ingredients for both.
As beautifully delicious as this 1 1/2" deep cornmeal crust pizza is out of the oven, the next day it is just as good.
Olivia Caminiti
Olivia's passion for food is rooted in California's Bay Area though now regrowing in Austin, Texas. She mixes with her travel experience, eye for beautiful food and intuition to find the next ingredient to keep a balance in life. See what she incorporates next and check-out her website at oliviacaminiti.com