Mexico On My Plate: Green Beans with Scrambled Eggs
The recipe is very simple and you can use either fresh, frozen or canned green beans.
By Nancy Lopez-McHugh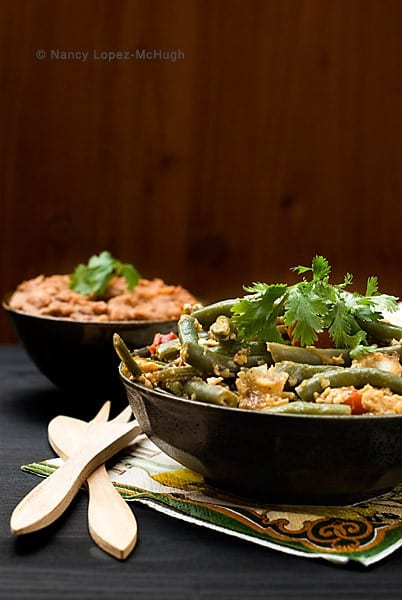 Today I want to share one of my childhood favorite dishes, ejotes con huevos or green beans with scrambled eggs. I have not tasted this dish in nearly 12 years or whenever it was that my mom last made it for me. I don't know how it happened but I had somehow forgotten all about it. A few weeks ago I was looking for a quicker side dish alternative to refried beans to go with our Mexican dinner. Out of nowhere ejotes con huevos popped into my head. Memories of my mother's green beans flooded my head and taste buds, and like a light bulb going off in my head I knew I had to make them asap.
The recipe is very simple and you can use either fresh, frozen or canned green beans. Over the past few weeks I've tested the recipe with fresh, frozen and canned beans with great results. Also if you don't eat spicy feel free to omit the chile, or for a spicier version add more chile.
Mexico On My Plate: Green Beans with Scrambled Eggs
The recipe is very simple and you can use either fresh, frozen or canned green beans.
Author:
Nancy Lopez-McHugh
Ingredients
500g or 1 lb. fresh green beans*, cut into even size pieces
1 small onion, finely chopped
1-2 chiles or as desired, finely chopped
3 garlic cloves, minced
1 medium tomato, finely chopped
salt, to taste
pepper, to taste
1 tbsp olive oil, more if needed
4 medium eggs, lightly beaten
*Cut ends off fresh green beans first.If fresh are not available use frozen. To defrost the frozen green beans place in a large bowl and cover with cool water until defrosted. Additionally canned beans can be used. Drain, and rinse once with cool water before using.
Instructions
Heat oil in a large pan, once warm saute the onions until soft. Next add the chiles, cook for 2 minutes then add the garlic and cook another 2 minutes.
Add the green beans, tomatoes, salt and pepper. Cook until green beans are to desired texture.
Once green beans are to desired texture pour the lightly beaten eggs into the pan.
Stir and cook until eggs have cooked through. Try not to over cook or burn the eggs, as this will give the dish a bitter taste.
Serve with refried beans, tortillas and salsa of choice. Additionally they can be served as a side dish to any Mexican meal.
Nancy Lopez-McHugh
Nancy Lopez-McHugh is a food blogger, photographer and published author. Most recently she has published "Yummy Pics: A Food Blogger's Guide To Better Photos".