Baseball season is here, and Jerri Green falls in love with the grub at the best Minor League stadium in America.
Text And Photo By Jerri Green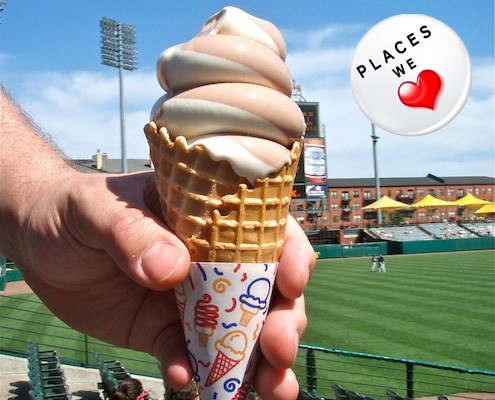 There are several things I love about this time of year, and one is the start of baseball season. My carnivore hubby and I really like getting out to the local ballpark and cheering on Memphis' own minor league baseball team, the Redbirds, the St. Louis Cardinals AAA affiliate. The stadium itself always gets named as one of the best in the nation. Plus any excuse to have some ballpark food and a few beers in the middle of a warm spring day is a good thing. The carnivore and I always find lots to enjoy there. I know what you are thinking – "of course, the carnivore can eat all the hot dogs he wants, but what will a vegetarian have?" Well, lots actually. In fact AutoZone Park has even named one of PETA's "Top Ten Vegetarian-Friendly Minor League Ballparks."
Our first stop is usually the watering hole. They have a large selection of beers on draft and other adult beverages. My favorite is usually a local brew called Ghost River. Not only is the ale fresh, but a portion of the proceeds go to help support the Wolf River Conservancy. Win – win! Of course since we're expecting our second baby omnivore this fall, I'll be sticking to lemonade this season.  Last year the carnivore was excited by the addition of his favorite beer, Yuengling Lager, to the draft list.
With beverages in hand, we stop for a light snack before we head to our seats.  There are some healthy snacks, like turkey wraps or fruit cups …we honestly have never tried these, but they look just fine.  There are also the ubiquitous soft pretzel, popcorn and crackerjacks. We typically end up with peanuts of the hot roasted variety. There are lots of flavors to choose from. Our favorite is the cinnamon sugar pecans. Warmed they just melt in your mouth.
Later on, we go back to concessions for more. The carnivore can pick from hot dogs, corn dogs, buffalo chicken fingers, or even pizza. But why choose any of those when there are the world famous Rendezvous bar-b-que nachos? This regional delicacy is served with either smoked sausage or pulled pork shoulder over a bed of tortilla chips and topped with nacho cheese, bar-b-que sauce and a dash of dry rub.  I've never had the pleasure of having them myself, but sometimes I question whether the carnivore sees the nachos as the ballpark's main draw.
I stick to the cheese fries and veggie dogs myself. My only complaint really is I can't get cheese on my veggie dog. (Note to Redbirds – please change this, not all vegetarians are vegans!) But, all of the other fixins are available. And I have heard rumors of a black bean burger in the season ticket holder section.
Then there is dessert, of course. They have everything from Dippin-Dots to frozen lemonade. For the kid in you there is cotton candy. And, on a warm day there is nothing better than a soft serve ice cream, served either on a cone or in a keepsake mini baseball helmet.
It is a great way to spend a day. There is certainly plenty for carnivores or vegetarians to eat. And if you are lucky, when it gets dark you can even enjoy the fireworks show. So, if you are ever in Memphis on a game day, stop by the best minor league stadium in the country and enjoy some good baseball grub.
Jerri Green
Jerri Green is a vegetarian that lives with and loves a self-proclaimed carnivore. She makes meals work for everyone while juggling the mounting demands of motherhood. Nothing fancy but always fresh, she draws on her southern heritage to bring satisfying food to the table each and everyday.